Edited by Jacy Reese Anthis and Kelly McNamara. Many thanks to the researchers who provided feedback or checked the citations of their work, including Rosemary Nossiff, David Garrow, Daniel K. Williams, Linda Greenhouse, Raymond Tatalovich, Alesha Doan, Matthew Wetstein, and R. Alta Charo. Thanks to Joey Savoie for discussion on case study methodology.
Abstract
This report aims to assess (1) the extent to which the modern (1966-2019) anti-abortion movement in the United States can be said to have successfully achieved its goals, (2) what factors caused the various successes and failures of this movement, and (3) what these findings suggest about how modern social movements should strategize. The analysis highlights the farmed animal movement as an illustrative example of the strategic implications for a variety of movements. Key findings of this report include that encouraging legal change without popular support can provide momentum for a social movement's opponents; legislation and direct action may be effective at reducing supply through disruption and burdensome regulation, but direct effects on demand are smaller; and close alignment with political or religious groups may be tractable but risks longer-term stagnation.
Table of Contents
Introduction
The US anti-abortion movement, also known as the pro-life or right-to-life movement, argues that human life begins at conception and that the human fetus has a right to life. Its advocates support, at least in part, an expansion of the moral circle to encompass unborn human fetuses. Although there are important differences between the US anti-abortion and farmed animal protection movements, there is a fundamental similarity between them: Advocates from both movements believe the entities they seek to protect are granted insufficient consideration, protection, or rights and that it is worth investing time and resources into securing more consideration, protection, or rights for them. Other features that affect the anti-abortion movement's comparability with the farmed animal movement are listed below, but overall it seems we can glean some strategic insight from the anti-abortion movement suitable for effective animal advocacy—that is, information that can be used to understand how to maximize the impact of interventions used.[1]
Importantly, this report makes no attempt to evaluate the goals of either movement. This report is exclusively about the strategy of social movements, and while we will discuss goals insofar as they are relevant to strategic discussion, we deliberately avoid any moral assessment.
US farmed animal advocates tend to favor less restrictive abortion regulations, so we know that some might be hesitant to take seriously a report that looks for insight in the strategy of the anti-abortion movement. We think this is actually a strong reason to study this movement, because it is so different and therefore might have unusually interesting lessons to be gleaned. We hope readers will keep an open mind and attempt to examine the strategy of this movement, and other social movements, with an objective lens.
This report provides a condensed history of the US anti-abortion movement, from the 1960s to the present. After providing this history, the report draws tentative conclusions about which strategies seemed to be most effective for the anti-abortion movement and suggests potential implications for the farmed animal movement's strategy. The focus of this report is on strategic insights for the farmed animal movement, but some insights may be useful for other movements as well.
This report focuses on the US anti-abortion movement, rather than international efforts, for three reasons:
It seems that abortion issues have been highly salient in US politics and society since the late 1960s, and especially since around 1980, compared to other countries. This suggests that both the anti-abortion movement and abortion rights movements would both have been larger in the US than in other countries that could have been studied and that there would be more content worth evaluating.

Much activity and research of the effective animal advocacy community has focused on the US.

[2]

This concentration of resources is at least partially justified by the strategic importance of the US as a country with a large number of animals in factory farmed conditions and substantial social, political, and economic influence over the rest of the world. Given the research gaps in our understanding of effective animal advocacy in the US,

[3]

it also seems reasonable to focus on coming to stronger conclusions for the optimal movement strategy in that context, before seeking to test whether those conclusions hold in other contexts.

After initial research on the topic, it became clear that there was a plethora of surveys, social scientific research, and historical research on the topic of abortion in the US. Limiting the breadth of content to the US only reduced the resources required to complete this report, hopefully without a correspondingly large loss to the completeness and usefulness of the report.
This report was mainly undertaken as exploratory analysis, rather than being designed to test explicit hypotheses on strategic effectiveness, though the author initially suspected that the report would provide strategic insight into the question of whether a left-wing or nonpartisan focus is more desirable for the farmed animal movement, as well as other foundational questions in effective animal advocacy.[4] The author also believed that the anti-abortion movement had mostly failed at achieving its goals, and therefore the report would provide evidence that, on average, the tactics used by the anti-abortion movement should be avoided by the farmed animal movement. This is unlike most EAA case studies,[5] in which researchers have analyzed successful movements and therefore tend to take their use of a tactic as evidence of its effectiveness.
As with Sentience Institute's report on the British antislavery movement, the farmed animal movement as this report describes it is weighted towards the US movement, so readers from other regions may see different similarities and differences between the US anti-abortion movement and their own region and movement, and should adjust the applicability of this report's conclusions to their own region's advocacy accordingly. This report assumes the reader has some knowledge of modern animal farming and animal advocacy.[6]
The anti-abortion movement is called a variety of names, including "pro-life," "right to life," and "anti-choice." In comparison, the abortion rights movement is called "pro-choice," "pro-abortion," or "pro-death."[7] In this report, the terms "anti-abortion" and "abortion rights" are used respectively for consistency. These terms are used to refer to the US movements specifically, rather than international movements. Given the US context, the term "liberal" when referring to abortion laws or attitudes implies greater support for abortion rights. What this report refers to as "crisis pregnancy centers" have been called a variety of names, including "Birthright and Emergency Pregnancy Services (EPS)," "Problem Pregnancy Centers (PPCs)," "Pregnancy Resource Centers (PRCs)," "A Woman's Concern Health Centers," and "Life Choices Medical Clinics."[8] Although the term is avoided here due to its imprecision, other authors sometimes use the term "therapeutic abortions," which refers to abortions performed to protect the health (sometimes including mental health) or life of the mother. Abortions performed for other reasons are sometimes referred to as "elective abortions."[9] The term "fetus" is used throughout this report.[10]
Finally, this report borrows much of the methodology and framing of Sentience Institute's 2017 report on the British antislavery movement.[11]
Summary of Key Implications
A single historical case study does not provide strong evidence for any particular claim; the value of these case studies comes from providing insight into a large number of important questions.[12] This section lists a number of strategic claims supported by the evidence in this report:
A Condensed Chronological History of the Anti-Abortion Movement
This condensed history of the US anti-abortion movement is not intended to imply causal relationships between listed events, unless stated explicitly. For example, if a sentence referring to a change in the legal context is followed by a sentence about changes in abortion rates, the two should not be assumed to be connected. Causation is discussed more explicitly in the section on "Strategic Implications." This section of the report is not intended to present a comprehensive narrative; it condenses the history into events and processes that have strategic implications for modern social movements.[13] There are slight deviations from chronological order used for clarity.
Early History of the Movement
When the US was declared independent from Great Britain, English common law forbade abortion after "quickening," the start of fetal movements.[14] Some states began to make abortion at any stage of pregnancy[15] illegal in the 19th century, and by the 1960s abortion was a felony in most states, except for when the mother's life was in danger.[16] This early anti-abortion movement operated in very different circumstances to the movement from the 1960s onwards, and the causes of its success are probably different to the factors affecting the successes and failure of the more modern movement.[17]
In 1923, the Birth Control Clinical Research Bureau and the American Birth Control League were established. These organizations, initially focused on birth control, later merged to become Planned Parenthood Federation of America.[18]
Although there was little discussion of or campaigning on abortion in the US in the early and mid 20th century,[19] laws that increased abortion rights were passed in several countries in Eastern Europe and Scandinavia.[20]
Joseph Fletcher's Medicine and Morals and Harold Rosen's edited volume, Therapeutic Abortion: Medical, Psychiatric, Legal, Anthropological, and Religious Considerations, published in 1954, considered circumstances in which abortion might be permissible or preferable.[21]
From January 1955 until January 1981, the Democrats held a majority in both the Senate and the House of Representatives.[22]
In 1955, Mary Calderone, the director of Planned Parenthood, convened a secret conference on abortion,[23] the attendees of which were predominantly medical and psychiatric professionals, though public health officials and researchers also attended.[24] In 1958, Planned Parenthood published Abortion in the United States, a written record of the conference.[25] The introduction to the book frames abortion as both a medical and social problem, expressing concern for the suffering of women,[26] though not all contributions were quite as sympathetic.[27] According to political scientists Raymond Tatalovich and Byron W. Daynes, this book, like the write-up of a 1942 conference on abortion, "was given little critical review."[28] However, historian David Garrow argues that, "[d]espite its own timidity, the Calderone volume nonetheless occasioned book reviews that gave voice to nascent liberalization sentiments."[29] These books and four other books published before 1960 on the topic of abortion were written by a mixture of medical, psychiatric, and legal professionals.[30] Alan Guttmacher, an obstetrician/gynecologist, later to become president of Planned Parenthood, was publicly advocating for abortion reform at this time, though his views were controversial even among medical professionals and he was known to be an outspoken liberal.[31]
In October 1958, a member of the standing committee of the American Civil Liberties Union's board of directors argued to her ACLU colleagues that "there was an important individual right that should be given weight. A woman should have the right to determine whether or not she should bear a child." This was the second time she had raised the issue in two years.[32] There is other evidence that concern for women's autonomy in situations including, but not being limited to, conception resulting from rape motivated support for reform in these early years of abortion rights advocacy.[33]
In 1959, the American Medical Association endorsed the availability of birth control[34] and the American Law Institute (ALI) advocated for abortion to be made legal in situations of rape, incest, fetal deformity, or if the pregnancy risked the mother's physical or mental health.[35] Garrow claims that "[a] number of law reviews also published articles endorsing the ALI therapeutic reform proposal, but the Georgetown Law Journal published a two-part, 220-page attack on the burgeoning liberalization drive."[36] A variety of arguments have been advanced for the growth in support for abortion rights at this time.[37] However, advocacy for reforms to abortion law seems to have continued to be primarily the preserve of medical and legal professionals.[38] For example, a study of hospital practices in California was published in 1959, with the authors arguing that abortion should be decided by medical professionals and not by criminal law.[39]
In 1960, a bill was introduced in California following the ALI's guidelines, but it was tabled when representatives of the Catholic Church announced their intention to oppose the bill.[40] In 1961, the New Hampshire Medical Society prepared and sponsored legislation to make abortion to save a mother's life legal before the fifth month of pregnancy, extending the existing legislation which made such abortions possible at subsequent points in the pregnancy.[41] This prompted resistance from Catholics and conservatives, and although the state's legislature approved the bill, it was vetoed by the governor.[42] Other proposals for legal relaxations of the restrictions on abortion began to be made at around this time.[43] For example, in November 1958, an article in America magazine condemned recent support for moves towards abortion liberalization as advocating "a regression to barbarism."[44] Of course, resistance can take many forms; there was likely a degree of resistance wherever liberalized laws were considered, such as opposition from some legislators and public condemnation by the Catholic clergy.[45]
The 1962 case of Sherri Finkbine, who travelled to Sweden to get an abortion after taking thalidomide and the 1964 outbreak of rubella brought the question of the legitimacy of abortions for medical reasons to greater prominence.[46] From 1962 on, the number of articles on abortion in popular magazines, newspapers, and social science journals increased. For example, one index of periodical publications includes 19 references to the abortion issue in 1962, compared to 6 in each of the previous 3 years. The number of published periodical references to abortion in the years 1966 to 1981 was more than six times the number in the years 1950 to 1965.[47]
At some point between 1962 and 1965, one of the first abortion rights organizations, the Society for Humane Abortion (SHA), was formed. They distributed copies of talks by the biologist Garrett Hardin; Hardin and SHA activists argued for abortion liberalization on feminist grounds, urging that women be granted bodily autonomy.[48] In 1964, the Committee for a Humane Abortion Law (soon renamed the Association for the Study of Abortion) was founded in New York by a mixture of physicians and those outside the medical profession; it elected a physician as leader, with one committee member explaining to Alan Guttmacher that "the future of the organization can best be served by a physician in the role of chairman."[49]
In 1963, a British lawyer published a book called The Right to Life, which discussed the point at which life begins and the sanctity of human life. The book discussed abortion alongside euthanasia, the death penalty, and war.[50]
Between 1962 and 1966, five states rejected legislation similar to the moderate reforms suggested by the American Law Institute.[51] Further reforms continued thereafter,[52] though anti-abortion resistance was successful in some states.[53]
In 1965, the Supreme Court decision in Griswold v. Connecticut invalidated the last remaining anticontraceptive state laws in Connecticut and Massachusetts.[54] Importantly for subsequent legal decisions regarding abortion, as Rosemary Nossiff summarizes, "the Court held that a Connecticut law that prohibited the sale of contraceptives to married couples was unconstitutional because it violated the individual's right to be left alone, as guaranteed by the First, Fourth, Fifth, and Ninth Amendments."[55] The later case of Eisenstadt v. Baird (1972) extended this ruling to unmarried relationships,[56] meaning that the use of contraceptives was now legal in all 50 states for adults.[57]
In the 1960s and 1970s in various parts of the world, legislation permitting abortion was passed, either in specific circumstances or whenever it was sought.[58] Laws in most US states permitted abortion only if the life of the mother was endangered. In 1966, Mississippi reformed its laws to also permit abortion for survivors of rape. Unlike subsequent more liberal reforms, this law did not include reference to the mother's physical or mental health.[59]
1966-73: Legalization of abortion in some states and initial anti-abortion resistance
From around 1966, media coverage of abortion issues increased.[60]
In 1966, Edward Golden of New York formed a small group to resist proposed changes to liberalize the state's abortion laws.[61] This seems to have been some of the first anti-abortion mobilization beyond resistance to reform from Catholic clergy and state legislators.[62] In December of the same year, a Cardinal in California organized the first meeting of the Right to Life League.[63] The Virginia Society for Human Life was founded in 1967 as the first formal state-level anti-abortion organization in the US.[64] Over the course of the next few years, anti-abortion activists and groups in other locations also began fighting further legislative changes at the state level.[65]
By the mid 1960s, the media and Catholic writers were contributing to the debate on abortion.[66] In 1966, the Catholic Church's organizational presence in the US was reformed, creating the National Conference of Catholic Bishops (NCCB) and the United States Catholic Conference (USCC).[67] The NCCB asked Reverend James T. McHugh, director of the Family Life Bureau of the USCC, to begin documenting legislative efforts to liberalize abortion policy.[68] The Catholic Church had long held strict policies against abortion, at least as early as 1398, and had a more clearly anti-abortion tradition than other Christian denominations.[69]
In 1966, the Termination of Pregnancy Bill to liberalize abortion law was proposed in the United Kingdom. This sparked the launch of the Society for the Protection of Unborn Children (SPUC) in the UK in January 1967.[70] The group was unable to stop the Abortion Act, which permitted abortion to avoid health risks, from being passed in 1967.[71]
In September 1967, the first International Conference on Abortion was held in Washington D.C.[72] The USCC sent information about proposed abortion legislation to state Catholic Conferences, held meetings to build resistance, and communicated with the bishops, urging the importance of the issue.[73]
In 1967, Colorado legalized abortion in cases of rape, incest, or when pregnancy would lead to permanent physical disability of the woman. Between 1967 and 1972, twelve other states reformed their laws to permit abortions under some or all of these circumstances.[74] In 1967, surveys of 40,089 physicians conducted by Modern Medicine and of the American Psychiatric Association's membership found support for abortion when there was a risk of the mother's death (77% and 97% respectively) but not whenever requested, for any reason (14% and 24%).[75]
Sociologist Suzanne Staggenborg notes that in the late-1960s, the grassroots of the abortion rights movement were made up of "[w]omen, college students and other young people who were activated by earlier movements of the 1960s." Supporters of abortion rights seem to have had diverse motivations; Staggenborg notes that organizational support was provided by "[t]he family-planning population, and women's movements" and that "the Women's National Abortion Action Coalition (WONAAC) was formed in 1971 by members of the Socialist Workers Party."[76] Focusing on evidence from California, Kristin Luker similarly argues that during the 1960s, the movement for abortion reform shifted from comprising predominantly medical and legal professionals to including the wider women's movement.[77] The population control movement seems to have become more involved in the push for abortion reform in the late 1960s and early 1970s.[78]
In 1968 Pope Paul VI issued the encyclical Humanae Vitae that reaffirmed the Catholic doctrine that contraception is immoral.[79] The link made between the issues of contraception and abortion was controversial within the leaders of the anti-abortion movement.[80]
That same year, the National Right to Life Committee (NRLC) was formalized and stated goals in its first newsletter of improving communication in the anti-abortion movement and of setting up new local groups.[81] The NRLC encouraged the creation of new state-level anti-abortion groups, then coordinated and supported them.[82] Its influence was limited; historian Prudence Flowers notes that before 1973, "It had almost no funds, was run out of the offices of the National Conference of Catholic Bishops, did not direct the activities of affiliated chapters, and took three years to hold its first formal meeting for state right-to-life leaders."[83] It has been estimated that 250 state and local groups were affiliated with NRLC by mid-1972.[84] Some funding for state groups came from the Catholic Church.[85]
Another notable event of 1968 was the founding of Birthright International in Canada, providing alternative services to abortion clinics through crisis pregnancy centers (CPCs).[86] CPCs seek to provide support to pregnant women and new mothers.[87] Staff often also attempt to dissuade women who attend the CPCs from having abortions.[88] Apart from a single example from Hawaii in 1967, Birthright International seems to have organized the first CPCs.[89] From about 1969, several anti-abortion books were written, which variously included discussion of legal, theological, moral, and anti-industry themes.[90]
Around this time, there were many legal challenges to laws restricting abortion in the courts.[91] The September 1969 California Supreme Court ruling of People v. Leon P. Belous stated that California's pre-1967 antiabortion law was unconstitutionally vague in only pemitting abortion if it was "necessary to preserve" a pregnant woman's life. The four-to-three majority ruling also asserted that, "[t]he fundamental right of the woman to choose whether to bear children follows from the Supreme Court's and this court's repeated acknowledgement of a 'right to privacy' or 'liberty' in matters related to marriage, family, and sex."[92]
Also around this time, there was some internal debate in the abortion rights movement as to whether it should advocate for an increased number of exceptions to abortion restrictions or for a repeal of all abortion restrictions. The former case had been advocated by the American Law Institute, the Association for the Study of Abortion, and Alan Guttmacher, but the National Organization for Women had made a resolution in favor of repeal in November 1967.[93] In 1969, the National Association for Repeal of Abortion Laws (NARAL, later renamed the National Abortion Rights Action League) was formed; that year, it held the First National Conference on Abortion Laws in Chicago and openly sided with a medical group performing abortions after referrals from NARAL members.[94] The group was at least partly driven by feminist ideals.[95]
Staggenborg argues that in the years around 1970, the abortion rights movement pursued non-confrontational strategies, including education and lobbying, but lacked the resources to do so with much success. Women's liberation groups also used direct action and confrontational tactics to press for abortion rights at this time, including disrupting the American Medical Association's conference to protest its lack of support for abortion rights and using public demonstrations, such as the "Children by Choice" national action day.[96] One article presents the abortion rights movement at this time as an "uneasy" alliance of physicians and feminists.[97]
Between 1967 and 1970, campaigners for abortion liberalization in Hawaii gathered endorsements from a range of religious, medical, and other influential groups, as well as support from both Democrat and Republican state politicians. In contrast, anti-abortion campaigners in the state relied heavily on Catholic organizational support. Though both sides used petitions, mail, telephone, and face-to-face campaigning techniques, it seems that only the anti-abortion advocates used mass demonstrations.[98]
In 1970, Hawaii legalized abortions at the request of the woman for any reason, at any point in the pregnancy,[99] and New York, Alaska, and Washington followed (in Washington's case, following a referendum in 1970).[100] Political scientists Raymond Tatalovich and Byron W. Daynes characterize the arguments voiced for reform in Washington as having been "the problem of unwanted children, the implications of having illegal abortions, and the discriminatory nature of seeking abortions elsewhere." In contrast, anti-abortion advocates raised moral concerns such as "the sanctity of human life."[101] After successful resistance efforts in previous years, the Catholic Church in New York seems to have become complacent that abortion liberalization could be resisted with minimal mobilization.[102] Anti-abortion legislators may have made a similar mistake.[103] The New York legislature only passed the liberalization bill by a single vote.[104] One leading anti-abortion activist in the state attributed this defeat to insufficient lobbying efforts.[105] These new abortion rights laws seem to have encouraged some anti-abortion backlash; subsequently, abortion reform bills were rejected in several states, perhaps due partly to lobbying efforts,[106] and the membership of New York's anti-abortion movement grew.[107] After anti-abortion demonstrations and lobbying, in 1972, New York's legislature voted to repeal the liberal abortion law that had been introduced in 1970, but this repeal bill was vetoed by the Governor.[108]
That same year, the Republican senator Bob Packwood proposed the "National Abortion Act" to secure the "fundamental and constitutional rights" of women. Political scientist David Karol notes that this was the first proposed federal legislation on abortion.[109] Important also, the American Medical Association took a more favorable public stance on abortion rights.[110]
In April 1971, in United States v. Vuitch, the Supreme Court permitted a D.C. law banning abortion except when necessary to protect the health or life of the woman. However, the court's emphasis on the importance of doctors' professional judgement in approving abortion procedures reflected a focus on medical (as opposed to moral) considerations that would become significant in the 1973 Supreme Court decisions.[111]
In August 1971, Americans United for Life (AUL) was formed as a national organization. Its focus was initially on education.[112] In 1971, Alternatives to Abortion International (later renamed Heartbeat International) was founded by 60 crisis pregnancy centers.[113] In 1971, John Willke of Cincinnati Right to Life produced a four-page color pamphlet called Life or Death, which, according to anti-abortion activist and historian Robert Karrer, "became the most widely used anti-abortion tract during the 1970s and was translated into many languages."[114]
A poll in September 1972 suggested that 59% of Michigan voters favored supporting an upcoming referendum to permit abortion through the first twenty weeks of pregnancy without requiring state residency. In November, however, 61% voted against the referendum.[115] This apparent change in public opinion was potentially caused partially by anti-abortion activism. Karrer summarizes that, beginning in September, the group Voice of the Unborn waged a "short but effective campaign":
'The humanity of the child is the only issue,' stated Richard Jaynes, a Detroit-area physician and president of the coalition. 'Nobody has the right to deprive him of his life—not even his mother.' Working with the Michigan Catholic Conference (that sponsored the campaign "Love and Let Live" with the 950 Catholic parishes in the state), anti-abortion volunteers distributed literature to tens of thousands of homes, primarily the Willke brochure 'Life or Death.' Willke came to the state late in the campaign, visiting several mid sized cities to speak against the referendum and promote his 'Life or Death' tract. The tide turned in the final two weeks. That November, Voice of the Unborn garnered 61 percent of the vote and swiftly established itself as one of the most effective anti-abortion groups in the country."[116]
In the same month, voters in North Dakota rejected a referendum to liberalize abortion laws, by 77% to 23%.[117] Similar tactics seem to have been involved, including voter mobilization through speaking engagements and distribution of the pamphlet Life or Death.[118]
During the presidential election campaign of 1972, Republican president Richard Nixon asserted an anti-abortion stance (no prior US president seems to have discussed the issue so publicly and assertively), while George McGovern, the Democratic candidate, tried to avoid the issue. Nixon was re-elected.[119]
On December 9, 1972, the board of the National Right to Life Committee (NRLC, the largest national anti-abortion organization, with 250 affiliated state and local groups[120]) voted to sever official ties with the Catholic Church and to restructure the organization. This seems to have been caused by several factors, including a desire for the NRLC to accurately represent the views of local organizations, a desire for the NRLC to be well-placed to retain a national leadership position within the anti-abortion movement, and concerns that ties to the USCC were preventing fundraising for lobbying.[121]
Though their influence within the Party remained limited, feminists sought to add an abortion rights plank to the Democrats' election platform at the 1972 Democratic Convention. Earlier that year, Democratic Representative Bella Abzug had proposed a national bill for abortion rights.[122]
Between 1966 and 1973, 13 states had passed laws permitting abortions to protect the woman's physical and mental health, 1 to allow abortions after rape, and 4 had legalized abortion for any reason. With the exception of 3 states that prohibited abortion in all circumstances (Louisiana, New Hampshire, and Pennsylvania), all other states prohibited abortion except when the woman's life was in danger.[123] Some states had rejected liberalized legislation by large margins.[124] There is evidence that women would travel from states where abortion was illegal to states where they could have the procedure.[125] Internationally, Tatalovich and Daynes count that, "Only 15 nations predated the United States in [liberalizing] abortion reform," mostly in Eastern Europe and Scandinavia, and that "only 6 other countries allowed abortion 'on demand' in 1974."[126]
1973-80:
Roe v. Wade
, anti-abortion mobilization, and political tactics
The January 22, 1973 Roe v. Wade ruling enforced a national framework for state legislation that decriminalized abortion for up to twelve weeks of pregnancy (the end of the first trimester). After this point, a woman could obtain an abortion for health reasons.[127] This landmark decision was likely encouraged by the abortion rights activism of the past two decades.[128] Legal scholars Linda Greenhouse and Reva Siegel argue that "doctors and public health advocates played an important role in setting the nation on the road to Roe, but so too did movements for human freedom… As the women's movement connected the abortion right to these larger claims of principle, the abortion conflict was constitutionalized." Nevertheless, they note that the Supreme Court justified its decisions largely with reference to medical arguments, rather than moral ones.[129] The legal precedent of recent court decisions such as Griswold v. Connecticut, which had ruled that the Constitution protects the right of marital privacy against state restrictions on contraception,[130] was cited in the Roe ruling as justices weighed the right to privacy of those seeking abortion against the interests of the state.[131]
On the same day as the Roe ruling, the Doe v. Bolton ruling clarified that a variety of factors, "physical, emotional, psychological, familial, and the woman's age," could influence a medical decision to permit a late termination of pregnancy.[132]
The Republican party did not yet have a consensus position on abortion and so issued only a brief statement in response to Roe v. Wade, repeating Nixon's view that abortion should not be used for "population control," without commenting directly on the ruling.[133] Likewise, Evangelical leaders adopted various positions on the issue, or passed little comment on the decision, though there was some agreement on "a high view of the sanctity of human life, including fetal life."[134]
Many anti-abortion activists were surprised by the court ruling.[135] There is anecdotal evidence that these two legal rulings catalyzed some activists' deeper involvement in the anti-abortion movement. For example, sociologist Ziad Munson notes that a "handful" of his activist interviewees "became mobilized immediately after the Supreme Court rulings."[136] Several right-to-life organizations saw a surge in engagement and support; Minnesota Citizens Concerned for Life's membership rose by 50% in 4 months,[137] and Michigan Citizens for Life's membership rose from 10,000 in late 1972 to 50,000 in May 1973 and to 200,000 in 1976.[138] At least one new national anti-abortion group was formed.[139] Additionally, the June 1973 NRLC national convention had about 1,500 attendees from 46 states and Canada, a large increase from the previous conference in June 1972, which had had 280 to 380 attendees. Changes in organization at the NRLC may partially account for this difference, however.[140]
On January 30, 1973 (8 days after Roe v. Wade), Congressmen Lawrence Hogan proposed the first Human Life Amendment (HLA)[141]—that is, an amendment to the constitution to overturn the ruling of Roe v. Wade and to outlaw abortion.[142] Hogan's proposed HLA stated that neither federal nor state government "shall deprive any human being, from the moment of conception, of life without due process of law." Two other HLAs were proposed that year. Although one of these reached a Senate subcommittee vote in September 1974, it was rejected by a 5 to 2 vote.[143] Many HLAs have been proposed subsequently.[144] In the wake of Roe, Rhode Island, West Virginia, Indiana, and Utah sought to introduce new anti-abortion state legislation, but the new laws were struck down by courts in several of these states.[145] Other restrictive state-level anti-abortion legislation was maintained, however, at least in part.[146]
In addition to supporting HLAs, anti-abortion legislators pursued legislation at the state level. Political scientists Scott H. Ainsworth and Thad E. Hall note that 1973-84 saw a mean of 37 proposals per year.[147]
Between 1972 and 1973, national polls showed a rise in support for abortion rights in the population as a whole. Support had been rising in previous years and continued to rise subsequently.[148]
On December 8, 1973, the NRLC board agreed that the "first program priority" was "the development and implementation of a political campaign to effect passage of a Human Life constitutional Amendment."[149]
Shortly after the Roe v. Wade ruling, the board of Americans United for Life (AUL) gave control to a medical attorney, Dennis J. Horan, who shifted AUL's focus away from education and towards a legal strategy, though they continued to publish books setting forth moral arguments. By 1976, the group had formed the AUL Legal Defense Fund.[150] AUL won four of the seven Supreme Court cases between 1975 and 1981 in which they sponsored litigation or submitted amicus curiae briefs (a method of offering information and expertise relevant to a case), though this is a small number of cases compared to other interest groups.[151]
In the years after Roe, there seems to have been a shift away from population control arguments in the abortion rights movement;[152] population control organizations stepped away from the abortion rights movement[153] and other organizations seem to have distanced themselves from population control rhetoric.[154] Some anti-abortion activists also focused on refuting the rights arguments discussed in the Roe ruling.[155] Both the abortion rights and anti-abortion movements seem to have made some effort to explore possible compromises between women's rights and fetus' rights.[156]
On January 22, 1974, the anniversary of the Roe v. Wade decision, the first March for Life was held. These protest rallies have continued to be held annually in Washington, D.C., organized by the March for Life Education and Defense Fund.[157]
Anthropologist Carol J. C. Maxwell notes that, "[i]n the mid 1970s, abortion clinics in the United States experienced their first sit-ins."[158] A group called Catholics United for Life engaged in clinic protests and sidewalk counselling — where anti-abortion activists stood outside abortion clinics and attempted to dissuade pregnant women from entering the clinic or choosing to have an abortion — from the mid- to late-1970s.[159] However, other accounts of anti-abortion direct action do not mention direct action protests this early.[160] This omission suggests that these protests remained small-scale and localized for several years.
During the years after Roe v. Wade, abortion rights groups professionalized and built up organizational stability. For example, NARAL hired new staff, used direct-mail techniques to raise money, and set up a political action committee.[161]
In 1975, the National Council of Catholic Bishops (NCCB) launched a campaign for an amendment of the US Constitution to reverse the Roe v. Wade decision.[162]
In September 1976, the Hyde Amendment, an amendment to a fiscal measure proposed to the House of Representatives by Republican Henry J. Hyde, prevented the use of certain federal funds for abortions, principally through Medicaid. Initially rejected by the Senate, the measure was passed once an exception was included to allow funding for abortions that would prevent "severe and long-lasting physical health damage." Prior to this, approximately 300,000 abortions per year were funded by Medicaid.[163] After the Hyde Amendment, some states continued to use their own funds to cover abortion for those on Medicaid.[164] Despite the continued failure of HLA tactics, funding restrictions were passed again subsequently, as with 1978 modifications to three bills.[165]
In 1976, the Supreme Court's decision in Planned Parenthood v. Danforth declared unconstitutional a Missouri law that gave husbands or parents of unwed minors the ability to veto their decision to have an abortion.[166] However, informed consent laws (requiring the woman to be aware of certain factors, such as the extent of fetal development) were upheld and the ruling suggested that other restrictions on abortion could be allowed in the first trimester of pregnancy.[167]
In the buildup to the 1976 election, Democratic candidate Jimmy Carter and Republican candidate Gerald Ford sought to reassure the NCCB about their position on abortion. Archbishop Joseph Bernadin, the president of the NCCB, noted that he and the NCCB were "disappointed" with Carter's position on abortion, while Ford's position was "encouraging."[168] Carter won the election and became president in January 1977. The two major political parties were not yet clearly split in Congress on the issue of abortion, however,[169] and both presidents had mixed views, supporting the implementation of the Hyde Amendment, but not supporting a HLA.[170]
In the 1970s, evangelicals had been increasingly mobilizing on conservative political campaigns and issues.[171] Jimmy Carter was an evangelical Protestant. His election as president may have encouraged evangelical politicization, given his open claims that "I'll be a better president because of my deep religious convictions," and admission that his "deep and consistent religious faith" was "the most important thing in [his] life."[172] Despite encouraging a perception that his politics were inspired by faith, his moderate liberal politics differed from those of many evangelicals,[173] and frustration with his policies seems likely to have encouraged a shift towards the Republican Party among conservative Christians.[174]
The Hyde Amendment survived four Supreme Court rulings on cases brought by abortion rights groups: Beal v. Doe, Maker v. Roe, and Poelker v. Doe, each in 1977, and Harris v. McRae in 1980.[175]
In 1977, the first organization dedicated to securing the election of anti-abortion candidates, the Life Amendment Political Action Committee, was created. The NRLC later created its own organization, NRLCPAC, which, according to historian Keith Cassidy, "became the largest pro-life PAC."[176]
From late 1976 until 1979, anti-abortion advocates focused on a different tactic to secure a HLA; calling a constitutional convention.[177] A constitutional convention is a meeting that congress must convene if asked to do so by two-thirds of the states.[178] This tactic would have enabled anti-abortion states to request a convention but bypass the requirement for two-thirds of Congress to support a constitutional amendment proposed via the traditional method.[179]
1977-8 saw several notable incidents of anti-abortion violence at clinics.[180] The data aggregated by economists Mireille Jacobson and Heather Royer includes 1 violent incident in 1976, 4 in 1977, and 7 in 1978.[181] Isolated anti-abortion activists committed many acts of violence during subsequent decades, including arson, bombings, acid attacks, and murder attempts (some of which were successful), although between 1976 and 1983, the average number of violent incidents per year was 3.[182] No major anti-abortion group publicly supported these violent attacks, though some were accused of tacitly accepting violent tactics.[183]
In spring 1979, the American Life League (ALL) was founded after a schism within the NRLC.[184] ALL adopted a more radical stance; in the 1990s, activists from ALL took part in direct action tactics.[185]
In 1979, the organizations Moral Majority (a non-profit), Moral Majority, Inc. (a political lobby) and Moral Majority Political Action Committee were founded by Baptist minister Jerry Falwell, partially on the encouragement of conservative activists such as Paul Weyrich.[186] These groups were part of the developing political mobilization of conservative Christians, which included other groups such as Christian Voice, the Religious Roundtable, and the National Christian Action Coalition. These groups, often referred to collectively as the Christian Right, held anti-abortion beliefs among other socially conservative and pro-religious values.[187] At this time, the audience for religious broadcasts and television shows was growing,[188] and these groups became increasingly politicized.[189] In 1980, the Washington for Jesus rally with many conservative speakers had somewhere between 250,000 and 500,000 attendees.[190] The anti-abortion movement seems to have become more conservative, influenced by the growth of the Christian Right.[191]
By 1980, the NRLC claimed to have an annual budget of $1.6 million.[192]
Momentum seemed to decline for a constitutional amendment to address abortion by the end of the decade; more constitutional amendments related to abortion were proposed between 1975 and 1980 than 1980-2004.[193] From the late 1970s, some members of the anti-abortion movement became more interested in legislation and litigation that incrementally challenged the abortion rights conferred by Roe.[194]
1980-92: Ronald Reagan, the diversification of anti-abortion tactics, and an increasingly anti-abortion Supreme Court
During the 1980 presidential campaign, the Republican platform was strongly anti-abortion, including advocating an amendment to the Constitution to overturn Roe v. Wade. The Democratic platform remained more ambivalent.[195] The Republican position seems to represent a marked institutionalization of an anti-abortion position, compared to the start of the previous decade.[196] Despite competing against two evangelical Protestants, Jimmy Carter and John Anderson (a Republican turned Independent candidate), Ronald Reagan (the Republican candidate) seemed to more fully endorse the political positions of the new Christian Right.
Reagan was elected and became president in January 1981.[197] From January 1981 until January 1987, the Republicans held a majority in the Senate (for the first time since 1954) but the Democrats retained a majority in the House of Representatives.[198] These victories for a Republican party that newly emphasized anti-abortion attitudes presumably made the political prospects of the anti-abortion movement seem more promising. By the mid-1980s, anti-abortion positions seem to have become much more closely correlated with right wing positions on other issues among members of Congress, though this development did not occur suddenly during or following the election.[199]
In 1982, two separate anti-abortion bills were introduced into Congress: the Hatch Amendment and the Helms Bill. Though the amendment was more moderate than the bill, seeking to return abortion decisions to the states rather than to ban abortions outright, neither passed through Congress.[200]
On January 26, 1983, Senator Orrin Hatch proposed another HLA to a congressional committee. By the time it reached a vote in the Senate on July 27, this HLA (the "Hatch-Eagleton Amendment," following modification by Senator Thomas Eagleton) proposed that the right to an abortion is not secured by the Constitution. In the Senate, the Hatch-Eagleton Amendment received 49 votes for and 50 against, thereby falling 18 votes short of the 67 needed.[201] This was the only HLA to actually be considered by either the House or the Senate.[202]
After this point, proposed legislation on abortion became less radical and the total volume of proposals decreased. By the count of political scientists Scott H. Ainsworth and Thad E. Hall, between 1973 and 1984, 70% of the abortion-related proposals in Congress were nonincremental, meaning that they were efforts to either reverse or codify Roe v. Wade through legislation. The proportion of proposals that were nonincremental fell to 24% between 1985 and 1992, and down further to 13% between 1993 and 2004. The years between 1973 and 1984 saw 445 proposals (i.e. a mean of 37 proposals per year), 1985-92 saw 213 proposals (mean: 27), and 1993-2004 saw 348 (mean: 29). They note that abortion-related constitutional amendments accounted for less than 10% of all abortion-related activity in the House of Representatives in the 1990s, with 12 abortion-related constitutional amendments introduced in the House in that time.[203] Despite this shift towards less radical proposals, legislation continued to fail to pass through Congress with few exceptions.[204]
During the 1980s, there was a growth in the number of crisis pregnancy centers and alternatives to abortion clinics.[205]
In 1982, the first incident occurred with individuals identifying as members of the terrorist anti-abortion group, the Army of God, with the kidnapping of a doctor who provided abortions and his wife.[206]
By the 1984 election, the Republican party platform declared unequivocally that, "The unborn child has a fundamental individual right to life which cannot be infringed."[207] Reagan was re-elected.[208]
In 1984, the NRLC and Bernard Nathanson, a medical doctor and co-founder of the abortion rights group NARAL who had reversed his views on abortion, co-produced the documentary The Silent Scream. This documentary seemed to prioritize emotional impact over medical accuracy and became widely publicized.[209] In the same year, the NRLC formalized its media department and ran an advertisement in Time magazine. Though this was its first professionally produced advertisement, the NRLC then launched similar adverts in seven "markets" and by 1985, it had sent a five-minute radio broadcast to 300 radio stations.[210] The group was growing at this time.[211]
In 1985, following 2 years of a boycott of the Upjohn Company that NRLC coordinated, the company ceased research into abortifacient drugs, though they continued to sell the abortifacient drugs Prostaglandins.[212]
The years 1984 and 1985 saw the peak of anti-abortion arsons and bombings (30 in 1984, 22 in 1985) and of reported death threats.[213] In 1984, the number of violent incidents jumped up to 29, from 2 in the previous year; the average number of violent incidents per year was 3 in 1976-83, which rose to 20 in 1984-99.[214] From the mid-1980s, direct action tactics were increasingly used. 80% of large nonhospital facilities (providing 400 or more abortions) were picketed in 1985, with 40% reporting an increase from the previous year.[215]
In 1987, the group Operation Rescue conducted "rescue" tactics—direct action to obstruct the operation of abortion clinics—for the first time at a New Jersey clinic.[216]
In 1988, the group led the "Siege of Atlanta" at the Democratic National Convention in Atlanta, getting themselves intentionally arrested and covering up their own identity in order to clog up the courts and jails;[217] 1,300 were arrested.[218]
Although data by individual years is not available for this period, the average number of arrests of anti-abortion activists per year was 1,875 in 1977-89 and 2,266 in 1990-1993. Picketing of clinics was likely rising steeply at this time; the average number of picketing incidents per year was 65 between 1977 and 1989 and 1,379 between 1990 and 1993.[219] Comparing Gallup polls in 1983 and 1985, there appears to have been a small increase in anti-abortion sentiment (from 16% to 21% believing abortion should be illegal in all circumstances), although the increases in violence and direct action were not the only changes in this period and outright opposition to abortion had fallen back to 17% by 1988.[220]
From January 1987 until January 1995, the Democrats held a majority in both the Senate and the House of Representatives.[221] According to one paper, in 1987, the Reagan administration took on a different strategy to deal with abortion issues, focusing on restriction of abortion rather than radical policy change, because views were too polarized on abortion for radical change to be tractable.[222]
In 1988, in Colorado, Michigan, and Arkansas, a majority (60%, 58%, and 52% respectively) of voters endorsed anti-abortion stances in state referendums on related legislation.[223]
In 1988, the NRLC and other anti-abortion organizations notified drug companies that if any company sold an abortifacient drug, they and anti-abortion members of the public would boycott all the products of that company. The threat of a boycott was used to delay the sale of the abortifacient drug RU-486, which was brought to market in France by 1987, but not until 2000 in the US.[224]
The Republican candidate George H. W. Bush won the 1988 election and became president in January 1989.[225] Although Bush had run against Reagan in 1980 for the Republican party nomination while espousing an abortion rights position, he had changed his position in the intervening years and ran on a platform opposing abortion in 1988.[226] In the 1988 election, the Democratic party adopted a clearer stance in favor of abortion rights.[227]
During the 1988 presidential campaign, the former evangelical Protestant minister Pat Robertson ran against George Bush in the Republican primaries but withdrew before the primaries were finished. The following year, the organization Moral Majority was disbanded seemingly due, at least in part, to its failure to build a wide base of support.[228] Combined, these two events represented notable defeats for the political influence of evangelicals. In the 1990s, however, new organizations with a seemingly more moderate character were established.[229]
In 1989, the five-to-four Supreme Court decision in Webster v. Reproductive Health Services returned some power over abortion policy to states, including during the first trimester of pregnancy.[230] In 1990, the case of Ohio v. Akron Center for Reproductive Health (1990) further reinforced the freedom of state restrictions against abortion services.[231] The ruling also saw challenges by some justices to the principles of Roe v. Wade.[232] One paper, using The New York Times mentions of interest group activities in 1985-9, finds evidence of significantly higher-than-usual activity of anti-abortion groups in the quarter year during which the Webster decision was made but not in the quarter year following it.[233] Further analysis suggests that coverage of both the public activities of anti-abortion groups and the activities of the Courts in this period encouraged support for the legal status quo.[234]
By 1989-90, NRLC sent 85% of their campaign donations to Republicans.[235]
One source claims that by 1992, the NRLC still had fewer than 50 employees, though local groups had experienced professionalization, hiring executive directors.[236] Another source claims that by 1980-91, the NRLC "grew from five to fifty employees, and went from $400,000 annual cash flow to $15 million."[237]
In 1992, the Planned Parenthood v. Casey decision reaffirmed the principles of Roe v. Wade and found unconstitutional a Pennsylvania law that required women intending to have an abortion to inform their husbands.[238] However, the Supreme Court abandoned the trimester framework previously established in Roe v. Wade, instead using a framework of "undue burden." This allowed more scope for restrictive laws such as parental involvement laws, as long as they were not found by courts to constitute an undue burden.[239]
The Supreme Court decisions of Webster v. Reproductive Health Services, Ohio v. Akron Center for Reproductive Health, and Planned Parenthood v. Casey made state-level anti-abortion legislation more tractable.[240] Alesha Doan notes that "over 400 anti-abortion measures [were] enacted in the states within a ten-year time span."[241] In the period 1992-2000, the number of states enforcing laws requiring parental involvement in abortion decisions rose from 20 to 32, 12 bans or restrictions on partial-birth abortions were introduced where previously there were none, and the rise in the number of states requiring parental consent rose from "virtually [none]" to 27.[242]
In 1991, a 46 day protest in Wichita, Kansas with 25,000 anti-abortion activists was orchestrated by the group Operation Rescue. This led to the closure of 3 abortion clinics, 3,000 arrests, and a cost of $846,447 to taxpayers.[243] During the April 1992 "Spring of Life" protests at abortion clinics in Buffalo, New York, 615 arrests were made, and the police officials estimated that extra costs came to $500,000. All clinics remained open.[244] Although not giving precise dates, Carol J. C. Maxwell argues, based on the stories told in activist interviews, that during the 1990s, the "middle ground provided by sit-ins (which allowed assertive personal action, tempered by a commitment to nonviolence) diminished, and the opposing extremes persisted… picketing flourished, acts of extreme violence arose, and terrorist tactics increased," while other activists shifted away from direct action towards legislative and educational actions.[245]
In 1992, the number of newspaper articles discussing abortion reached a peak of over 10,000 articles.[246]
1992-2000: Bill Clinton, declining violence, and declining abortion incidence
The Democratic candidate Bill Clinton won the 1992 election while supporting abortion rights; he became president in January 1993.[247]
Clinton reversed several laws and restrictions on abortion implemented under Reagan and Bush, such as a gag order that had federally-funded family planning agencies from explaining to their clients that abortion was an option. Several of these restrictions have subsequently been reinstated and repealed again as administrations have changed.[248]
From approximately 1993, a decline in the number of abortions began that has continued until at least 2015.[249] Reported legal abortions dropped 18.4% from 1990 to 1999.[250]
In 1994, the Supreme Court ruled unanimously in National Organization for Women v. Scheidler that the existing Racketeer Influenced and Corrupt Organizations Act (RICO) could be applied to restrict illegal anti-abortion activism.[251] In May 1994, the Freedom of Access to Clinic Entrances Act (FACE) was passed, which prohibited the use of force to prevent someone using or providing abortion services, as well as prohibiting the intentional damage of a facility.[252] After 1994, the percentage of clinics reporting to have experienced severe violence and threats of severe violence in surveys (including blockading clinic entrances or facility invasions) dropped steeply.[253] Another Count of violent incidents with a narrower categorization shows that violent behavior peaked in 1992, with 51 incidences of arson, bombings, or acid attacks, though there continued to be more than 10 incidents each year until the year 2000; the average number of violent incidents per year was 20 in 1984-99, which fell to 4 in 2000-4.[254] Data from the National Abortion Federation (based on "monthly reports on the violence and disruption" experienced by NAF members) shows that the number of arrests of anti-abortion activists fell steeply from an average of 2,266 per year in 1990-3 to 217 in 1994 to an average of 8 per year in 1995-2018,[255] presumably because the new legal restrictions made the consequence of risking arrest unacceptably high. Other forms of disruptive activity did not fall at this time, however. In fact, picketing rose from an average of 1,379 incidents per year in 1990-3 to 1,407 incidents in 1994, to an average of 8,071 incidents per year in 1995-2014.[256]
From January 1995 until January 2007, the Republicans held a majority in both the Senate and the House of Representatives (apart from 2001 to 2003, when 50 senators from each party were elected). This was the first time that this had happened since January 1955,[257] well before Roe v. Wade, although Clinton remained president until 2001.[258] Anti-abortion candidates seem to have performed well in the election. One newspaper noted that:
"[N]ot a single pro-life governor or member of Congress of either party was defeated by a pro-choice challenger; pro-life challengers defeated 28 House and 2 Senate incumbents; of the 48 races for open House seats, pro-lifers took 34; of the 11 new senators, all but one are pro-life; and of the 26 percent of the electorate who said, according to a Wirthlin Group post-election survey, that the abortion issue affected the way they voted, two-thirds backed abortion foes while only one third voted for pro-choice candidates."[259]
In the 1996 election, Republican candidate Bob Dole seemed to de-emphasize abortion issues compared to previous Republican candidates.[260] Clinton was re-elected.[261]
In April 1996 and October 1997, President Bill Clinton vetoed bills banning the procedure of intact dilation and extraction (an abortion procedure in the late stages of pregnancy, widely known as partial-birth abortion) on the basis that they did not include health exceptions.[262]
In 1997, in Schenck v. Pro-Choice Network of Western New York, anti-abortion activist Paul Schenck challenged a US district court injunction which restricted demonstrations from within 15-feet of four abortion clinics in New York state. The case came before the Supreme Court, where Justices ruled 8–1 to uphold the constitutionality of a "fixed buffer zone" (the area around the clinic itself), but not that of a "floating buffer zone" (the area around objects in transit such as cars or people).[263]
The year 1999 saw a high-profile death of a mother during an abortion procedure, which was followed by increased regulations on abortion clinics in "dozens of states;" the AUL claim that "many" used "AUL's model act as a guide."[264] Indeed, hundreds of abortion-related bills were proposed in the states each year in the late 1990s and early 2000s. Over 400 anti-abortion measures were enacted within ten years.[265]
In 2000, the US Supreme Court overturned partial-birth abortion bans across 30 states in Stenberg v. Carhart because it made no exception "for the preservation of the... health of the mother" and imposed an "undue burden" on a woman's ability to choose to have an abortion, both of which violated the principles of the 1992 Planned Parenthood v. Casey ruling.[266]
2000-present: Republican dominance, incremental legislative successes, and renewed anti-abortion sentiment in the Supreme Court
Republican candidate George W. Bush won the 2000 election and became president in January 2001. This was the first time since January 1955 that the president had been a Republican simultaneously with both the Senate and House of Representatives having Republican majorities.[267]
In 2003, in spite of the Stenberg v. Carhart ruling that had overturned state partial-birth abortion bans, Bush signed the Partial-Birth Abortion Ban Act into law. One paper finds, through content analysis, that although senators mostly voted for or against the bill on the basis of its constitutionality, discussion focused on the morality of the procedure. The author argues that the issue may have been framed in this manner in order to pressure abortion rights politicians and the Supreme Court.[268] In 2007, the Gonzales v. Carhart case upheld the Partial-Birth Abortion Ban Act of 2003 by a vote of 5-4, including by two justices appointed to the Supreme Court by George W. Bush. This modified the earlier findings of Stenberg v. Carhart.[269]
On April 1, 2004, Bush signed the Unborn Victims of Violence Act into law, which meant that those who injured or killed a pregnant mother could be prosecuted with a second offence against the unborn child. This act thereby established the fetus as a separate legal entity.[270] Commentators suggested that this was a strategic decision taken by the anti-abortion movement to establish legal personhood for human fetuses.[271] Legal challenges to similar laws at the state level have been rejected.[272]
From January 2007 until January 2011, the Democrats held a majority in both the Senate and the House of Representatives.[273] Democratic candidate Barack Obama won the 2008 election and became president in January 2009.[274] Despite some legislative and legal victories for the anti-abortion movement, this period of Republican dominance thus came to an end without overturning of Roe v. Wade or implementing any particularly radical reshaping of the abortion policy landscape, which may have been due partially to the Republicans not prioritizing socially conservative goals.[275] From January 2011 until January 2015, the Republicans held a majority in the House of Representatives, but the Democrats retained a majority in the Senate.[276]
By the Guttmacher Institute's count, 2011 saw a sudden rise in the passage of state laws restricting abortions from between 0 and 30 passed in each year from 1985 to 2010 up to over 90 restrictions passed in 2011 alone.[277] This seems likely to have been encouraged by the new Republican control of the House of Representatives.[278] These laws include TRAP (Targeted Regulation of Abortion Providers) laws, as well as restrictions on insurance coverage of abortion procedures, other restrictions on the conditions in which medical abortion can be provided, and bans on abortion after 20 weeks of pregnancy.[279] According to the data from NARAL, however, 2011 seems like less of a sudden rise, with 69 new "statewide anti-choice measures" enacted, while the highest increase in previous years was 58 in 2005. In 2016, the cumulative total enacted since 1995 was 932.[280]
In 2011, the first "heartbeat bills" were proposed.[281] Heartbeat bills are legislation that makes abortion illegal once a heartbeat can be detected. This can be as early as six weeks into the pregnancy, at which point some women may not yet be aware that they are pregnant.[282] These bills therefore seem likely to drastically cut the number of abortions conducted within an individual state where such legislation exists, but fall slightly short of an outright ban on abortion.
From January 2015 until January 2019, the Republicans held a majority in both the Senate and the House of Representatives.[283] Compared to 2014, the years 2015 to 2018 saw very sharp rises in the amount of hate mail and harassment, trespassing, and picketing conducted by anti-abortion activists; each of these activities rose in frequency by over an order of magnitude between 2014 and 2018. For example, the number of picketing incidents rose from 5,402 incidents in 2014 to 99,409 in 2018, with an average of 8,071 per year in 1995-2014 rising to an average of 65,200 per year in 2015-18.[284] These changes do not appear to have had any notable effect on public opinion.[285]
In 2016, the Whole Woman's Health v. Hellerstedt ruling struck down several restrictions on abortion services in Texas via the "undue burden" principle.[286]
Republican candidate Donald Trump won the 2016 election and became president in January 2017. At various points, Trump had announced inconsistent views on abortion.[287] However, during the campaign, he identified as "pro-life" and announced that he intended to appoint anti-abortion Justices to the Supreme Court, which would then "automatically" lead to the reversal of Roe v. Wade.[288] Since then, he has appointed two anti-abortion justices, Neil M. Gorsuch and Brett Kavanaugh.[289]
In January 2017, Vice President Mike Pence attended the annual March for Life in Washington DC. He was the highest-ranking U.S. official to attend in person, though presidents had previously telephoned in as speakers.[290] In January 2017, the House of Representatives passed legislation that would make the Hyde Amendment's provisions permanent, preventing the use of certain federal funds for abortions. However, the bill was never brought to a vote in the Senate.[291]
From January 2019 until the time of writing, the Democrats have held a majority in the House of Representatives but the Republicans have retained a majority in the Senate.[292] In February 2019, in the June Medical Services v. Gee ruling, the Supreme Court voted 5-to-4 to prevent a restrictive Louisiana abortion law.[293]
One article by the BBC claims that between January and April 2019, fifteen states "have specifically been working with so-called 'heartbeat bills,' that would ban abortion after six weeks of pregnancy," compared to seven in 2018.[294] In early April, the Guttmacher Institute noted that "Legislation under consideration in 28 states would ban abortion in a variety of ways."[295] Three heartbeat bills have been passed by state legislatures but struck down by courts or judges, six further bills have been temporarily blocked by federal courts, and one is expected to be effective from November 16, 2019.[296]
Comparing Gallup polls in May 2018 to May 2019, the public seems to have become slightly more hostile to abortion by several percentage points.[297] Abortion issues may also to have become more politically salient in this period; asked to think about "how the abortion issue might affect [their] vote for major offices," Gallup polls show that 75% of registered voter respondents in 2019 saw abortion as an important issue, compared to 71% in 2016.[298]
Summary of Shifts in Tactics
A broad chronological generalization is that the anti-abortion movement has moved through phases of prioritizing different tactics, shifting each time a tactic failed to achieve success:
Throughout this period, advocates have also sought to persuade the public that abortion is undesirable and immoral through information campaigns and resources such as John Wilke's pamphlet Life or Death and Bernard Nathanson's film, The Silent Scream. The author of this report has not seen evidence to suggest that there were substantial shifts in the extent to which this form of activism was prioritized.
The Extent of the Success of the Anti-Abortion Movement in US
The extent of success is important for the weight that we place on strategic knowledge from this case study. For some concrete outcomes, such as the passage of legislation regulating abortion at the state level, analysis of their causes can provide strategic knowledge.[310] However, where judgements of causation regarding particular movement outcomes are uncertain, a case study can still be informative; if a particular social movement successfully achieves its goals, then this provides weak evidence that its particular characteristics (such as the tactics used and prioritized) led to success. The noting of such correlations between certain characteristics and success or failure will become more useful as we analyze a greater number of historical social movements and note whether any correlations reliably replicate across different movements and across different contexts.[311]
This section seeks to summarize the degree of success or failure of the anti-abortion movement to date, but does not discuss the causes of these outcomes. For discussion of causation, see the section on "Strategic Implications."
Changes in behavior, legislation, and legal precedent are most directly related to improvements in wellbeing for the intended beneficiaries of a social movement. From a longer-term perspective, reflecting an interest in these changes as constituting one step in a wider process of moral circle expansion or another longer-term social change, it is also important to consider whether the anti-abortion movement has been able to secure less concrete forms of success that might have indirect effects on human fetuses, such as changes to values, culture, and identity.
Given that the anti-abortion movement was partially a reaction to the social and legal changes of the 1960s onwards, the movement may have been successful in terms of preventing change that it disapproved of, rather than in terms of encouraging changes that it desired.
Changes to Behavior
The number of abortions appears to have risen each year between 1972 and 1977, rising from 587,000 in 1972 to 1,270,000 in 1977;[312] this was around the time that the modern US anti-abortion movement began to mobilize seriously, though this process had begun in the 1960s.[313] According to data from the Centers for Disease Control and Prevention, the number of abortions per 1,000 live births rose in the 1970s from little over 200 to around 250 for most of the 1980s. From 1993 this ratio fell and by 2015 was under 200 per 1,000 live births.[314] The extent to which the anti-abortion and abortion rights movements have been responsible for these changes is unclear and so this metric does not show clear success or failure for either movement.[315]
Legislative and Legal Changes
Before Roe v. Wade, there were some political victories for the anti-abortion movement at the state level, which were nevertheless undermined by the legal defeat.[316]
None of the proposals for a Human Life Amendment to overturn Roe v. Wade and/or criminalize abortion have succeeded to date.[317]
Some laws have been passed and Supreme Court rulings have been made that make access to abortion more difficult:
Legal victories may only realize their full potential if further victories are won, by building precedent for further legal decisions.[323]
Acceptance and Inclusion
In various ways, the anti-abortion cause seems to have gained acceptance and normalization within the Republican Party. Four anti-abortion US Presidents—Ronald Reagan, George H. W. Bush, George W. Bush, and Donald Trump—have been elected to date.[324] Vice President Mike Pence attended the annual March for Life in Washington D.C., and presidents have previously telephoned in as speakers.[325] Although not synonymous with the anti-abortion movement, some organizations and individuals associated with the Christian Right have been welcomed by the Republican Party.[326]
To some extent, the anti-abortion cause and crisis pregnancy centers (CPCs) in particular have gained acceptance at the national level during Republican administrations, as well as at the state level. For example, during the presidency of George W. Bush, CPCs were given federal funding to provide abstinence education.[327] Currently, 32 states sell "Choose Life" license plates; the funds from these sales often go to CPCs.[328]
There are various other examples of ad hoc engagement, consultation with, or endorsement of anti-abortion organizations by politicians and institutions, which also represent a form of acceptance. One example is the consulting of Americans United for Life by legislators at the state level.[329]
Changes to Public Opinion
Gallup polls suggest that the U.S. public has slightly shifted towards support for abortion being legal in all circumstances since regular polling began, rising slightly from 22% in 1975 to 25% in 2019.[330] The General Social Survey (GSS) also shows a slight move towards support for abortion for any reason, however, it also reveals a trend towards anti-abortion attitudes in the years 1973 to 2012 for all six more specific questions measured, such as the right to abortion if the baby has a strong chance of being born with a serious defect.[331] However, anti-abortion activists themselves have different views on these specific questions.[332]
Given the fluctuations in each of these measures for both the GSS and Gallup polls, none of these changes seem to mark clear victories or defeats for either the anti-abortion movement or its opponents.
However, there are several reasons to think that the apparent stagnation in abortion attitudes represents partial success for the anti-abortion movement:
In contrast, the increasing survival rates of preterm births and the increasingly early point of fetal "viability" (that is, survival) outside the womb could be expected to have provided a substantial advantage to the anti-abortion position.[340] The stagnation of public opinion in spite of this suggests failure by the anti-abortion movement insofar as one believes that these medical arguments should have strengthened the arguments of the anti-abortion movement.
Polling from before Roe v. Wade suggests that support for abortion rights was slightly lower than it was later in the 1970s. For example, a 1970 survey by National Fertility Studies found that only 16% of Americans supported the right to elective abortion.[341] GSS data suggests that support rapidly increased for abortion rights in the years 1965-73.[342] A series of surveys from 1972 to 1979 indicate that support for the Supreme Court decision itself rose after the ruling.[343] Some polls found stronger agreement with specific statements that imply strong support for abortion rights, though the wording makes comparison between these questions and later polls unclear.[344] Given these results, if the anti-abortion movement's success is measured from the late 1960s, as opposed to from 1973, then it can be judged to have performed poorly at preventing attitude change.
Although polling on identity has not been going for as long, Gallup polls found that 56% of respondents considered themselves to be "pro-choice" in 1996 and this has fallen to 49% in 2019, while those identifying as "pro-life" rose from 33% to 46% in the same time period. However, most of this change occurred narrowly in the years 1995-8, with some fluctuation but no clear change since then.[345]
These polls should be taken with a grain of salt, since variations in the wording of polls has produced responses to similar questions that vary by 10% or more, even with similar samples.[346] Nevertheless, when wording has remained consistent in particular surveys, changing answers still provide indications of changing values.
Changes in the Importance and Salience of the Issue
There may have been some increased sense of importance on the topic, distinct from support or opposition to specific policies or viewpoints. Asked to think about "how the abortion issue might affect [their] vote for major offices," Gallup polls show that 75% of registered voter respondents in 2019 saw abortion as an important issue, compared to 59% in 1992.[347] Other polls also suggest an increased attachment to the issue.[348] Newspaper, magazine, and social science articles increased their coverage of abortion issues in the 1960s and 70s.[349] Another count of newspaper and magazine articles on abortion issues shows a steep rise in the period after 1985.[350]
Counts of the total number and length of congressional hearings and of the number of congressional committees addressing abortion issues all jump up markedly in the years 1995-2000 when compared to the years 1970-1995.[351] The yearly average number of paragraphs in presidential papers on the topic of abortion under Nixon (1969-74) was 1; this rose to 13 for Ford (1974-7), 11 for Carter (1977-81), 25 for Reagan (1981-9), 36 for Bush (1989-93), and 35 for Clinton (1993-2001).[352]
There seems to have also been an increased focus on abortion issues in appointments to the Supreme Court.[353]
Provider Availability
The number of abortion providers fell substantially in the 1980s and 1990s, though specific figures vary.[354] A 2014 paper noted that 87% of US counties lack an abortion provider, although these counties only account for 38% of women of reproductive age.[355] Nevertheless, the percentage of obstetrics and gynecology residency training programs with routine abortion training has increased from a low of 12% in 1992 to 64% in 2014, plus 31% having opt-in training, according to surveys of graduates.[356]
Organizational Resources
The Wikipedia page for "List of anti-abortion organizations in the United States" contains sixty-seven national organizations in total, plus a handful of local organizations.[357]
Ziad Munson notes that the NRLC "has an annual budget of nearly $14 million" and suggests that, though they have claimed a membership of 1.6 million members in the past, its claimed 400,000 subscribers to its regular newsletter is probably a more accurate representation of its membership numbers. Munson also notes that the American Life League, Human Life International, and Life Dynamics all "have thousands of members and annual budgets in excess of $1 million."[358] One author calculated that abortion advocacy organizations spent "almost $250 million nationally in 2004 alone"; this figure appears to cover both abortion rights and anti-abortion groups.[359]
Munson also collected data on all the local and state-wide anti-abortion activist groups that he could identify in four US cities. He identified a total of 32 organizations. The total annual budget for the 22 of these organizations for which he had data was over $6.5 million.[360]
In 1971, Alesha Doan notes that there were 75 crisis pregnancy centers (CPCs) and that this had grown to 3,400 by 2003.[361] Another source claims that there are now approximately 3,000 CPCs in the US.[362] A survey of US CPCs found that each center had on average 6 paid employees and 39 volunteers; this survey had responses from 514 centers, covering "37.7% of Care Net, Heartbeat International and NIFLA affiliates," and possibly about one-sixth of the total number of centers. It probably over-represents larger centers that are more likely to participate in a survey.[363]
Features of the Anti-Abortion Movement
As noted in Sentience Institute's report on the British antislavery movement, the more similar the context and content of two movements, the more we should expect what worked for one movement to work for another. Today's farmed animal movement bears many similarities to the anti-abortion movement, meaning advocates for the former can learn from advocates of the latter.[364] This section highlights features of the anti-abortion movement that affect its comparability with other movements.
Intended Beneficiaries of the Movement
Institution
Advocacy
Society
Strategic Implications
This section lists a number of strategic claims supported by the evidence in this report. Of course, one's view of the strength of these claims should depend on all available evidence, not just the evidence provided by this case study.
Consumer Action and Individual Behavioral Change
• Disruptive and confrontational tactics seem likely to be effective at reducing the supply of targeted products or services, but direct effects on demand are smaller. They may also increase issue salience. Activists using such tactics should strive to minimize possible negative effects, such as legal restrictions and damage to the credibility and reputation of the movement. Violent tactics seem generally unproductive but some disruptive tactics could be worth the associated risks as measured by activist goals.
Direct action and harassing tactics could reduce abortion incidence by staining the perception of abortions, encouraging a mental association between abortion with discomfort and stress, which could be worthwhile for the anti-abortion movement even if it also creates a negative perception of the activists. By disrupting supply of abortion services, these tactics could also make abortion too difficult to obtain. Sidewalk counseling (a disruptive tactic, discussed more fully below) could reduce abortion incidence by successfully persuading women considering abortion not to go through with the procedure.
Although assessing causation is difficult, it seems unlikely that the widespread use of grassroots and direct action tactics has directly contributed much, if at all, to the decline in the number of abortions. The number of abortions declined especially rapidly from the 1990s,[424] which, at first glance, appears to correlate somewhat with the increase in grassroots and direct action tactics.[425] However, the relationship between the decline in abortion rates and changes in the use of these tactics is difficult to interpret,[426] especially since other factors may have influenced the changes.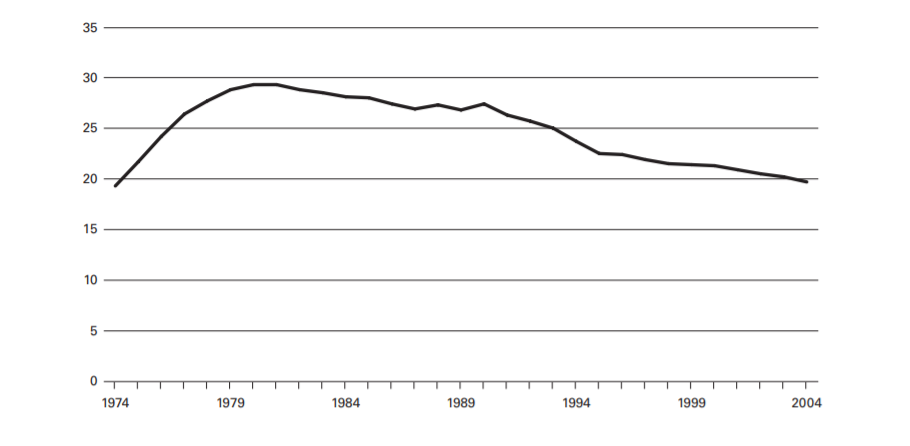 Fig. 1: Abortion rate per 1,000 women aged 15-44 in selected years, 1974-2004.
[427]
Data from the CDC shows that the abortion rate per 1,000 women has continued to decline since 2004.[428]
Figure 2: Abortions and the abortion ratio per 1,000 live births, 1970-2015.
[429]
Other factors that may have contributed to the decline, in order of their estimated importance, include:
Fertility rates could theoretically have affected the abortion rate, but seem to have changed little.[442]
Other changes might have been expected to increase abortion rates. These factors seem unlikely to have contributed to the decline and provide weak evidence that anti-abortion activism and legislation has succeeded in preventing increases in abortion rates, even if it has not succeeded in causing declines:
A multivariate regression analysis by Marshall H. Medoff, using survey data from the Feminist Majority Foundation on five different "harassment activities" (picketing, picketing with physical contact, vandalism, bomb threats, and stalking) found that none of the activities had statistically significant correlations with abortion demand in a given state in the year 1992. The same was found for their correlations with out-of-state abortions. Picketing with contact, vandalism, and stalking (but not bomb threats or picketing without contact) were found to have a suggestive but not significant correlation (each p < 0.10) with a "reduction in the supply of abortion services by 0.62, 0.72, and 0.26%, respectively," per 1% increase in the use of the tactic. The power of this analysis was unclear.[448]
Similarly, a multivariate regression analysis by Alesha Doan, using survey data on harassment from the Guttmacher institute, found stronger evidence of impacts on supply of abortion services than on abortion rates. The effects of picketing the homes of staff, of picketing clinics with physical contact, and of bomb threats all had significant negative effects on the existing number of abortion providers per 10,000 population in a state, though the number of acts of vandalism was suggestive but not significant and the number of times clinics were picketed was also insignificant. This model controls for "the number of abortion restrictions, the Catholic population, and NARAL membership" in a state, as well as demographic factors.[449] The analysis found that the number of times clinics were picketed in a state had significant effects on abortion rates, but that picketing the homes of staff members, picketing with physical contact, vandalism, and bomb threats each had no effect on abortion rates; this model controls for demographic and access factors, but not the attitude, politics, or level of advocacy in a state.[450] Whereas Doan's analysis suggests that picketing without contact at clinics and at staff's homes are the most effective tactics, Medoff's analysis found the strongest evidence for impact from more aggressive tactics.
One paper using county-level data found that, "in targeted areas, abortion violence modestly reduces the availability of providers by 6-9 percent and leads to declines in abortion rates of 8-9 percent." The authors estimate that two-thirds of these abortions are carried out in other locations, although they note that "statistically we cannot reject a full offset."[451] This supports the findings of Doan and Medoff suggesting that violent behavior has a notable effect on the supply of abortion services, but a small and uncertain effect on the number of abortions actually taking place. However, there is reason to suspect that violent activities might have a greater effect on more elastic behaviors[452] and that the consumption of animal products may be more elastic than the use of abortions.[453]
There are limitations to the methodologies of each of these papers. Notably, none of them control for all of the more indirect factors that could plausibly have influenced the abortion rate.[454] Doan also provides interview and anecdotal evidence that the prevalence of harassment activities "frequently creates problems with hiring and retaining staff members at facilities" and "discourages physicians from providing services at clinics."[455] A paper from 1991 found that the mean direct cost was $141,000 per arson incident, $127,100 per firebombing incident, and $68,200 per explosive bombing incident.[456]
Several measures of the salience of abortion changed in the 1990s, which could have been partially due to the use of violence and disruptive tactics.[457] Visual inspection of the data suggests that there may have been an association between rising newspaper coverage of abortion issues and the rise in violent incidents. The increase in press coverage seems to start in around 1985, and 1984-5 saw a spike in the number of bombings and arsons (29 and 28 incidents in 1984 and 1985 respectively, compared to 2 in 1983). Newspaper coverage peaked in 1992 with over 10,000 articles, compared to between about 5,000 and just over 9,000 in the other years 1989-2003; 1992 was the same year that violent behavior peaked, with 51 incidences of arson, bombings, or acid attacks compared to 11 the previous year.[458] However, this same year saw the Planned Parenthood v. Casey ruling and the "Spring of Life" at abortion clinics in Buffalo, New York, which utilized direct action tactics but was not intended to be violent (at least not to the same degree). Additionally, there was no particular increase in media coverage in the late 1970s, when radical and disruptive tactics first began. Most importantly, the trends in the levels of violent activity spikes do not seem related to measures of political salience or popular perception of the importance of the topic, which may be critical to long-term, substantial change.[459]
Even if this provides evidence that disruptive and violent tactics have had some impact on the supply of abortion services, there is some reason to think that they may have been counterproductive in other ways:
It is also plausible that short-lived, targeted use of disruptive tactics would minimize these negative effects while the movement still receives some of the positive benefits; the history of the anti-abortion movement does not provide direct evidence for or against this hypothesis, however, given disruptive tactics were not used in this way.
The failure of Operation Rescue to maintain its high momentum and engagement from large numbers of volunteer activists[477] suggests that, if mass participation tactics that provoke arrest and confrontation with the law are ever seen to be desirable, they can only be sustained for a limited time. This suggests that such tactics should be used sparingly and timed carefully. For instance, they could be used to support a specific radical institutional demand, following a national scandal or other form of triggering event.
• There is indirect evidence that proactive, often confrontational, face-to-face "counseling" outreach causes a backfire effect, making individuals less supportive of a movement's goals.
"Sidewalk counseling" is where anti-abortion activists stand outside abortion clinics and attempt to dissuade pregnant women from entering the clinic or choosing to have an abortion.[478] Given its disruptive and often confrontational nature (that is, by challenging a pregnant woman's decision to have an abortion and by disrupting the access and operation of the clinics), sidewalk counseling is sometimes considered as comparable to other forms of direct action and confrontational tactics used by the anti-abortion movement.[479] However, sidewalk counseling differs from these other intervention types in that it is targeted primarily at the pregnant woman, rather than the abortion providers.
In her book Opposition & Intimidation: The Abortion Wars & Strategies of Political Harassment, political scientist Alesha Doan includes two interviews where clients of clinics expressed anger at being confronted by sidewalk counseling.[480] This raises the concern that individual outreach that makes behavioral demands of people — especially on sensitive personal choices — can contribute to a backfire effect. This has been a concern about individual outreach in the farmed animal movement, such as with Animal Charity Evaluators' meta-analysis of leafleting interventions.[481]
In a study of one abortion clinic, coders outside the clinic noted that pro-life protesters confronted 96% of women seeking services, though none of the confronted women (out of approximately 400) was seen to turn back after the confrontation. In a survey inside the clinic, 66% of respondents indicated that they were upset by the interaction to some degree (mean 2.68 on a 5 point scale, "where 5 indicates the greatest degree of upset"),[482] though it is unclear whether this self-reported upsetness would contribute to an increase or decrease in the likelihood of abortion. There is also some evidence from this study that anti-abortion protests and harassment of women attending clinics may cause distress and damage women's "postabortion adjustment."[483] The strategic implications of these findings are unclear: distress could cause alienation from the goals of a movement or could facilitate changes in attitude and behavior. The study also found that having seen anti-abortion demonstrators made some women feel strength (mean = 1.95 on a five-point scale where 1 represents "not at all" and 5 represents "a great deal"). Feeling strong was correlated with increased decision satisfaction (r = .15, p < .01) and positive well-being (r = .12, p < .01). This also provides evidence that some of those being handed leaflets or receiving other forms of individual vegan outreach may experience a backfire effect, becoming more confident in their pre-existing beliefs.[484] Another survey of 142 women obtaining abortions and 51 people accompanying them found that 82% of respondents thought the protesters were invading their privacy, 81% thought the protesters should mind their own business; 15% felt that the protesters were trying to help, and only 1% reported interest in what the activists had to say.[485] Of course, this is a particularly difficult topic to survey in an objective manner.
• Reactive behavioral support services (e.g. CPCs) may have some direct effects on the behavior of their clients, though this is unclear. Such services seem more likely to gain public acceptance than other forms of advocacy.
There is reason to think that crisis pregnancy centers (CPCs) operate in a supportive, motivational role, rather than a directly educational or persuasive role. For example, Heartbeat International's volunteer training manual, The L.O.V.E. Approach, says, "We help awaken her maternal instincts and provide her with the hope, help, and support to overcome the pressures and fears that propel people toward abortion."[486] CPCs provide childcare equipment and material assistance and are partially integrated with the welfare system.[487] Additionally, a paper analyzing the distribution of CPCs in California found that "The number of abortion clinics has no independent effect on the number of CPCs,"[488] suggesting that their locations are not chosen in order to directly confront women seeking abortion. Some evidence suggests that CPCs may play a role in reaching out to poorer communities,[489] which otherwise tend to have worse health outcomes.[490]
One study found a statistically significant effect of the interventions at a CPC on the self-reported intentions of 166 women to carry their pregnancy to term by comparing survey results before and after the women attended the center.[491]
There is clearer evidence of public acceptance of CPCs than other forms of anti-abortion advocacy.[492] This may relate to their more supportive role compared to other forms of anti-abortion tactics that seek to disrupt abortion providers, restrict access to abortions, or proactively confront women seeking abortions.
• Boycotts of specific companies across their entire product range may be a more promising tactic for disrupting the supply of a product than boycotts of a specific product type across all companies. Additionally, companies trying to bring a new product to market can protect against boycotts by remaining narrowly focused, and avoiding merging with or being acquired by larger companies with more diverse product types.
The cessation of research into abortifacient drugs by the Upjohn Company was presumably partly due to the boycott led by the NRLC, although the company also cited "the adverse regulatory climate in the United States" as a reason, and another spokesperson claimed that they had "never been able to detect any impact on [their] sales or stock" from the boycott. Of course, these explanations could have been offered by the company in order to protect their credibility, but the company continued to sell abortifacients.[493]
The anti-abortion movement has also used boycott tactics in other contexts.[494] The NRLC threatened a similar boycott on other companies around the proposed sale of the RU-486 abortifacient drug (also called Mifepristone).[495] The boycott threat seems likely to have contributed to the unavailability of RU-486,[496] which was brought to market in France by 1987, but not until 2000 in the US.[497]. The boycott seems to have possibly contributed to the company's decision to withdraw RU-486 from other markets too (a decision which was prevented by the intervention of the French government), despite its successful sale in those markets and other agreed contracts.[498] The drug was eventually sold in the US through a company called Danco Laboratories which was formed specifically for that purpose.[499] The boycotts were not solely responsible for the delayed marketization of RU-486, however. Other factors of potential importance include:
The fact that a purpose-built company (Danco Laboratories), less vulnerable to a boycott of other products, was later able to bring RU-486 to market, suggests that activist pressure was influential,[506] although the transfer of RU-486 patent rights in 1994 was also an important change in facilitating the sale of the drug.[507]
These boycotts seem somewhat different to boycotts of animal products in the farmed animal movement in that they targeted entire companies in order to pressure them not to research and sell new products of especial concern to the anti-abortion movement. By comparison, veganism is a boycott of an entire product category (animal products) across all companies, but where those involved in the boycott do not usually refuse to purchase other products by those companies. The apparent temporary success of the anti-abortion movement's targeted boycott (at least, in conjunction with other factors and the threat of further boycotts) suggests that similar measures could be effective in certain circumstances in the farmed animal movement to proactively prevent a situation from worsening. As one example, if a company announced plans to produce or sell factory-farmed octopus,[508] a boycott of the entire company could be a successful tactic in preventing this development. However, the eventual marketization of RU-486 through Danco Laboratories also suggests that, where there is sufficient demand for a product, companies may eventually find ways to avoid negative consequences from consumer pressure by forming small, single-product companies. This also highlights a potential strategic advantage for cellular agriculture companies remaining independent, rather than accepting offers for sales or mergers with larger companies; if cellular agriculture companies meet with hostile activism and consumer pressure, it may be easier for companies that focus solely on cellular agriculture (as opposed to those that also sell animal products or other animal-free foods) to withstand such pressure, since they would be less concerned about risks of decreased profitability in other product categories.[509]
• Overall, efforts to modify public opinion through education and persuasion (e.g. handing out leaflets, writing books, or making documentaries) seem less effective than tactics more directly targeted at achieving institutional change, though their impact may simply have been masked by other trends and factors.
The counterfactual impact of anti-abortion advocacy cannot be clearly measured in national surveys, since a large number of other factors affect these results, including competing messages by abortion rights advocates. Despite very limited change to attitudes on abortion in aggregate national data, there is some reason to consider this as a modest success for the anti-abortion movement.[510] Nevertheless, given the heavy focus of some anti-abortion advocates on education and the large amounts of resources that have presumably been spent on such interventions, any such success seems limited. Additionally, any of the trends that have been listed in this report as evidence that the anti-abortion movement's educational efforts and messaging have had modest success may be explained by other factors.[511]
Americans United For Life focused initially on education and making the case against abortion,[512] but after the Roe v. Wade ruling shifted focus towards a legal strategy.[513] Although the tactical shifts of anti-abortion advocates do not, by themselves, provide strong evidence that the farmed animal movement should make similar shifts, it is informative that such a well-connected group[514] quickly realized that its comparative advantage was not educational or individual advocacy, but institutional interventions.
However, education and persuasion tactics may still be effective at generating temporary support for specific policy initiatives. For example, public speeches and distribution of leaflets may have contributed to Michigan and North Dakota's rejection of liberalizing abortion law reform in 1972.[515]
Institutional Reform
• Judicial rulings can sometimes drive progress ahead of that seen as tractable through legislative change.
From the perspective of the abortion rights movement, Roe v. Wade shows that judicial rulings can sometimes drive progress ahead of the progress seen as tractable through Congress, state legislatures, or initiatives and referendums. Only a minority of people supported access to abortion without restrictions in the early 1970s,[516] and in some parts of the country, there had been majority opposition to proposed measures to liberalize abortion law.[517]
Ian Mylchreest argues that judicial rulings played important roles in abortion law reform in other countries, too, and that the Roe v. Wade decision should not be considered "extraordinary."[518] Nevertheless, it seems that many anti-abortion advocates at the time were shocked by the decision.[519] This provides a warning of the unpredictability of judicial decisions in the context of legally uncertain, politically controversial areas; advocates may need to be prepared for more severely unfavorable rulings than they would otherwise expect.
• Judicial rulings may have insubstantial direct effects on behavior.
The decision of Roe v. Wade does not appear to have had much effect on the behavior of women in choosing to have abortions or not. Abortion incidence was increasing at this time and there was no obvious overall change in the trend after the passage of Roe v. Wade,[520] even if the ruling meant that fewer women had to travel out of their home state to obtain abortions.[521] This provides weak evidence that judicial decisions follow, rather than drive, social change.[522] However, given that demand for abortion may be less elastic than demand for animal products,[523] equivalent rulings that affect the farmed animal movement might have more substantial effects on behavioral outcomes.
• Judicial rulings seem to have little, if any, positive effect on public opinion regarding controversial issues. They may consolidate support for issues that were already widely accepted and polarize opinion on controversial issues, although other analyses dispute this.
Modelling abortion opinion as a function of several variables, including a measure of whether participants had heard about the court decision in Roe v. Wade (which was used as an imperfect control group to represent how attitudes would have been in 1973 were it not for Roe v. Wade), a paper by Charles H. Franklin and Liane C. Kosaki compared General Social Survey data from April 1972 to April 1973. Looking at the data for those who had heard of the court decision, the authors found that "nonwhites and Catholics became substantially more opposed to discretionary abortion in the aftermath of Roe." Despite this, they found "little or no increase in support across all groups" combined, and these results are evidence that "the public became more polarized over 'discretionary' abortions." Catholics and nonwhite respondents were both more strongly anti-abortion than Protestant and white comparison groups, on average, in 1972. In the 1973 results, these between group differences had widened further. In contrast, their findings suggest an overall increase in support for abortions "in cases of threat to the mother's health, rape, and probable birth defects," without evidence of polarization. The results for the 168 respondents in 1973 who said they had heard nothing of Roe v. Wade are very similar to the 1972 results, suggesting that changes seen among the other respondents were primarily due to the court decision and surrounding discussion, rather than due to unrelated factors.[524]
Franklin and Kosaki hypothesize that where certain groups (including religious or other demographic groups) are homogenous in their views, then after the outcome of a Supreme Court ruling, the individual "is likely to encounter a stream of reinforcements consistently favoring the modal position" of the group to which they belong. As a result, such individuals will move towards the average group view on the related issues.[525] This hypothesis is supported by the finding in an additional model that Catholics with high church attendance were not significantly more opposed to discretionary abortions than Catholics with low church attendance in 1972, but became significantly more opposed in 1973. In other words, Catholics with higher engagement in the Catholic community more strongly moved towards the group average after Roe v. Wade, despite not being noticeably closer to average beforehand. This theory could predict the effects of any development that is salient enough to provoke discussion among groups and movement towards group norms.[526] For example, there is some evidence that the controversial anti-abortion film The Silent Scream galvanized abortion rights activism; this may have been because increased discussion of abortion among groups favorable to abortion rights led to consolidation of opinion on the issue, as the theory would predict, or it may have been caused by the shifted framing of the debate resulting from the film.[527]
There is, however, empirical criticism of Franklin and Kosaki's analysis of the effects of Roe v. Wade on abortion attitudes. One paper, using the same GSS data, notes that for all demographic groups analyzed that had a significant change in mean abortion support, the direction was towards an increase in support in 1973 compared to 1972 for both the discretionary scale and the health scale. Even if other factors had caused this increase, it suggests that any polarizing effects of Roe v. Wade were small enough that they only acted to prevent small increases in support from occurring at this time. By using a different method of analyzing the data that tries to account for the imperfect control group used in Franklin and Kosaki's analysis, they find that those who had heard about Roe v. Wade increased their permissiveness for abortion not only on the health scale (by 0.208 on the 3-point scale, p = 0.012), but also on the discretionary scale (by 0.25, p = 0.039). Analyzing the results by different groups, they find that "For all groups considered except infrequent church attenders, the effect of the decision appears to have been higher levels of permissiveness toward abortion."[528] Although accepting Franklin and Kosaki's conclusions for Roe v. Wade specifically, Timothy R. Johnson and Andrew D. Martin hypothesize that "When the Supreme Court decides subsequent cases within the same issue area, little if any change will occur in the structure of group attitudes toward that issue regardless of the direction, intensity, or breadth of the decision, and there will be no overall change in public opinion toward that issue." The authors analyze the effects of Webster v. Reproductive Health Services (1989) using two CBS News and New York Times polls conducted two months prior and three months subsequent to the decision and find support for their hypothesis.[529] A subsequent paper reanalyzes their data and concludes that several demographic subgroups did change their opinion after Webster and that groups also polarized after the 1976 Planned Parenthood of Missouri v. Danforth ruling. Although the authors do not explicitly discuss the direction that these groups moved in after the rulings, their results do not seem to be fully consistent with Franklin and Kosaki's theory either.[530]
Another paper focusing on the period 1985-9 finds that Court activity and public opinion are related; "[t]he net effect of court activities on opinion is substantial, such that an additional (reported) court activity leads to about a 1.1 percent increase in support for abortion 'as it is now.'" Because the paper does not distinguish between rulings that increased or decreased abortion rights, it is difficult to assess whether this public opinion change should be considered to be a "backlash" or not. The authors suggest that all such Supreme Court cases should be considered as a challenge to the status quo and therefore that the observed public opinion change represents a backlash against the Court's activities, but this logic seems unconvincing.[531]
All of these findings have been challenged to some extent on theoretical grounds, if not also empirically; all four papers mentioned here form part of a wider social scientific literature that extends beyond the abortion issue about the effects of Supreme Court decisions on public opinion.[532]
• Highly salient judicial changes may provide momentum to opposition groups.
There was a surge in engagement with anti-abortion activism following Roe v. Wade.[533] This may have been encouraged by the lack of public support for the changes implied by Roe. It may also have been encouraged by the feminist credentials of the lawyers who litigated Roe.[534] From the perspective of the abortion rights movement, this suggests that legal victories that precede widespread support for their measures may provoke a backlash, sparking opposing pressure-group action or mass mobilization. This might have made it easier for the anti-abortion movement to use anti-authoritarian, pro-democratic messaging,[535] although explicit criticisms of Roe as excessive "judicial activism" may not have become widespread in the anti-abortion movement until the late 1970s.[536] Such legal victories might therefore not be clearly net positive for a social movement's goals. However, by some measures, there is already greater support for radical improvements to the treatment of farmed animals than there has ever been for liberalization of abortion laws as radical as that enforced by Roe v. Wade.[537]
An alternative explanation is that the symbolism and specific wording of the Roe decision was responsible for the backlash.[538] To the extent that this is a plausible explanation, this weakens the evidence that other legal victories that precede widespread support for their measures will provoke a backlash. However, the interviews that sociologist Kristin Luker used as evidence of the effects of this symbolism are ambiguous.[539] One paper focusing on the period 1985-9 finds evidence that both anti-abortion and abortion rights interest groups increased their activities around the time of the 1989 Webster decision, which returned some power over abortion policy to states.[540] That is, although Court rulings may encourage a backlash by opponents, they may also encourage increased activity by supporters. There is also evidence that abortion rights legislation encouraged anti-abortion mobilization[541]; the risk of backlash to radical policy changes may not vary substantially by the institution that makes those changes.
• Judicial rulings can encourage a movement to reframe its advocacy, which may increase support.
Before Roe, population control arguments helped to build support for abortion reform.[542] By focusing on rights-based arguments, the Roe ruling seems to have encouraged a shift away from population control arguments in the abortion rights movement and some anti-abortion activists also focused on refuting the arguments raised in Roe.[543] There is some evidence that this shift in the framing of debate may have encouraged African Americans to support abortion rights, since it reduced fears that abortion rights would be tied to racially motivated population control efforts.[544]
• Securing judicial change indirectly through political engagement has come close to success for the anti-abortion movement, but having a comparably large influence on elections seems unlikely to be tractable for a social movement that is substantially less salient for the average voter.
Views on abortion have influenced presidential nominations of Supreme Court justices, and this has had implications for rulings that affect abortions.[545] Political engagement that increases the likelihood of the election of firmly anti-abortion presidents is therefore one tactic for changing the US legal environment and seeking to indirectly reduce abortion incidence. Congress also has the power to veto appointments, which makes engagement in Congressional elections similarly important. Party-political polarization and high salience of the relevant issues seem likely to be important precursors to this tactic being workable. For example, despite Nixon's public anti-abortion stance, 3 out of 4 of the Supreme Court justices he appointed voted with the majority opinion in Roe v. Wade;[546] this was before party polarization on the issue and before abortion issues became a salient issue in politics.[547]
Categorized by the voting record of justices, Republican presidents have successfully appointed 6 anti-abortion candidates since 1973, but have also appointed 1 staunchly abortion rights candidate (John Paul Stevens, appointed by Gerald Ford, who had quite liberal views on abortion himself[548]) and 3 more mixed candidates. Democratic presidents have appointed 3 abortion rights candidates since 1973 and one slightly more unclear candidate.[549] Matthew Wetstein estimates that the mean percentage of votes for abortion rights positions across the careers of the justices who were present in the 1973 Supreme Court was 63%, whereas for those present in the 1992 Supreme Court, this had fallen to 35%.[550]
For some issues, the split of opinions of the Supreme Court seems to have been irrelevant and anti-abortion outcomes have been secured regardless, including regarding federal funding restrictions.[551] At other times, the Supreme Court has been in clear agreement regarding decisions that negatively impact the anti-abortion movement, such as the unanimous vote on the 1994 National Organization for Women v. Scheidler case.[552]
However, of the 23 Supreme Court decisions relating to abortion between 1973 and 1994, 8 were split opinions or were won by a single vote in either direction (with 4 of these in the seemingly more fractured period of 1989-94).[553] Securing anti-abortion Supreme Court appointments has the potential to affect major decisions, and could plausibly lead to a reversal of Roe v. Wade; the 1992 Planned Parenthood v. Casey decision saw Roe reaffirmed by a narrow five-to-four majority.[554] The outcome of the 2019 June Medical Services v. Gee ruling means that the outcomes of future abortion cases in the Supreme Court are hard to predict. This result was secured in a narrow five-to-four margin by Chief Justice Roberts siding with the liberal Justices;[555] this is surprising, given that Roberts was an appointee of George W. Bush (Republican)[556] and had previously voted to uphold the Partial-Birth Abortion Ban Act in the 2007 Gonzales v. Carhart case[557] and to uphold restrictive laws in Texas in the 2016 Whole Woman's Health v. Hellerstedt case.[558] One inference from this is that changing any Justice could have an important effect on the balance in the court.
The likelihood that securing anti-abortion appointments would encourage developments regarding the legal personhood of fetuses, which could put them on an equal legal standing as other humans, is less clear. Justices Scalia and Thomas, two strongly anti-abortion justices, both rejected the argument that fetuses are legal persons with the same rights as other humans.[559] However, legal challenges in state courts to laws establishing the fetus as a legal entity have been rejected,[560] and no cases challenging the 2004 Unborn Victims of Violence Act, which established the fetus as a separate legal entity at the federal level, seem to have been heard by the Supreme Court.
The anti-abortion movement might have prioritized securing anti-abortion nominations to the Supreme Court after 1983.[561] Considering the appointments in the period 1975-94, one author includes various quotes demonstrating the determination of certain abortion rights Democrats and non-profit organizations such as NARAL to prevent anti-abortion nominees being appointed, though it is unclear whether the Republican party and anti-abortion advocacy groups prioritized such tactics to a similar extent.[562] Certainly, anti-abortion groups have expended large sums of money on political engagement of various sorts; the NRLC and Susan B. Anthony List spent over $1 million on lobbying in 2018,[563] and though total movement spending on election engagement seems difficult to estimate, one survey of 104 activists found that 39.4% had given money to an anti-abortion political candidate on multiple occasions.[564] This spending has also increased the likelihood of favorable legislative outcomes for the anti-abortion movement's goals, so cannot be seen solely in terms of securing anti-abortion justices.
Overall, it seems that abortion-related decisions can be influenced by changing the composition of the Supreme Court, but prioritizing the tactic of securing supportive Supreme Court justices requires high resource inputs and a high salience of the abortion issue in mainstream political discourse.
While decisions on abortion are closely decided, the legal and political context is different for the farmed animal movement. At this point, political engagement does not seem likely to lead to appointments to the Supreme Court that are more favorable to animal rights; the connection between Republican victories and anti-abortion progress in the courts has been surprisingly mixed, despite the anti-abortion issue being clearly party-political, and animal issues are much less salient and much lower priority for politicians.[565] This suggests that, if advocates seek to increase the likelihood of radical legal change, working on direct legal advocacy for issues such as the personhood of animals is comparatively more tractable for the time being, though this situation could change if farmed animal issues become more clearly divided on party political lines or otherwise much more salient. Abortion and the Constitution (1987), edited by Americans United for Life's Dennis J. Horan, is an example of the contemporary efforts to develop an informed strategy to maximize the chances of securing legal rulings favorable to the anti-abortion cause.[566]
• Advocates who successfully push through controversial legislation may need substantial resources to defend that legislation in the courts.
The separation of powers between the legislature, the executive, and the judiciary means that any of these three branches of the US government can challenge each other. Contentious legislation at the state level has often been challenged in the courts. For example, three heartbeat bills have been passed by state legislatures but struck down by courts or judges and six further bills have been temporarily blocked by federal courts, though one is expected to be effective from November 16, 2019.[567] Similar legal challenges could arise to legislation that supports the goals of nascent social movements like the farmed animal movement, perhaps driven by the animal agriculture industry rather than oppositional social movement groups.
• In contexts in which radical legislative change is intractable because the political parties (and the wider public) are divided, incremental legislative change may still be cost-effective, even if the incremental proposals are framed as steps towards the more radical goal.
Since 1982, the anti-abortion movement has mostly pursued incremental legislative changes.[568] Such incremental proposals are expected to be more tractable than total abortion bans, given the lack of support for total abortion bans but the large numbers of people who also reject unrestricted access to abortion on demand,[569] and given that supermajorities are needed to enact constitutional amendments through Congress and to override presidential vetoes.[570] Within this, Targeted Regulation of Abortion Providers (TRAP) laws are sometimes seen to be more tractable because they bypass debate on the woman's right to choose by targeting the abortion provider, rather than the client.[571]
Although a variety of framings and justifications are given for the laws, legislation is conceptualized by some as a method of reducing abortions — and thus advancing the radical goal of many anti-abortion advocates — through incremental restrictions. Even heartbeat bills (themselves quite radical pieces of legislation) are framed by some as steps towards more thorough legal or legislative outlawing of abortion.[572] There is a perception among some advocates that these more radical goals should not be stated explicitly, in the interests of pragmatism.[573] Ultimately, the effects of including such messaging on the likelihood of success of implementing legislation is unclear.
• Legislation that restricts access to abortions seems to have successfully reduced the number of abortions. Though the effect may be small, it is possible that it would be higher on products or services for which the demand is more elastic, such as animal products. This legislation does not seem to have substantially reduced the public's support for further incremental legislation.
The Hyde Amendment of 1976 is the most substantial piece of federal legislation that the anti-abortion movement has managed to secure, but it did little to stem the rise in abortions in the 1970s.[574] Nevertheless, the potential for legislation to severely disrupt the supply of abortions, and possibly affect abortion incidence, is demonstrated by this summary of changes in Texas:
"The State of Texas began enforcement of the Woman's Right to Know (WRTK) Act on January 1, 2004. The law requires that all abortions at or after 16 weeks' gestation be performed in an ambulatory surgical center (ASC). In the month the law went into effect, not one of Texas's 54 nonhospital abortion providers met the requirements of a surgical center. The effect was immediate and dramatic. The number of abortions performed in Texas [by licensed providers] at or after 16 weeks' gestation dropped 88 percent, from 3,642 in 2003 to 446 in 2004, while the number of residents who left the state for a late abortion almost quadrupled. By 2006, abortions at or after 16 weeks' gestation in a nonhospital setting were available in four major cities in Texas (down from nine in 2003), and the abortion rate at or after 16 weeks' gestation remained 50 percent below its pre‐Act level."[575]
Another paper found that in Texas, 2011-14, after three pieces of anti-abortion legislation, "abortions to Texas residents fell 16.7% and births rose 1.3% in counties that no longer had an abortion provider within 50 miles."[576] The only outpatient abortion provider in Mississippi experienced substantial difficulties due to new state laws implemented in 2004 and 2005 and had to turn away 600 to 700 women during an 18 month period in which they could not provide second trimester abortions.[577] One analysis of TRAP laws found them to have had a significant effect on the number of abortion providers, of a similar effect size to other types of restrictive abortion legislation.[578]
All of these reported findings show effects on the supply of abortion services, rather than on abortion demand. However, there is evidence that the accessibility and cost of abortion services can affect abortion incidence,[579] even though individuals are sometimes willing to travel long distances to obtain abortions.[580] This suggests that focusing directly on these goals could be effective, and supports the belief of many farmed animal advocates that the price and convenience of access to certain types of products can be an important determinant of behavior.[581]
Not all of the incremental, restrictive legislation introduced by anti-abortion politicians has been focused on disrupting the supply of abortion services; some has focused on restricting the pregnant woman's freedom to choose an abortion, such as with laws requiring the involvement or explicit consent of parents in the decision of a minor to have an abortion,[582] or the implementation of partial-birth abortion bans at the state level.[583] A decline in the number of abortions occurred in the 1990s.[584] As noted above, this may partially be explained by several factors,[585] but the restrictive legislation introduced by anti-abortion politicians may also have played a role.
Anti-abortion political scientist Michael New's multivariate regression analysis found significant correlations between the dependent variable of the abortion rate among minors and the independent variables of parental involvement legislation (representing a reduction "in the minor abortion rate by an average of 1.67 abortions per 1,000 females between the ages of 13 and 17," p ≤ 0.01) and Medicaid funding restrictions for abortion (representing a reduction of 2.34 abortions per 1000 female minors, p ≤ 0.01), and possibly informed consent laws (-0.53, p ≤ 0.10), but an insignificant correlation with partial-birth abortion bans (-0.33, p > 0.10).[586] Causality is unclear in these correlations, since the model adjusts for demographic factors and for income growth, but not for measures (or proxies for) anti-abortion sentiment; these findings may simply show that states with high anti-abortion sentiment tend to have below average abortion rates and also have anti-abortion legislation, although the differences between the regression coefficients could plausibly represent differences in the effectiveness of different legislation types. This problem is common in similar analyses by other researchers.[587] The stronger correlation between parental involvement laws and the minor abortion rate than with the overall abortion rate (-1.67, p ≤ 0.01 and -1.05, p ≤ 0.05 respectively) does provide some evidence that the relationship is causal, rather than determined by lurking variables, although the small difference suggests that the legal restrictions have a small effect.[588] Further evidence of causality is provided by the insignificant relationship between parental involvement laws that were nullified by the judiciary and the minor abortion rate, and a difference between the correlation coefficients for enacted parental involvement laws and nullified parental involvement laws that is suggestive but not significant (p ≤ 0.10).[589]
However, a masters' thesis by John Daniel Childress concluded that "states that pass laws, whether or not they are enforced, see declines in abortion." In a linear regression, Childress found a negative significant relationship between a variable representing total advocacy expenses (accounting for both anti-abortion and abortion rights advocacy) and aggregate abortion rates (p = 0.013), suggesting that advocacy on the issue decreases overall abortion incidence. This relationship did not remain significant in any multivariate analyses, however. In multivariate analysis, Childress found tentative evidence that "women exposed to restrictive public policies late in pregnancy respond to larger cultural factors independent of the actual legal effect of new regulations," but that "when women are exposed to restrictive policy early in pregnancy aggregate abortion rates decline due to the impact of the legislation."[590]
Political scientist Matthew Wetstein conducted a linear structural equation model (LISREL) to account for multicollinearity and found that included "measures of access (percentage of counties) and demand (percentage unmarried) have the strongest positive effect on abortion rates (B = .39), with the percentage of metropolitan population not far behind (B = .25). The policy index has a significant negative effect on abortion rates in the United States, even when controlling for access and demand variables (B = -.21)." Importantly, this model also accounts for a measure of mean support for abortion.[591]
Taken together, the research of New, Childress, and Wetstein seems to suggest that the passage of legislation that has made abortion more difficult has had some effect on abortion rates, but this effect may have been small. Some other recent analyses seem to support this conclusion, though this is not consistently the case.[592] The effects may have been caused in some cases as much by the campaigning and public attitude indicated by the legislation as by the restrictions of the legislation itself.[593]
Anti-abortion groups seem to dedicate a substantial proportion of their resources to enacting incremental legislative changes.[594] There is some anecdotal evidence that the actions of anti-abortion advocates have led to the election of some anti-abortion candidates,[595] thereby increasing the chances of the successful passage of anti-abortion legislation. Nevertheless, given the high cost and potentially quite small effects, these tactics may not have been cost-effective for reducing abortion incidence, even where they have succeeded.
An important question for the farmed animal movement is whether incremental improvements lead to momentum for further change or increased complacency that existing protections for intended beneficiaries of the movement (farmed animals) are sufficient.[596] The years 2018 and 2019 have seen the successful passage of heartbeat bills in several states, despite the introduction of smaller legislative restrictions since the 1990s.[597] While this does not prove that such legislation has not led to complacency about the existing levels of protection for fetuses and delayed the success of more radical restrictions such as the heartbeat bills, it suggests that if incremental change does lead to complacency, such effects are probably quite small. Comparing Gallup polls in May 2018 to May 2019—that is, before and after the sharp increase in the number of states proposing heartbeat bills—public attitudes seem to have become slightly more opposed to abortion,[598] though this change could be explained by other factors.[599] There seems to be a perception among some (both supporters and opponents of the bills) that piecemeal legislation either leads to momentum, or at least does not lead to complacency.[600]
• For securing desired legislative outcomes at both the state and national levels, securing the support of politicians seems more important than favorable public opinion. A favorable legal environment (e.g. supportive judges) also seems important.
Political scientist Rosemary Nossiff compares the states of New York and Pennsylvania to better understand the causes of legislative change in the period 1965-72. Both states had similar demographic and political conditions, but legislation passed in the state assemblies pushed abortion law in opposite directions.[601] Comparing the characteristics of the advocates both for and against abortion rights in both states, Nossiff highlights several factors as of potential causal importance in securing legislative change in the desired direction, including successful political maneuvering and alignment with influential politicians (the Democratic party in both instances). There is some evidence to support this, such as the closeness of the final vote in New York, suggesting that the vote of each individual politician was important for the legislative outcome, and a poll in Pennsylvania finding that there was actually majority support for liberalization of abortion law, suggesting that the final outcome was determined more by politicians than public opinion.[602] This suggests that close alliances with (or successful advocacy targeting) politicians is an important predictor of legislative outcomes of interest to social movements.
In support of this conclusion, a paper by economists Marshall Medoff and Christopher Dennis found that "Republican institutional control of a state's legislative/executive branches is positively associated with a state enacting a TRAP [Targeted Regulation of Abortion Providers] law, while Democratic institutional control is negatively associated with a state enacting a TRAP law." In contrast, "The percentage of a state's population that is Catholic, public anti-abortion attitudes, state political ideology, and the abortion rate in a state" are statistically insignificant predictors. This provides evidence that party political control affects abortion legislative outcomes, regardless of the views and behaviors of voters, although the percentage of the state's population that is evangelical Christian was significantly positively correlated with TRAP laws.[603] Medoff and Dennis' paper uses data from 1974 to 2008, and a paper using data from 2008 to 2014 using similar methods found similar results.[604] Although views on farmed animal issues are less polarized by party lines,[605] this evidence suggests that winning over politicians is important to securing desirable political outcomes.
Republican electoral gains may help to explain the introduction of anti-abortion legislation during the 1990s.[606] These electoral gains were probably partially the result of the importance of the abortion issue to the electorate and of the anti-abortion movement's political and campaigning efforts.[607] The chronologically close developments of the Republicans gaining a majority in the House of Representatives in 2011 and the sudden rise in anti-abortion legislation in that year (from between 0 and 30 passed in each year 1985-2010 up to over 90 restrictions passed in 2011[608]) suggests that the political context played a role in determining the prevalence of legislative efforts. Intuitively, the political context seems likely to have been crucial for the passage of some major federal acts on abortion. For example, the FACE Act restricting clinic protests was passed during the presidency of Bill Clinton (a strong advocate of abortion rights) while the Democrats had majorities in both the Senate and House of Representatives.[609] In contrast, the signing into law of both the Partial-Birth Abortion Ban Act (2003) and Unborn Victims of Violence Act (2004) occurred during the Republican presidency of George W. Bush, at a time when the Republicans had majorities in both the Senate and House of Representatives.[610] An analysis of the Congressional votes for and against the 1976 Hyde Amendment found that party affiliation was not a very important predictor after controlling for factors including the politicians' conservatism on other issues,[611] but this predates the polarization on abortion issues in the party's electoral platforms.[612]
The increased number of heartbeat bills (30 in four months in early 2019 compared to 15 the previous year)[613] may be related to Donald Trump's presidency. However, the first heartbeat bills were introduced before Trump won the election or the Republicans had majorities in both the House of Representatives and the Senate.[614] Indeed, from January 2019 until the time of writing, the Democrats have held a majority in the House of Representatives.[615] Additionally, the chronological gap between the beginning of Trump's presidency and the rise in heartbeat bills suggests that more recent factors, such as the appointment of Brett Kavanaugh as a justice in the Supreme Court,[616] may be more important. Of course, Kavanaugh's appointment was likely dependent upon a Republican being the president, given his anti-abortion position.[617] Likewise, cases such as Planned Parenthood of Southeastern Pennsylvania v. Casey and the promise of a more firmly anti-abortion Supreme Court permitted a wave of legislation at the state level,[618] though these developments were dependent on appointments under Reagan and George H. W. Bush (Antonin Scalia, Anthony Kennedy, and Clarence Thomas).[619] Unsurprisingly, one paper found in a multivariable regression analysis that anti-abortion restrictions were more likely to be adopted when their constitutionality was confirmed by previous court decisions or was unknown than when it was "suspect" (that is, likely to face a challenge) or known to be unconstitutional.[620]
One paper, using a LISREL linear structural equation, found a strong effect of public support for abortion (represented by the mean percentage giving anti-abortion answers three questions in polls from 1990) on a 9-point scale of 1991 state policy restrictiveness on abortion (ß = -.40, R2 = .38). The LISREL model controlled for demographic and religious factors, but not political factors.[621] Other scholars have found evidence that public opinion on abortion influences the policies that states adopt.[622] However, David Karol's single variable regressions show that after 1982 a measure of party affiliations is a stronger predictor of senators' voting records on abortion issues than is a measure of public opinion.[623]
One paper finds that both public opinion and whether or not NARAL and NRLC have local affiliates are associated with the chances of a state passing a constitutional amendment to ban abortion. When public opinion is fixed, whether the balance of interest groups is supportive, even, or hostile towards such amendments can affect the likelihood of their passage by as much as a 20% shift in public opinion would.[624]
Of course, if legislative decisions are put to a public vote, then public opinion becomes much more directly important.[625] It seems plausible that public opinion could play an additional important role in affecting whether legislation is preserved or subsequently overturned. Sociology and political science papers focused on other contexts tend to find that public opinion is an important determinant of policy outcomes, even when controlling for interest groups and elite opinion.[626]
• A variety of other advocacy tactics (e.g. framing, timing, model legislation) may help to secure favorable legislation.
Nossiff's book provides evidence that various factors beyond the securing of a favorable institutional context may have played causal roles in the legislative outcomes in New York and Pennsylvania. These included the use of "framing strategies" by advocates that were in accord with the political opportunities they encountered,"[627] shifts in public opinion (possibly caused in turn by a variety of factors beyond those highlighted explicitly by Nossiff),[628] the focus of anti-abortion advocacy on a Catholic audience in New York but a wider audience in Pennsylvania,[629] and the different timings of the two bills which may have allowed activists in Pennsylvania to better mobilize themselves after witnessing the result in New York.[630]
AUL has provided model legislation to state legislators seeking to enact restrictions to abortion. In 2013, AUL claimed that it "provided legal and policy resources to 39 states," and a news organization claimed that AUL was responsible for 24 restrictive laws passed in 2011.[631] Although it seems hard to assess what role this has played in securing successful legislative change, and especially hard to assess whether such efforts are cost-effective, this does suggest that non-profit organizations can play a significant role in developing and shaping legislative strategy.
Of course, the mixture of political tactics and messages that work most effectively will vary from state to state (and even more from country to country), with differences in political cultures, public opinion, interest group influence, party politics, and other political variables.[632]
It is possible that failure of the anti-abortion movement to adopt a united political ask regarding the proposed Human Life Amendments contributed to their failure. For example, in 1983, when the Hatch-Eagleton amendment was proposed, Senator Jesse Helms, who had proposed a more radical federal bill in the previous year to ban abortion outright, abstained from voting on the Hatch-Eagleton amendment.[633] It is unclear, however, the extent to which this mattered, or which proposed piece of legislation made better strategic sense.[634]
• Changes in some states may substantially influence the response to a social movement in the rest of the country. Lobbying and mobilization of legislators in those states could be especially cost-effective.
Rosemary Nossiff has commented:
Before Roe, the 1970 abortion rights law passed in New York was far more important than the bills passed in small states like Hawaii and Alaska or the referendum in Washington that year. Indeed, it was the basis of the Roe decision and is cited in it. It gave legitimacy to the repeal movement in a way no other state could due to its size, diversity, and influence in the country.[635]
Additionally, before the Roe ruling, large numbers of abortions were carried out in New York for women from outside of the state, creating a loophole in anti-abortion legislation elsewhere in the country.[636] Given that New York's abortion rights law was passed by only one vote in the state assembly, greater lobbying efforts by the anti-abortion movement there could have swung the decision in favor of the status quo.[637]
Movement Composition
• Close alignment with the leadership of a well-established, well-organized group that has some shared values may be an effective way to access substantial resources, even if those outside the leadership of that group do not share the relevant values.
The Catholic Church has strongly opposed abortion, as have the leaders of other branches of Christianity, especially evangelical Christianity.[638] Some Catholics have actively supported abortion rights[639] and there is evidence that, on average, US Catholics have more liberal views on abortion than the Catholic Church's official teachings.[640] The statements by Catholic bishops on the abortion stances of candidates seems to have had some effect on voting, but this effect may have been quite small.[641] Social scientists have found mixed results for whether the proportion of Catholics in a population is positively correlated with the successful introduction of anti-abortion legislation.[642]
On the other hand, Catholics still tend to be more anti-abortion than mainline Protestants or the religiously unaffiliated.[643] Though smaller than the correlation between abortion attitudes and views on other social issues, such as euthanasia, the results of one multivariate regression analysis suggest that the associations between abortion attitudes and religious variables, such as Catholic denomination and religious involvement, are significant.[644]
Despite these mixed findings, the early anti-abortion movement was heavily dominated by Catholics[645] and the Catholic Church provided organizational stability even when the support of other groups fluctuated.[646] This may be partially explained by the strong hierarchical structure of the Catholic Church, which may have enabled it to offer leadership on an issue that divided its followers.[647] Indeed, the extent of the Church's political influence may have affected abortion rates more than the proportion of a state's population that is Catholic.[648]
• Even if the theology of a particular religion has unclear implications for the moral issues of interest to social movements, a strong moral stance can still become normalized within a religious community that is highly influential in society at large.
The evangelical community has been heavily involved with the anti-abortion movement. For example, Care Net centers are evangelical Christian CPCs, and in one survey of CPCs (which overrepresented Care Net affiliates), 84% of respondents were evangelicals and 93% reported attending church at least once per week.[649] Social scientists have found that the proportion of a state that is evangelical Christian is correlated with lower public support for abortion rights and higher numbers of state laws that restrict abortion.[650]
Though the anti-abortion movement has found useful allies in the evangelical Christian community, this was not necessarily either an intentional tactic of its advocates or an inevitable outcome of natural religious alliances. Religious historian Randall Balmer, an evangelical Christian, argues that the associations of evangelicals with the Republican party and with an anti-abortion stance were developed in the late 1970s for tactical and political reasons, rather than religious reasons, since "the Bible is rather silent on the matter of abortion."[651] Alesha Doan also highlights the importance of the decisions of the evangelical leadership in causing the shift in evangelical attitudes.[652] A paper by sociologist John H. Evans includes evidence from the General Social Survey data that "evangelical attenders became more conservative regarding abortion between 1972 and 1998," with a measure for the "[m]ean attitude toward abortion" increasing from around 8.50 to about 9.25.[653] During the same period, the paper also found evidence of a convergence in attitudes on abortion between evangelicals "with at least some college education and those with no college education," suggesting consolidation around anti-abortion views.[654] Evans' paper does not offer much support for the hypothesis that the radicalization was driven by the evangelical leadership, however. If Balmer's narrative is accurate, we would expect most of the change in attitudes among evangelicals to have occurred in the 1980s, following shortly after the leadership's tactical changes in the late 1970s. Evans' data instead shows that most of the change in attitudes occurred in the 1970s. Additionally, the growing audience and increasing politicization of evangelical religious broadcasts seems to have begun in the 1970s.[655]
Relatedly, practical considerations may have played a role in determining the Catholic Church's strong stance on abortion in the 1960s onwards. Political scientist Kerry Jacoby argues that there was a "Crisis in the Faith" following "the liberalizing reforms of Vatican II" (the 21st ecumenical council of the Roman Catholic Church, 1962–65) and Pope John XIII. Jacoby suggests that "In the midst of this upheaval, traditional Catholics found comfort in the solidity of their Church's positions on contraception and abortion."[656] This suggests that in different circumstances, the Church's advocacy may have been less influential in challenging abortion, or even weighed in the opposite direction.
• Close association with controversial interest groups may reduce the credibility and durability of a movement, and may lead to increased factionalism and polarization on relevant issues.
As noted above, the history of the anti-abortion movement suggests that outreach to religious groups could be useful if successful. However, it also highlights several potential downsides of close alignment with controversial interest groups with which a movement has only partially overlapping interests:
Given the potential downsides, there have been various careful efforts to ensure that the anti-abortion cause did not become too closely associated with Catholicism. These include the election of non-Catholic leaders, the separation of the NRLC from the NCCB, and the language that anti-abortion leaders use.[661] Although there was some internal dispute over the extent to which the anti-abortion movement should be separate from organizations of the Catholic Church,[662] this concern among anti-abortion advocates suggests that they perceived the downsides of Catholic domination of the anti-abortion movement as outweighing its benefits. However, while survey data is lacking, the contemporary anti-abortion movement still seeems to be strongly associated with Catholicism and evangelicalism.
• Political parties are more willing than expected to modify their stance on controversial issues, even in a direction that seems contrary to the views of their existing supporter base.
Outside of the leadership of the Republican and Democrat parties, abortion was not a clearly party-political issue until the mid 1980s:
Given this evidence, it is surprising that the Republican party presidential candidates and the centralized party election planks had become closely associated with the anti-abortion cause by 1980.[669] There are several possible reasons for this shift in the Republican party's stance. Factors with potential causal importance in this change, ordered from most to least apparent importance, include:
Political scientist David Karol argues that over 50% of the change in attitudes among members of Congress was caused by "conversion or flip-flopping as opposed to replacement or turnover," though the percentage changing their attitudes for these reasons was smaller for the Republicans than the Democrats (28% compared to 60%).[682]
Using data on those who attended the Democratic and Republican national conventions in both 1984 and 1988, one paper categorized attendees as either "pro-life" or "pro-choice." The authors use a multivariate regression analysis to show that those whose views contrasted with the majority views of their party were more likely to have shifted in the direction of their party than in the opposite direction.[683] Focusing on the national conventions seems likely to represent party activists better than either the general public or professional politicians. The results therefore suggest that party activists converged on the new directions on abortion policy set by their party leaders. However, this convergence may have been caused simply by social pressure that would exist with or without the new directions on abortion policy and another paper, using data from National Election Studies panels, found that anti-abortion Democrat supporters were 4.6 times more likely than Democrats who supported abortion rights to switch their support to the Republican party.[684] This shows that rather than converge with the party view, some individuals with minority views will just switch their party allegiance.
Abortion is not the only social issue over which the major political parties have changed their stances or adopted a strong position where previously the party as a whole was indifferent or mixed; Karol finds that individual attitude change accounted for a smaller proportion of party realignment on abortion than it did on trade policy, gun control, national defense, or fiscal policy.[685] This suggests that the major political parties could develop polarized positions on issues of interest to social movements and that it is uncertain which party will take the most sympathetic position. The influence of certain conservative activists and of anti-abortion advocates provides anecdotal evidence that affecting party alignment on farmed animal issues may be tractable for thoughtful actors, though the importance of other, less direct factors and the potential volatility of party political strategizing make the overall tractability unclear.
• Stronger alignment with a major political party might temporarily speed up progress by increasing the rate at which legislation is proposed but might also increase the chances of stagnation longer-term by encouraging political deadlock on an issue that could otherwise have transcended party politics.
It seems intuitively likely that the number of pieces of anti-abortion legislation that have been introduced is only as large as it is[686] due to the strong Republican party political interest in achieving demonstrable anti-abortion victories. However, there is evidence that after the parties became polarized on abortion issues, the successful passage of legislation became partially tied to the outcome of elections when this had not previously been the case.[687] Although the counterfactual cannot easily be assessed, it seems plausible that without strong party alignment, the anti-abortion cause would have been less likely to reach the political deadlock and stagnation that it seems to face currently.
Indeed, by the end of the presidencies of Ronald Reagan, George H. W. Bush, and George W. Bush, legislative and legal victories seemed fairly limited. Anti-abortion advocates had moved away from efforts at securing a Human Life Amendment in favor of incrementally increasing restrictions on abortion,[688] and the Supreme Court had modified, but not overturned, the legal precedent set by Roe v. Wade.[689] Although it seems plausible that the anti-abortion movement will secure further victories under Trump's presidency, the history of the anti-abortion movement so far demonstrates that close association with one of the major political parties may not necessarily lead to radical legal or legislative change, even when political allies hold power, since those allies may continue to prioritize other issues.[690]
Additionally, as abortion has become increasingly divided on party-political lines, party supporters have followed their leadership and changed their views on the issues.[691] Entrenched partisan views on abortion issues outside the party leadership's could plausibly make it more difficult for non-political educational campaigns to change people's attitudes.
• Social change may be more likely to occur if credible professional groups advocate for change for technical reasons before broader participation and pressure is encouraged.
The case for liberalization of abortion law seems to have been put forward in the 1950s and early 1960s primarily by medical, psychiatric, and legal professionals.[692] In comparison, Catholic preaching[693] and local organizing[694] suggest that the early anti-abortion movement had more of a focus on mass influence, though many early advocates were also professionals.[695] The extent to which this difference made abortion reform more likely or more successful is uncertain.[696] Nevertheless, given that abortion was decriminalized up to the point of twelve weeks of pregnancy by Roe v. Wade[697] and that this reform, as well as public opinion on the matter, have not substantially changed since then,[698] this provides weak evidence that social change is more likely to be successful if it is advocated for by professionals first. Additionally, the campaign for abortion reform in Hawaii in 1967-70 culminated in victory for the abortion rights movement; the abortion rights advocates seem to have been more focused on elite influencers than on the public, in contrast to the anti-abortion movement there.[699] These findings provide only very weak evidence for the claim that advocacy for specific issues, such as for particular changes to the manner in which food production is regulated in a country, will be more likely to succeed if professionals advocate for the change first. Farmed animal advocates should not place much weight on this strategic implication.[700]
Timing
• High issue salience may contribute to political polarization and, more tentatively, to stagnation. Advocates should only focus on increasing issue salience if the timing is beneficial.
Abortion has been a highly salient issue for decades, especially since the 1990s, but major change does not seem to have occurred to either restrict or liberalize abortion laws.[701] High salience may have contributed towards polarization and the two parties adopting opposing views on the issue. Although this has a variety of advantages and disadvantages, it may have contributed towards stagnation in Congress and the Supreme Court, where anti-abortion forces have gained sufficient influence to restrict abortion but not to overturn Roe v. Wade.[702] Researchers have hypothesized that high salience has contributed to political inaction in Canada, too.[703]
• If a specific protest tactic is used routinely, the publicity and attention are likely to decrease. Advocates should use each protest tactic judiciously, to avoid these rapidly diminishing returns.
A study (conducted by a conservative news group) found that "the three broadcast networks (ABC, CBS, NBC) covered the [2017] women's march 129 times more than they did the 2016 March for Life."[704] This suggests that regular marches do not gather much publicity, and that, if media attention is an important goal, marches may be more effective if organized in response to national developments. Of course, marches may have other goals, and it seems likely that the March for Life has grown in attendance over time.[705]
• Opposition groups may mimic or directly counter the tactics used by social movements. On occasion, it may be worth temporarily delaying the use of some tactics, if opposing advocacy is a substantial threat.
Several of the tactics employed by the anti-abortion movement were subsequently imitated by the abortion rights movement. Sociologist Suzanne Staggenborg explains that NARAL intentionally adopted certain tactics after seeing that "the pro-choice side was making a poor showing" in these areas: The use of graphic images (in their case, images of illegal abortions, rather than legal ones) and the rallying of constituents to write letters to members of Congress.[706] In this sense, if social movements come up against organized opposition, they should be wary that their own tactics may be used against them if those tactics are perceived to be effective. If both sides are using similar tactics, it seems intuitively more likely that progress toward a social movement's goals will stagnate or will be decided by a war of attrition where the side with the greatest resources will prevail; there is some evidence that these outcomes occurred in the anti-abortion movement.[707]
Messaging
• As well as reducing movement credibility, the use of exaggeration and misinformation may contribute towards stagnation.
Various anti-abortion interventions have used exaggeration, misinformation, or false advertising. For example, the film Silent Scream was met with criticism for its inaccuracy[708] and CPCs have been accused of "practicing medicine without a license" and of being "fake clinics."[709]
However, abortion rights advocates have also been accused of using information misleadingly.[710] Sociologist James Davison Hunter argues that lying is rare but that other "distortions" are common among both sides, where advocates overstate a point of view.[711] To the extent that the use of such "distortions" invites the opposing side to do the same,[712] this may encourage stagnation by reducing the opportunity for progress through informed discussion and by polarizing attitudes.
• Imagery that encourages bonding and builds a connection with the intended beneficiaries of a social movement may be particularly effective.
Some states enforce mandatory ultrasound viewings for women seeking abortion, presumably on the assumption that seeing the image will increase bonding between the mother and the fetus and reduce the likelihood of abortion. In addition to anecdotal evidence,[713] there is indirect evidence from surveys and randomized controlled trials that this is likely to be effective. In a 1992 survey of 50 sonographers, 46 answered "yes" to the question "Do you believe that maternal-fetal bonding is strengthened by the sonographic demonstration of the fetus?" and 29 believed that "'seeing' the fetus [had] in some way influenced [their own] opinions on the elective termination of a healthy pregnancy."[714] Two systematic reviews noted a lack of experimental evidence showing that ultrasound increased women's attachment to the fetus.[715] Nevertheless, one included study did compare a "high feedback" group to a "low feedback group" where both groups were shown ultrasound images; "[w]omen in both conditions evidenced more positive attitudes towards being pregnant and towards the fetus following the scan."[716] Five subsequent studies have found similar results but all six studies lacked no-scan control groups.[717] One study also found that "the odds of a woman having an abortion who lives in a state with an ultrasound law are only 25.4 percent of the odds for a woman having an abortion who lives in a state without such a law" but this study did not account for potential confounding factors like advocacy or attitudes in the state.[718] It is plausible that these results reflect the effects of graphic and emotive imagery, rather than images that encourage bonding; there is also anecdotal evidence that graphic imagery has been effective in the anti-abortion movement.[719]
• Some issue framings, such as violent or highly religious rhetoric, may mobilize specific subsets of advocates but have unclear (possibly counterproductive) effects on wider movement outcomes.
A book by Carol Mason provides evidence of the importance of violent messaging in the anti-abortion movement, arguing that "The apocalyptic narrative of pro-life politics is what, in effect, creates new abortion warriors, producing soldiers in the Army of God."[720] Although it seems clear that some committed anti-abortion activists are influenced by and further propagate such language, this is not strong evidence that such language is convincing to the wider public, or to those with especially strong influence over the law affecting abortions. Intuitively, such language seems divisive and likely to reduce the mainstream credibility of the movement.
Potential Items for Further Study
Has the passage of laws restricting abortion or abortion providers led to greater momentum for the anti-abortion movement or complacency that the battle has already been won at the state level? An in-depth look at individual states and considering opinion poll results in comparison to local legislative efforts could provide better evidence. I did not identify any books that analyzed such processes in sufficient detail; the closest was Mary C. Segers and Timothy A. Byrnes, Abortion Politics in American States (Abingdon: Routledge, 2015; first published 1995), which includes a series of state case studies, but focuses on the localized political struggles and causes of legislative outcomes, rather than their consequences.
How did the anti-abortion movement develop in other Western nations? Was it more or less successful than the US movement? What effects did the strategic factors considered here have in those countries? For example, how important was the lesser alignment between party politics and positions on abortion in determining the extent of success or failure of the anti-abortion movements there? How did the varying importance of morality issues in party politics in different countries affect the abortion issue? If certain findings seem consistent across countries, this would suggest that we should place more weight on them when seeking to understand the best strategy and tactics to use in the farmed animal movement. Note that some scholars have written works directly comparing the US anti-abortion movement with anti-abortion movements in individual other countries.[721]
How important were different messaging tactics and specific arguments in swaying the judgements of Supreme Court justices? A more detailed analysis of the legal history of the anti-abortion and abortion rights movements could provide more actionable insights for the judicial strategy of advocates seeking to secure rights for animals, such as through legal personhood. "The Right to Abortion and the U.S. Supreme Court, 1971-1973" in David J. Garrow, Liberty and Sexuality: The Right to Privacy and the Making of Roe v. Wade (New York: MacMillan, 1994), 473-599 would be a good starting point for this enquiry.
What important evidence relating to the effectiveness of the anti-abortion movement is known by advocates but is not well-documented in the historical and social scientific literature? Interviews with anti-abortion advocates and their opponents could lead to further insights and provide evidence on questions more specifically tailored to the interests of the farmed animal movement.
What effect have different messaging strategies had on the US public? Surveys of the current US population could be conducted to seek answers on questions more specifically of interest to the farmed animal movement such as this.
How much money have anti-abortion groups spent on various tactics? Are there any indications of volunteer time inputs? How does this compare to the spending of their abortion rights opponents? What, if anything, does this tell us about the cost-effectiveness of the movement's various tactics? A systematic check through the annual reports of all the "Advocacy and Abolitionist Groups" listed by the Death Penalty Information Center[722] could be informative, if they are accessible.
Does a closer reading of analyses of issue framing offer a better understanding of the causes of particular successes or failures of the anti-abortion movement? Several books and articles examine the anti-abortion movement's "framings" and narratives, but I did not spend long looking at these, as they seemed to offer little empirical information. Beyond abortion, does the social science literature offer much empirical evidence about the importance of framing, or how to best influence narratives positively? Reading Mario Diana, "Linking Mobilization Frames and Political Opportunities: Insights from Regional populism in Italy," American Sociological Review 61 (December 1996), 1053-69 and the papers that cite this article could be a good starting point.
Are there important contributions in the historical and social scientific literature on the anti-abortion movement that I have not included here?
Beyond abortion, how and why have political parties developed polarized positions on social issues? What proportion of social issues have developed polarized party political lines? What effects has this had on the development of those issues? Searching through the papers that cite David Karol, Party Position Change in American Politics: Coalition Management (New York: Cambridge University Press, 2009) would be a good starting point.
Beyond abortion, how well does the theory proposed in Charles H. Franklin and Liane C. Kosaki, "Republican Schoolmaster: The U.S. Supreme Court, Public Opinion, and Abortion," The American Political Science Review 83, no. 3 1989), 751-71 hold up? The theory suggests that in contexts in which groups have homogenous views, widely publicized, salient events and developments will lead individuals to converge towards a group norm. This will increase polarization between groups, even if effects on the aggregate attitude of the whole population seem negligible. However, in contexts in which groups lack homogenous views on an issue, the effects of widely publicized events will vary more by individual. The article has 348 citations on Google Scholar, and a fuller understanding of the empirical evidence supporting or challenging this theory could be useful. In the longer-term, how important are these effects in comparison to effects on shifting framings of an issue that arise from the salient event or development? At the time of publication of this case study, Sentience Institute has already begun additional research into some of these questions.
Beyond abortion, what are the determinants of Supreme Court decisions? A good place to start for a review of this literature would be to look up the references listed in Linda Greenhouse, "Public Opinion & the Supreme Court: The Puzzling Case of Abortion," Daedalus 141, no. 4 (2012), 69-82. Sentience Institute has also begun research into this question.
Beyond abortion, what do social scientists find about the extent to which public opinion affects policy, and how does this compare to the importance of variables such as partisan control? A good place to start for a review of this literature would be to search the papers citing Matthew E. Wetstein, Abortion Rates in the United States: The Influence of Opinion and Policy (Albany, NY: State University of New York Press, 1996).
Beyond abortion, does the social scientific literature focused on "morality policy" have empirical findings of interest to the farmed animal movement?
Beyond abortion, what proportion of social and moral issues do religious groups appear to have adopted active political stances on in recent times (say, since 1945)? Is there other evidence that religious groups may adopt active stances based substantially on practical considerations, rather than theological ones? Searching the papers citing many of the works referenced here, such as Kenneth D. Wald and Allison Calhoun-Brown, Religion and Politics in the United States (Lanham, MD: Rowman and Littlefield, 2014), could be a useful starting point.
Beyond abortion, does the sociology literature on social movement mobilization offer much empirical evidence about the importance of various factors or triggers in driving individuals to get actively involved in a social movement? The sociology literature on this topic seems to be very large, and so a full literature review could be very time consuming, possibly without bringing much benefit. There may, however, be some low-hanging fruit from a review of textbooks and existing literature reviews. Searching the the papers that cite Ziad W. Munson, The Making of Pro-life Activists: How Social Movement Mobilization Works (Chicago: The University of Chicago Press, 2008) could be a good starting point.
Selected Bibliography
Ainsworth, Scott H. and Hall, Thad E., Abortion Politics in Congress: Strategic Incrementalism and Policy Change (Cambridge: Cambridge University Press, 2011).
Charo, R. Alta, "A Political History of RU-486," in K. E. Hanna (ed.) Biomedical Politics (Washington DC: National Academies Press, 1991).
Childress, John Daniel, "Advocacy, Abortion, and Public Policy: Towards a Better Understanding of the Determinants of Abortion" (2010), https://repository.library.georgetown.edu/bitstream/handle/10822/553687/childressJohn.pdf.
Cook, Elizabeth Adell, Jelen, Ted G., and Wilcox, Clyde, Between Two Absolutes: Public Opinion and the Politics of Abortion (Boulder, Colo.: Westview Press, 1992).
Cozzarelli, Catherine and Major, Brenda, "The Impact of Antiabortion Activities on Women Seeking Abortions," in Linda J. Beckman and S. Marie Harvey (eds.) The New Civil War: The Psychology, Culture, and Politics of Abortion (Washington, DC: American Psychological Association, 1998).
Critchlow, Donald T. (ed.) The Politics of Abortion and Birth Control in Historical Perspective (University Park, Pennsylvania: Pennsylvania State University Press, 1996; first published 1995).
Doan, Alesha E., Opposition & Intimidation: The Abortion Wars & Strategies of Political Harassment (Ann Arbor: University of Michigan Press, 2007).
Evans, John H., "Polarization in Abortion Attitudes in U.S. Religious Traditions, 1972–1998," Sociological Forum 17, No. 3 (September 2002).
Flowers, Prudence, "Fighting the 'Hurricane Winds' of Abortion Liberalization: Americans United for Life and the Struggle for Self-Definition before Roe v. Wade," The Sixties (May 2018).
Franklin, Charles H. and Kosaki, Liane C., "Republican Schoolmaster: The U.S. Supreme Court, Public Opinion, and Abortion," The American Political Science Review 83, no. 3 1989), 763-4.
Garrow, David J., Liberty and Sexuality: The Right to Privacy and the Making of Roe v. Wade (New York: MacMillan, 1994).
Ginsburg, Faye, "Saving America's Souls: Operation Rescue's Crusade Against Abortion," in Martin E. Marty and R. Scott Appleby (eds.) Fundamentalism and the State: Remaking Polities, Economies, and Militance (Chicago: University of Chicago Press, 1993), 557-88.
Greenhouse, Linda and Siegel, Reva, Before Roe v. Wade: Voices that Shaped the Abortion Debate before the Supreme Court's Ruling (New York: Kaplan Publishing, 2010).
Hansen, Susan B., "State Implementation of Supreme Court Decisions: Abortion Rates Since Roe v. Wade," The Journal of Politics 42, no. 2 (May 1980).
Hunter, James Davison, Culture Wars: The Struggle to Define America (New York: Basic Books, 1991).
Hussey, Laura S., "The Pro-Life Pregnancy Help Movement," APSA 2012 Annual Meeting Paper, accessed April 9, 2019, https://ssrn.com/abstract=2107990.
Jackman, Jennifer, "Anatomy of a Feminist Victory: Winning the Transfer of RU 486 Patent Rights to the United States, 1988-1994," Women and Politics 24, no. 3 (2002).
Jacobson, Mireille and Royer, Heather, "Aftershocks: The Impact of Clinic Violence on Abortion Services," American Economic Journal: Applied Economics 3, no. 1 (January 2011).
Jacoby, Kerry N., Souls, Bodies, Spirits: The Drive to Abolish Abortion Since 1973 (Westport, Connecticut: Praeger, 1998).
Karrer, Robert N., "The National Right to Life Committee: Its Founding, its History, and the Emergence of the Pro-Life Movement Prior to Roe v. Wade," The Catholic Historical Review 97, no. 3 (July, 2011).
Karrer, Robert N., "The Pro-Life Movement and Its First Years Under 'Roe,'" American Catholic Studies 122, No. 4 (2011).
Luker, Kristin, Abortion and the Politics of Motherhood (Berkeley: University of California Press, 1984).
Maxwell, Carol J. C., Pro-Life Activists in America: Meaning, Motivation, and Direct Action (Cambridge, UK: Cambridge University Press, 2002).
Medoff, Marshall H., "An Economic Analysis of the Demand for Abortions," Economic Inquiry 26, no. 2 (1988), 353-9.
Medoff, Marshall H., "The Impact of Anti-Abortion Activities on State Abortion Rates," Journal of Socio-Economics 32, no. 3 (2003), 265-82.
Medoff, Marshall H. and Dennis, Christopher, "TRAP Abortion Laws and Partisan Political Party Control of State Government," American Journal of Economics and Sociology 70, no. 4 (October 2011).
Munson, Ziad W., The Making of Pro-life Activists: How Social Movement Mobilization Works (Chicago: The University of Chicago Press, 2008).
New, Michael, "Analyzing the Effect of State Legislation on the Incidence of Abortion Among Minors" (February 2007), https://www.heritage.org/marriage-and-family/report/analyzing-the-effect-state-legislation-the-incidence-abortion-among.
Nossiff, Rosemary, Before Roe: Abortion Policy in the States (Philadelphia: Temple University Press, 2001).
Prendergast, William B., The Catholic Voter in American Politics: The Passing of the Democratic Monolith (Washington DC: Georgetown University Press, 1999).
Staggenborg, Suzanne, The Pro-Choice Movement: Organization and Activism in the Abortion Conflict (New York: Oxford University Press, 1991).
Tatalovich, Raymond and Daynes, Byron W., The Politics of Abortion: A Study of Community Conflict in Public Policymaking (New York: Praeger, 1981).
Wagner, Teresa R. (ed.) Back to the Drawing Board: The Future of the Pro-Life Movement (South Bend, Indiana: St. Augustine's Press, 2003).
Wetstein, Matthew E., Abortion Rates in the United States: The Influence of Opinion and Policy (Albany, NY: State University of New York Press, 1996).
Williams, Daniel K., "The GOP's Abortion Strategy: Why Pro-Choice Republicans Became Pro-Life in the 1970s," Journal of Policy History 23, no. 4 (2011).
Williams, Daniel K., Defenders of the Unborn: The Pro-Life Movement Before Roe v. Wade (New York, Oxford University Press, 2016).
Wlezien, Christopher B. and Goggin, Malcolm L., "The Courts, Interest Groups, and Public Opinion about Abortion," Political Behavior 15, no. 4 (1993), 381-405.
Ziegler, Mary, "The Framing of a Right to Choose: Roe v. Wade and the Changing Debate on Abortion Law," Law and History Review 27, no. 2 (2009), 281-330.
---