Each of these appendices and supplementary documents was less thoroughly edited than Sentience Institute's usual standard, in order to reduce the time required to summarize the extensive health behavior literature. The main report is available at: http://sentienceinstitute.org/health-behavior
Table of Contents
Several theories and models have been proposed about what affects intentions to modify health behaviors. These can be referred to as "social cognition models" (SCMs). These SCMs are frequently used as the basis for designing health behavior interventions, though it is unclear whether they encourage substantial changes in the design in practice. Some of the factors identified as important determinants of health behavior may also determine behavior relevant to the farmed animal movement and other social movements. SCMs do not cover all possible determinants of intentions and behavior, usually excluding neurobiological, cultural, demographic, and personality factors. Nevertheless, an understanding of these SCMs may help to inspire new approaches in designing interventions or new avenues for research in the farmed animal movement.
The health belief model
The health belief model (HBM) emphasizes that in order for someone to take action to avoid ill-health or improve their health, they would need to believe:
"that he was personally susceptible to it,

that the occurrence of the disease would have at least moderate severity on some component of his life,

that taking a particular action would in fact be beneficial by reducing his susceptibility to the condition or, if the disease occurred, by reducing its severity, and that it would not entail overcoming important psychological barriers such as cost, convenience, pain, embarrassment,"

[1]

(which are sometimes separated into "benefits" and "barriers").
Additionally, though not included as a factor in the original conception of the HBM, "[a] factor that serves as a cue, or a trigger, to appropriate action appeared to be necessary."[2] Cues to action have not been well-studied in the context of the HBM.[3] Later, individual motivation and individual self-efficacy (one's perception of their ability to successfully perform a behavior) were also added to the HBM, but have not been well-studied in this context.[4]
There are other limitations to the applicability of the HBM. It may be better at representing past decisions than predicting future behavior, for example.[5]
Protection motivation theory
Protection motivation theory (PMT) suggests that people protect themselves based on their perceptions of:
"The noxiousness or severity of the threatened event,"

"The probability of the occurrence of the event,"

"The efficacy of a recommended coping response," and

"Self-efficacy."

[6]
Note that this parallels the criteria of the HBM, except that self-efficacy (which was only subsequently added to the HBM) is viewed as a core component and that psychological barriers are not accounted for in PMT.
The transtheoretical model
The transtheoretical model (TTM) "posits that individuals progress through five stages of change on their way toward adopting a healthy behavior or toward cessation of an unhealthy behavior":
"precontemplation (not intending to change),

contemplation (intending to change in the foreseeable future),

preparation (planning to change very soon and currently taking measurable steps to change),

action (changed in the past 6 months), and

maintenance (changed and sustained the behavior change for 6 months or more)."
Additionally, the TTM "describes the change process as cyclical rather than linear, as individuals may move forward through stages, backslide, and then continue cycling and recycling through the stages of change."[7]
One paper argues that the TTM "is very versatile and can be easily used to describe the process of change that a person goes through to become vegan."[8]
Self-determination theory
Self-determination theory (SDT) is a macro theory on human motivation, which has been applied to understanding health behavior. SDT examines how extrinsic forces interact with intrinsic motives and needs. Its proponents emphasize internal motivations and a natural tendency for humans towards personal development, but allow a role for conditions that support or hinder an individual's needs of "autonomy, competence, and relatedness."[9] They argue that social context can either help or hinder an individual through its effect on these three needs.[10]
Theory of reasoned action/theory of planned behavior
The theory of reasoned action (TRA) is a theory of human behavior that explains behavior as being a result of individuals' intentions. These intentions are in turn shaped by:
"subjective norms" and

"attitudes towards the behavior."

[11]

The theory of planned behavior (TPB) extends TRA, adding an extra predictor of intentions:
"perceived behavioral control," which is similar to self-efficacy, comprising "judgments of how well one can execute courses of action required to deal with prospective situations."

[12]
Prototype-willingness model
The prototype-willingness model (PWM) was developed out of the TRA/TPB to account for behavior not well-explained by existing SCMs.[13] As well as a "reasoned pathway" to health or risk behaviors, it suggests a "social reaction pathway." The social reaction pathway includes four factors that affect individuals' willingness to engage in risk behaviors when they are in risk-conducive situations:
Subjective norms,

Attitudes,

Past behaviors, and

The prototype: "the image that people have of the type of person who engages in a particular behaviour."

[14]
Social cognitive theory
Social cognitive theory (SCT) is a theory of learning that suggests that people learn through "direct" and "observational experience," and that this leads them to reproduce certain behaviors. This is influenced by three "interacting determinants that influence each other bidirectionally":
"Personal factors in the form of cognitive, affective, and biological events,,

Behavioral patterns, and

Environmental events."

[15]
The health action process approach
The health action process approach (HAPA) emphasizes three stages of influence on health behavior decisions:
Pre-intenders: "the influences on deciding whether to change one's behaviour,"

Intenders: "the influences on deciding how to act in support of the decision to change,"

Actors: "the influences on acting and continuing to act."

[16]
Empirical testing of social cognition models
SCMs have been empirically tested for their accuracy in describing and predicting behavior change, though they arguably do not make meaningful predictions.
For example, a meta-analysis of 18 studies determined the correlations between survey questions designed to capture aspects of the HBM (severity, susceptibility, benefits, and barriers) with measurements of the target behavior in each study. It found a small effect for "severity," a "near zero" effect from "susceptibility," a small effect from "benefits," and a medium (reverse-coded) effect from "barriers."[17]
Fig. 1. Correlations between aspects of the health belief model and behavior.
In this meta-analysis, in several ways "barriers" appears to be the strongest predictor in the HBM; it had the largest effect size (r = 0.30), homogenous results, and a much smaller correlation between the length of time between the measurement of attitudes and the decision over the behavior adopted than the other predictors (r = 0.02, compared to -0.37, 0.50 and 0.59). Both "benefits" and "barriers" had small effect sizes in contexts attempting to treat cases of poor health, as opposed to preventing possible future instances.[18]
Another review found that, "success of intervention on adherence was unrelated to the HBM constructs addressed,"[19] which fails to support the conclusion of the above meta-analysis that perceived "benefits" and "barriers" were the strongest predictors of behavior.[20]
Broadly speaking, research has not shown any SCM to be consistently superior to the others. Psychologists Mark Conner and Paul Norman note that, "there is little consensus on whether some variables are more influential than others and whether some models of health behaviour are more predictive than others."[21] Summarizing the existing comparisons between different SCMs and different predictors of intentions, they note that:
"Early studies" comparing the HBM to TRA found little difference, or see one or the other as slightly better for particular issues. For example, "Hill et al. (1985) found the two models to explain similar amounts of variance in women's intentions to perform breast self-examination (17-20% of variance) and to have a Pap test/cervical smear (26-32% of variance)." More recent studies reported the TPB to have greater predictive power than the HBM.

[22]

Several comparisons have found self-efficacy to be the most important, or second-most important, predictor of intentions and behavior.

[23]

"Other comparison studies have generally reported similar levels of predictive power for the SCMs examined."

[24]
Combining the results of several meta analyses, Conner and Norman list the effect sizes of various predictors on intentions and on behaviors:[25]
Fig. 2. The effect sizes of various predictors on intentions and on behaviors.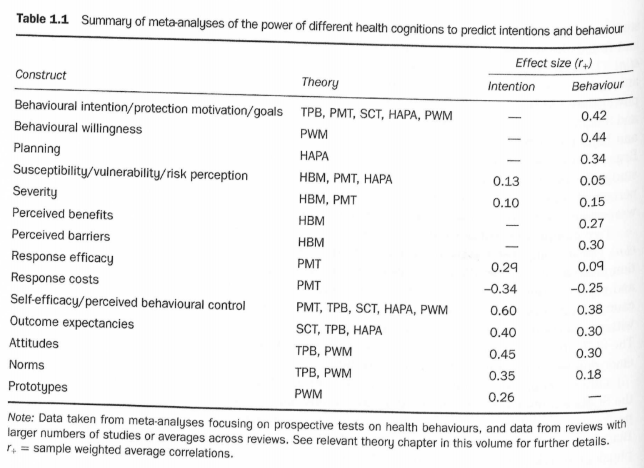 This also gives us an idea of the differences between effect sizes on behaviors and intentions. For those constructs in the table above with effect sizes for both intentions and behavior, the effect on behavior averages 69% of the effect on intention. Conner and Norman add that, "Webb and Sheeran (2006) reviewed studies that significantly changed intentions (d+ = 0.66) and reported that these studies had medium-sized effects on behaviour (d+ = 0.36),"[26] which would be 55% of the effect for intentions. A meta-analysis of 204 experimental studies found effects on behavior from "[e]xperimentally induced changes in attitudes, norms, and self-efficacy" that were 79%, 74%, and 92% of the effect that these types of changes had on intentions.[27] These figures provide rough guides for the amount of behavior change we could expect to see if we successfully alter individuals' intentions. A meta-analysis focused specifically on the TPB's application to understand and predict nutrition-related behaviors in youth found a moderate correlation between intention and behavior (r = 0.38).[28]
Conner and Norman warn that, "[r]eliability [i.e. correlation] of measures of intentions, self-efficacy, and other health conditions rarely exceed 0.80, meaning they contain less than 64% meaningful variance."[29] When compared to interventions targeted at animal product consumption, contextual differences will render such figures even less accurate, so we should not place much weight on these precise figures for our purposes.
Usefulness of social cognition models
SCM theories have been used by some—but certainly not all—researchers in designing health behavior interventions.[30] Evidence that interventions that are guided by SCMs are more successful than those that are not is weak and inconsistent. Some reviews suggest no strong correlation or a negative correlation between SCM use and intervention effectiveness:
A meta-analysis of 190 interventions found that, "[i]nterventions based on Social Cognitive Theory or the Transtheoretical Model were similarly effective and no more effective than interventions not reporting a theory base."

[34]

One meta-analysis of text message studies even found that, "[i]nterventions with no apparent theoretic foundation had a larger effect (d=0.37, 95% CI 0.25, 0.48) than those reported to be guided by specific theoretic models (d=0.19, 95% CI 0.11, 0.27)."

[35]
In other cases, however, the findings are more positive:
Conner and Norman identify seven areas of overlap between the SCMs.[42] Combined models have therefore been proposed,[43] although these combined models are still open to criticism.[44]
Given the inconsistency with which use of SCMs in intervention design is associated with greater intervention effectiveness, it may not be worth the resource cost for researchers in the farmed animal movement to develop animal product consumption-specific behavior change theories or to utilize existing SCMs. Nevertheless, the farmed animal movement may benefit from using existing SCMs in moderation to inspire variations in intervention design that can be tested for their effectiveness.
---