How Tractable is Changing the Course of History?
March 12, 2019
This blog post series explores methodological questions and challenges in the use of historical research by Sentience Institute, the effective altruism community, and the farmed animal movement. It is broader in scope, more theoretical, and more meta than most of Sentience Institute's research, but I have tried to regularly bring the discussion back to concrete examples (e.g. WWI and the French Revolution) with concrete implications for advocates. The other posts are on "What can the farmed animal movement learn from history?" and "How is SI research different from existing social movement literature and relevant historical works?"[1]
Edited by Jacy Reese Anthis. Many thanks to Kelly Anthis, J. Mohorčich, Rose Hadshar, Carl Shulman, Gregory Lewis, Tobias Baumann, Zach Groff, and Yannick Mühlhäuser for reviewing and providing feedback.
Introduction
Many effective altruists think the far future is an important consideration when working to do the most good.[2] Nick Beckstead has written about changes to humanity's development trajectory, suggesting that some of these may be based on historical contingency, such as how the specificities of Christian morality have shaped the world,[3] and argued that "what it is best to do is primarily determined by how our actions are expected to change our development trajectory." Along similar lines, Sentience Institute is "dedicated to the expansion of humanity's moral circle," and our research director Jacy Reese has written about why he prioritizes this over another route to affecting the far future, artificial intelligence alignment.
Gregory Lewis has considered some arguments on "How fragile was history?" and emphasized that "trivial contingencies" in the conception of a human embryo could affect "whether an individual or a potential sibling exists," and that this could "cascade onwards" to create further unpredictable counterfactual changes. He noted that "the value of efforts to shape the long-run future rely upon fragility being not too extreme either way" and suggested that further investigation would be helpful.
In this post, I consider one important aspect of the tractability of social change:[4] "How tractable is it to change the course of history?" This is distinct from questions about the tractability of social change through specific mechanisms, such as "How efficient are nonprofits?" or "How easy is book publishing?"
Although any trivial action, like throwing a tennis ball, could have long-term implications, Hilary Greaves has explained that "when you do your expected-value theory the mere possibility that you might make things better in these completely unpredictable ways is just more or less precisely canceled out by the equally plausible mere possibility that you might make things worse in equally unpredictable ways." This does not apply, however, "where there are some highly-structured, systematic reasons for thinking there might be a general tendency of my action to make things better, but there might also for some other reasons be a general tendency to make things worse." Given that the impact of any action will presumably be dominated by difficult to measure long-term impacts, the behavior of those seeking to maximize their positive impact "should be almost entirely driven by what your best guess is" about the long-term implications. By this logic, the important question for those seeking to maximize their impact is not just, "How tractable is changing the course of history?" but "How tractable is it for thoughtful actors to change the course of history in their intended direction?"
This post is primarily focused on assessing the extent to which a small group of thoughtful actors, such as a single animal advocacy nonprofit, can deliberately change the course of history, such as to encourage moral circle expansion (MCE); increasing the number of sentient beings whose interests are considered in our legal systems and social norms. This deliberate influence, shortened as "historical tractability," is contrasted with three other sources of change: (1) long-term trends, (2) luck, and (3) deliberate yet hard-to-influence efforts.
Social change would be less tractable if its causes were slow-moving and long-term, or only had an indirect relationship to change. For example, the more one thinks indirect effects of economic growth and prosperity have driven MCE, the less role there is for direct MCE advocacy.
I use the term "luck" to refer to non-deliberate factors. For example, a trajectory change could depend on whether or not it rained on a particular day in a particular place or whether traffic made someone miss an important meeting.
Some deliberate efforts could be hard to influence directly, such as discussion between a powerful politician and a single advisor.
I use the term "contingency" to refer collectively to the influence of luck and hard-to-influence decisions.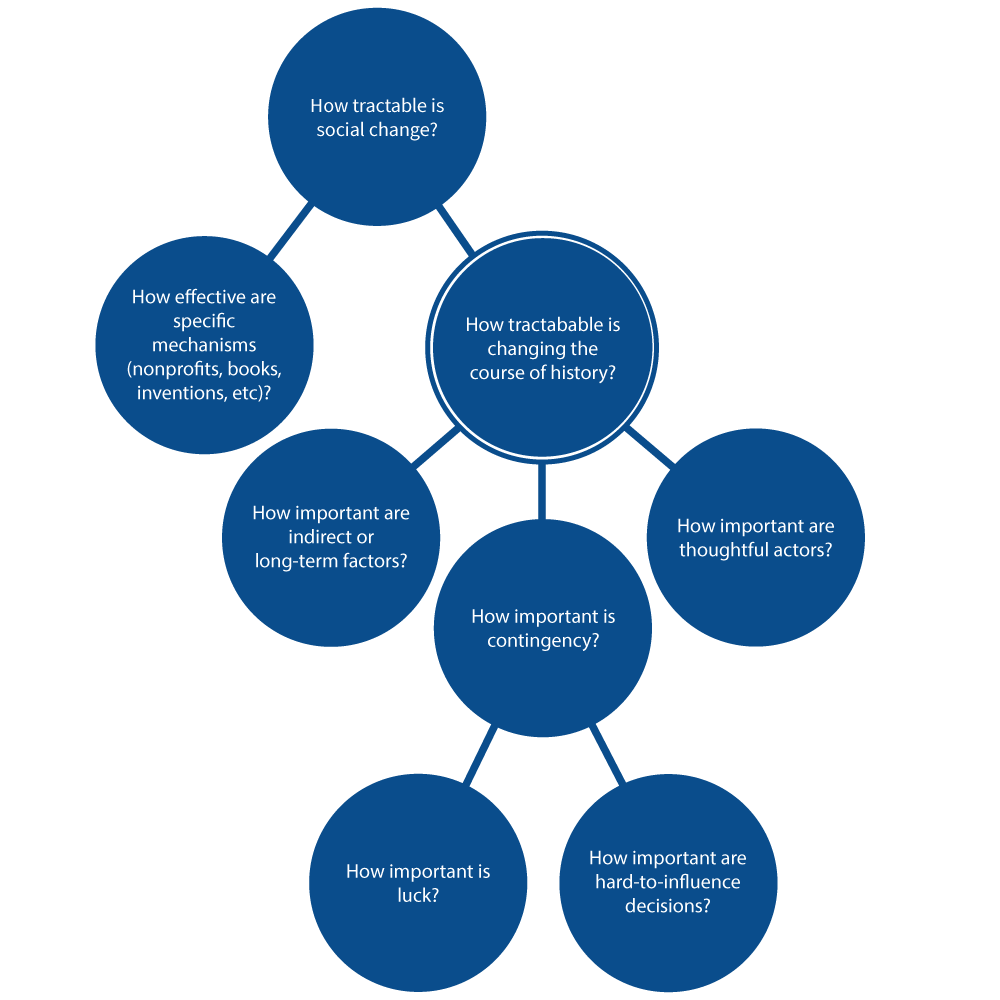 Fig. 1. Sub-questions of "How tractable is social change?" Note that the subquestion, "How tractable is changing the course of history?" is the subject of this blog post.
Due to the availability of evidence and focus of the existing literature, this post will spend more time on theories and case studies which are not specific to MCE. At the end of the post, I will compare the tractability of MCE to that of other historical social trends.
Summary
The evidence considered in this post suggests that the course of history — including trajectories towards MCE — can be influenced to a significant degree by small groups of thoughtful actors, which suggests MCE should be a high priority for people who endorse longtermism in the effective altruism community, which supports the claim that focusing on MCE is a valuable use of limited resources.[5] While our conclusion was positive, there are mitigating concerns that contingency plays an important role in determining historical outcomes, and that long-term, indirect factors also reduce the tractability of changing the course of history for thoughtful actors.
To a first approximation, we can examine the evidence for historical tractability by tracking scholarly opinion on the causation of important historical events. To date the trend is that historians have moved away from Marxist approaches, as seen in the French Revolution debates, but also away from the Great Man Theory, towards a more compromising position. There have been similar moves towards compromise in sociology between structuralism and its critics. I don't find any of these theories especially compelling, and given the unresolved academic debates on these issues, it seems more justified to use them as analytical frameworks that can be used with particular case studies rather than to consider them to be consistently accurate generalizations.
Majority opinion among historians of World War I has oscillated between holding the actions of national leaders (especially in Germany) responsible for the outbreak of war, and emphasizing the importance of longer-term factors outside of their direct control. There is now an increased acceptance of the importance of various contingent factors such as the success or failure of the assassination of Franz Ferdinand and the negotiations in July 1914. Although I have not read the primary evidence myself and so do not hold confident views, it seems plausible that changes in these contingent factors would have prevented war.[6] Historians seem to accept the importance of a variety of causes of the French Revolution. From my understanding of the evidence, it seems that while the occurrence of some sort of radical social change in France in the 18th and 19th centuries wasn't as dependent on contingency as the outbreak of World War I, the precise path and outcomes of the Revolution were. From an effective altruism perspective, the precise path might not be very important, but it is possible that this could have dramatically altered the outcomes of the Revolution. It seems unlikely that the development of the industrial revolution depended much on contingency given the long-term forces at play, although other forms of trajectory change may still have been tractable. In several of the included historical case studies, notably with the rise of US environmentalism in the 1960s, the apparent influence of certain intellectuals suggests that their ideas might be more important than luck or subsequent decision-making processes in shaping broad developments.
These case studies also provide evidence of the importance of long-term, indirect factors that might reduce tractability, though this is not so much the case with World War I (depending on how much confidence one places in recent arguments in favor of contingency).
Empirical studies by social movement sociologists show that social movements and individual organizations have succeeded in having an impact but that this is difficult and usually only achieved with the support of public opinion and/or allies in the political system. Comparative historical sociologists note the importance of broad contextual factors in shaping historical outcomes, but accepting their arguments doesn't limit tractability much. Other social scientists have found evidence of the substantial importance of leaders on some outcomes, which has mixed implications for tractability.
View updates
Given the varying intuitions and existing views of people on the topic of tractability, we can't easily present conclusions from this work that would apply to all readers, so this section instead specifically details how Jamie Harris (author) and Jacy Reese (editor) changed their views during the course of this project.
Sentience Institute staff had similar initial intuitions that key actors have medium or low influence over the outcomes of history on a scale from "such actors have no control, and everything is entirely a result of wider factors" to "one small group could determine the entire outcome of a major historical change or event."
Through researching and writing this post, I have updated towards contingency playing a greater role in determining historical outcomes than I initially hypothesized, most notably as a result of the historical case studies considered here. Considering the broad implications of chaos theory also led me to update slightly towards the importance of contingency. Given that chaos theory has been used to improve prediction accuracy for issues such as weather systems, it seems that it has some real-world applicability, the implications of which contrast with my previous intuitions about causation. This importance of contingency limits historical tractability.
I have not significantly updated my views on the extent to which historical outcomes are determined by long-term, indirect factors that are hard for thoughtful actors to control, although my starting intuition was already to attribute relatively high significance to these factors.
Jacy Reese, our Research Director who edited this article, updated slightly towards increased historical tractability because (1) there was slightly less agreement than expected among historians on the inevitability of the case study events (e.g. World War I) due to long-term, indirect forces, and (2) the figures in the quantitative sociology reviews of social change organizations were slightly higher than expected. Jacy didn't have a discernible change in his view on the role of contingency specifically.
We had a range of views about the tractability of MCE compared to other historical social trends, although the differences partly stemmed from our different understandings of the issues relevant to this question; our views converged slightly through the writing of this post, although substantial differences remain.
I updated towards viewing MCE as more similar in tractability to other historical social trends after internal SI discussion, especially surrounding the relationship between inevitability and tractability.
Moral circle expansion as a particular type of social change seems to be heavily influenced by indirect, long-term factors, including reason, education, wealth, and the level of value provided by exploitation of other sentient beings—I'd guess even more so than some other types of trajectory change, such as changed military trends, although further comparative research would be needed for me to be confident in a judgement on this. Although I still see a variety of indirect factors as encouraging MCE, I no longer see this as being so important in reducing tractability.
I have not come across any good evidence that the trajectory towards moral circle expansion would be any more or less determined by contingency than other historical social trends, except for the possibility that the breadth of moral circles might end up being significantly determined by the values and decisions of a small number of individuals with influence over the nature of important technologies like superintelligence (such as AI researchers, policy makers, company executives, or thought leaders), which might actually increase tractability, since MCE within a smaller group of people could be less difficult to achieve than MCE in society as a whole.
Jacy Reese didn't have a discernible change in his views on the difference in historical tractability between MCE and non-MCE (mainly economic or military) trajectories. Notably, Jacy believes that MCE is relatively more tractable than economic and military events like World War I and the French Revolution, mainly because he believes self-interest (e.g. French revolutionaries who expected price controls on food and greater access to the political system) plays a much larger role in non-MCE trajectories. Thus, those trajectories may tend to be more inevitable and less amenable to thoughtful actors tipping the direction one way or another.
See this spreadsheet for quantitative versions of these views, before and after this research project. Note, however, that some of the quantitative changes reflect modified understanding of the questions and concepts involved in this post, rather than substantial updates from the empirical evidence.
Theoretical approaches
Diverse theories from a variety of academic disciplines have different implications for the tractability of changing the course of history for thoughtful actors. Although these theories hold varying degrees of academic support, it is not easy to find expert consensus on the issue from any discipline, and there is a lack of empirical evidence in the theoretical literature.
Insights from historians
Arthur Marwick noted that "practising historians as a profession are united neither in the acceptance of one body of theory, nor even in the view that theoretical approaches are helpful or desirable,"[7] a view which is widely attested elsewhere.[8]
Thomas Carlyle famously argued that "the History of the world is but the Biography of great men,"[9] an attitude referred to as the Great Man Theory. This theory has received widespread criticism,[10] but is still used and defended by some historians, either explicitly or implicitly.[11] Rather than a formal theory which is empirically tested, this idea reflects the preference of historians for different focuses of history; the "Great Man Theory" is associated with more traditional, political history, whereas many prefer to study "history from below," newer forms of history that emphasize social, economic, or cultural topics.[12] So this "theory" is more a framework and does not have much use in itself for assessing the tractability of changing the course of history for thoughtful actors, though the empirical question of how much "great men" influence history remains important.[13]
The Annales school of history placed greater weight on longer-term and underlying factors than had been conventional in political narratives. Marxist conceptions of history emphasize historical materialism, in which social change stems from tensions within an economic system. Despite seeing economic processes as crucial to explaining historical change, Marxism allows a role for thoughtful actors by seeing class conflict as a driver of change, which actors could encourage or discourage. Indeed, Marxist historians have debated the role individual agency plays in social change.[14] But these theories are so "loose" and "teleological" that their overall validity cannot be proven or disproven.[15] Historians have drawn on or developed other theories about the causes of historical change,[16] but given these theories contribute little to an understanding of tractability other than to highlight potentially important drivers of historical change, it seems more useful to consider whether they bring useful insights to specific case studies (which I will discuss in the section "Historical case studies" below).
Insights from sociologists
Within sociology there are a variety of broad theories which suggest different extents of influence for historical actors. Broadly, structural functionalism and consensus theory might imply that actors have little influence, since society tends towards stability with widespread agreement about norms and rules. For example, Talcott Parsons, in his "voluntaristic theory of action," emphasizes the importance of "conditions" in defining the possibilities for success of individual actions[17] and considers individual actions within systems of action and as part of an "organic whole."[18] He saw "normative integration" as being secured by various mechanisms in society,[19] although he allowed some room for individual agency.[20] This broad theory has lost support in academia, however; it came to prominence in the specific post-WWII historical context[21] and was subsequently challenged. John Holmwood notes "four main bodies of criticism from the late 1960s onwards. These are (1) conflict theory, (2) Marxist criticisms, (3) rational actor or rational choice approaches, and lastly (4) 'neo-functionalist' approaches."[22]
Other theoretical frameworks place more emphasis on individual agency and the potential for change, including conflict theory,[23] and, more notably, rational actor approaches.[24] A consensus has not yet been reached between functionalism and its critics,[25] although some sociologists have proposed general theories that reach a compromise between theories that emphasize structural factors and those which emphasize individual agency,[26] and sociologists have moved towards the latter.[27]
Similar theoretical disagreement divides the narrower field of social movement studies.[28] Many European sociologists have stressed the importance of ideological control in society and that change can be achieved through the reshaping of ideologies, or through class conflict.[29] Alain Touraine, for example, argued that "men make their own history: social life is produced by cultural achievements and social conflicts, and at the heart of society burns the fire of social movements."[30] His book is an almost entirely theoretical construction, however, with no empirical application.[31] In contrast, American sociologists have tended to follow rational actor theories, although scholars on both sides of the Atlantic have moved towards a compromise position.[32] Although such theoretical frameworks are relevant to our question, they provide relatively little value for understanding the tractability of social change in practice, unless their implications are demonstrated in historical cases (see "Insights from empirical sociological studies" below).
Insights from mathematicians
In mathematics, chaos theory might have implications for historical tractability by emphasizing the importance of contingency in complex systems,[33] though the connection between mathematical and social principles is arguably tenuous. Human interaction across varying contexts and periods is always complex,[34] and chaos theory suggests that in certain complex systems, a small change in initial conditions can spark a chain of events which leaves the final outcomes almost unpredictable. This is the so-called butterfly effect, named for the idea that, "A butterfly flapping its wings in Brazil can produce a tornado in Texas."[35] Although not applicable to all complex systems or directly applicable to historical contexts,[36] this concept should encourage us to see the outcomes of history as difficult to intentionally shape and control, given that mathematics has demonstrated that small changes can have large (and difficult to predict) consequences.[37] Consider, for example, that if different sperm had reached the egg in the conception of various historical figures (e.g. Adolf Hitler, Abraham Lincoln), different individuals would have been born and one such change could have altered the course of major world events.
Though if one is concerned that there could be too little chaos for sufficient historical tractability, then the consideration of chaos theory could be a positive update.
Historical case studies
The use of wide theories (those that attempt to explain a large number of social events with simplified principles) has been criticized within both sociology[38] and history.[39] Of course, the ambition of such theories alone reduces their explanatory power.
Empirical case studies more similar to the farmed animal movement are more informative, though in this blog post, I will mostly prioritize examples where there has been thorough analysis of causation in the existing literature, on which we can base discussion of the tractability of changing the course of history.[40] Using historical case studies for this purpose is limited by the difficulty of coming to firm conclusions about historical causation; this methodological difficulty will be discussed more thoroughly in the section on "How confident can we be in judgements about historical causation?" in a following post on "What can the farmed animal movement learn from history?"
To reduce the time spent on this research, I have relied on summary works and literature reviews, rather than trying to read all relevant academic contributions or to thoroughly evaluate the strength of the evidence for particular interpretations.[41]
The causes of the industrial revolution
Nick Beckstead questioned historians about the inevitability of the industrial revolution and the "Great Divergence." If the industrial revolution is believed to have been the inevitable result of long-term, indirect factors, then this would suggest that thoughtful actors would have little control over this historical direction; they would likely only be able to speed up or slow down development. Despite a variety of causes being considered, Beckstead found "no consensus about which of these factors played an essential role, or even that all potentially essential factors have been identified," and that expert historians disagreed quite drastically about the extent to which general aspects of the industrial revolution were inevitable.
Given this, Beckstead remained uncertain about the inevitability of the industrial revolution, noting that factors partially outside of human control, such as "a catastrophe of unprecedented severity" might plausibly have disrupted progress. Additionally, Joel Mokyr explained to Beckstead that he sees scientific culture in Europe as an important factor in determining the historical trend towards industrial revolution. The importance of both of these long-term and indirect factors seems likely to have reduced the tractability of ensuring or preventing the occurrence of something resembling an "industrial revolution."[42] Even so, influencing the narratives and discussion of technological change at this time in a way that would alter humanity's long-term trajectory may have been more tractable than ensuring or preventing technological change.
If I had to guess, I'd expect that technological advancement (and to a lesser extent, adoption), such as that which fueled the industrial revolution, is less vulnerable to change via the precise decisions of leaders, or even the precise ideas of researchers and inventors, than social changes and the expansion of humanity's moral circle. This is because, as noted in our Foundational Questions Summaries, "technology seems to mostly go through monotonic progress, i.e. we mostly have better — or at least not worse — technology as we used to except in extreme cases like societal collapse or government-mandated destruction of research findings."
World War I, 1914-1918
There are several axes of debate within the historiography of the causes of World War I that have implications for historical tractability:
To what extent

were the leaders of any one country or group of countries responsible for the outbreak of World War I, or

were longer-term, difficult to control factors

responsible

?

To what extent did short-term factors like the assassination of Franz Ferdinand or the precise outcome of negotiations in July 1914 play an important role?

To what extent did luck play a role, such as the minor details of train timetable

s

?
At the end of the war, Germany was made to formally accept responsibility by Article 231 of the Treaty of Versailles in 1919. Shortly afterwards, however, "revisionist" historians challenged the idea of German responsibility for the war.[43] Most notably, Sidney Fay asserted that the blame on Germany was based on "national prejudice," "deliberate propagandist misrepresentation," and selectively chosen government documents.[44] Rejecting the implications of this evidence, he concluded that no one country was to blame.[45] Although Harry Barnes blamed Russia and France[46] and Bernadotte Schmitt challenged Fay in some elements,[47] a consensus emerged that no country desired war, but that collectively, the European powers allowed the crisis to go out of control.[48] This broad consensus lasted mostly into the 1950s, although towards the end of this period, historians like Luigi Albertini, A.J.P. Taylor, Barbara Tuchman, and Gerhard Ritter placed more blame on German miscalculation.[49]
The long-lasting consensus that blame should not be attributed to any one group relied partly on emphasis on the importance of longer-term, underlying causes of war, rather than the short-term decisions of governments.[50] In 1928, Sidney Fay suggested a range of underlying causes, which he summarized as "(a) the system of secret alliances; (b) militarism; (c) nationalism; (d) economic imperialism; and (e) the newspaper press."[51] Fay was not alone in arguing that international factors were crucial.[52] A longer-term view of the role of Europe's ruling elites could hold them accountable for the shaping of these conditions; A.J.P. Taylor emphasizes Otto von Bismarck's role in the formation of the alliance system in the late 19th century, for example.[53] In the shorter term, however, the importance of such factors would remove agency and fault from either individual governments in the early 20th century or Serbian nationalists. Indeed, emphasizing longer-term factors implies war was somewhat inevitable. This position has been explicitly defended by some historians.[54] This would suggest that diverting Europe away from war would have been difficult for a hypothetical group of historical actors seeking to avoid war, unless they had control over longer-term factors.
The revisionist consensus was shattered by the work of Fritz Fischer, who published an article in 1959 that argued the German civilian and military leadership had pursued expansionist goals.[55] Across this article and his books of 1961 and 1969, Fischer argued for German responsibility for the outbreak of war, even claiming that the German government had intentionally provoked a wider international war, rather than a more limited, local war.[56] This led to heavy debate with historians like Gerhard Ritter, Egmont Zechlin, and Dietrich Erdmann challenging Fischer's claims.[57]
Some elements of Fischer's arguments have been widely rejected. Fischer's claim that Germany had planned from 1912 to intentionally provoke a wider war of aggression has "been abandoned by virtually all historians," according to Mark Hewitson, since it was based on selective use of evidence and a misunderstanding of a sarcastic remark of the German chancellor about a "War Council" that the Kaiser had called.[58] Other elements have proved more enduring, however. Annika Mombauer claimed that after two decades of debate from the early 1960s to the early 1980s, historians had reached consensus on Germany being significantly to blame, having sought to provoke a war and having been willing to risk its spread into a wider international war.[59]
The assertion of such a consensus is disputed, however,[60] and if such a consensus was ever reached, it has not lasted in its entirety, since there is ongoing debate about the extent of German responsibility. In reviewing a range of books published on the subject in 2012-14, Hew Strachan suggests that they point to a "revival of the old [pre-Fischer] orthodoxy."[61]
Fischer and his supporters, as well as other historians who have considered the role and culpability of other governments,[62] have emphasized the importance of specific decisions of national governments in the decades before the war as causes of war, rather than emphasizing the importance of international, underlying factors. Their arguments imply that politicians, generals, and other political influencers had some control over outcomes.
They also emphasize shorter-term factors like the actions of governments during the July Crisis. Emphasizing the importance of the July Crisis allows an important role for thoughtful actors in determining whether war broke out or not by granting a role for conscious decisions and negotiations. But given that the precise reactions of other governments are relatively unpredictable during a crisis, this emphasis also suggests that the outbreak of the World War I was significantly more contingent on short-term decision-making than Fay, Schmitt, and the early revisionists suggested. This emphasis on the importance of the negotiations in July 1914, rather than the preceding assassination of Franz Ferdinand, detracts from the historical importance of the Serbian nationalist assassins.
Even before Fischer, A.J.P. Taylor emphasized the importance of contingency through the role of train timetables and the specific diplomatic decisions made in July 1914.[63][64] In various publications, he expressed his theory about the importance of the train timetables prepared by the military strategists of Europe in locking the governments into aggressive actions in 1914.[65] This argument is partly just provocative phrasing, masking an agreement with previous revisionists that longer-term factors like the alliance system and a growing offensive militarism were crucial in shaping decisions,[66] mixed with a claim that it was the specific nature of Germany's war plans that compelled them to provoke European war in 1914.[67] But Taylor also argues for the contingency and unpredictability of historical outcomes more broadly, suggesting that "perhaps the war which broke out in 1914 had no profound causes."[68] Part of his argument rests on the importance of the assassination of Archduke Franz Ferdinand on June 28, 1914 and how close the attempt came to failing. Taylor describes how, "of the six conspirators" who were placed to assassinate Franz Ferdinand during his visit to Sarajevo, "five failed to do anything," and it was only because of a change of route of the procession that Gavrilo Princip was able to shoot the Archduke.[69]
Taylor's arguments have been widely criticized, both by those who emphasize the importance of long-term factors and by those who broadly align with Taylor's emphasis on the importance of contingency.[70] Nevertheless, more recent works have also emphasized the role of historical contingency, be it through the importance of the assassination in June 1914 or the minutiae of the diplomatic proceedings in July.[71][72] William Mulligan and Sean McMeekin both emphasize that medium-term factors were important and only the interaction of these with the assassination (and the subsequent decisions of diplomats) produced war in 1914, and McMeekin suggests that without the assassination itself, war might not have occurred.[73] Their reviewers have partially accepted their arguments but challenged some more specific elements of their claims.[74]
Some subsequent works have returned to a position comparable to Fay's.[75] Nevertheless, Taylor, Fischer, and many of the more recent works can all be seen to emphasize short-term diplomatic decisions and a greater role for contingency than Fay did.[76]
In aggregate, the writings of Taylor, Fischer, and more recent work on World War I has mixed implications for historical tractability. It suggests that:
S

mall groups can have a major role in determining crucial world events and processes;

T

he

re was only a small

group of rulers and advisors whose decisions were able to determine whether war in 1914 remained localized to Austria-Hungary and Serbia or spread into a European or world war;

T

he

re was also a

small number of conspirators and assassins whose precise timing and actions had vast consequences

;

I

t is hard for such actors, however crucial their roles might be with hindsight, to guarantee certain outcomes, since luck and the sometimes unpredictable actions of other key actors also play a crucial role

.
Given the cyclical and unresolved debate about the causes of World War I, we should not place too much weight on these conclusions.[77]
If I had to guess, I'd expect that military history, and World War I especially, are more vulnerable to change on the decisions of leaders than social attitude changes and the expansion of humanity's moral circle.[78]
It's also important to note that in discussions among historians, they rarely explicitly address the crucial counterfactual question of "Would World War I have happened without this specific person, group, or event?" Most discussions are in vaguer, more general terms about "causes" and "contingency," which make it hard to extract concrete opinions on the tractability of changing the course of history in this instance.
The French Revolution, 1789-1815
Historical tractability in the French Revolution is a more directly relevant topic for moral circle expansion, primarily since it contributed to increased political representation of the interests of people outside of traditional elites.
A variety of causes of the French Revolution have been highlighted: the financial difficulties of the French state (including the changing balance of power in Europe and the wars that drove France further into debt,[79] the inefficient structure of the taxation and borrowing systems,[80] and the struggling French economy due to feudalism[81]); the rise of the bourgeoisie, who struggled against aristocratic attempts to retain power and privilege;[82] institutional factors which made reform of the state difficult;[83] the development of Enlightenment ideas;[84] and other changing cultural discourses in France.[85]
The "traditional" or "classical" interpretation of the causes of the French Revolution is a broadly Marxist interpretation which emphasizes the importance of the development of the bourgeoisie, who challenged the aristocracy and were pushed onwards (and leftwards) by the proletariat.[86] Other developments, such as Enlightenment thought, were seen as arising from these socio-economic changes.[87] In spite of a few right-wing writers,[88] this view was widely supported.[89] This view implies that the outbreak of a revolution (or at least radical social and political change in this general direction) was inevitable in France, and therefore that there was little that any small group of actors could do to prevent (or cause) it.
The 1950s and onwards saw the emergence of "revisionism" that challenged these class-based arguments.[90] Further criticism was added by historical sociologists.[91] A variety of current political trends have encouraged further dissociation from the Marxist interpretations;[92] support for more literal Marxist interpretations in particular, which emphasize identifiable, bourgeois class consciousness—awareness of their unity as a class—as a driver of change, has been undermined.[93] This has made it harder to pull together a coherent explanation of the causes of the Revolution.[94] Of course, many of the specifics within these revisions have been debated,[95] while others have reached greater acceptance.[96] There are sites of disagreement within the Marxist and revisionist groups, as well as overlap between them.[97]
Revisionist views have mixed implications for the inevitability of radical social and political change in France and therefore for the tractability of changing the historical trajectory. An emphasis on the importance of court politics suggests that politicians had some control over outcomes in the short term. An emphasis on financial or structural factors in French society suggests, however, that the patterns which encouraged revolution had mostly been set decades previously, which reduces the scope for influence of any particular actors in the late 18th century. The structural and financial problems of the French state suggested radical change was necessary to make the system workable;[98] the debt was large, and increasing, and the royal government was unable to raise further loans by the late 1780s or to cancel its debts.[99] Since France's financial and institutional problems began before Louis XVI's reign, it seems unlikely that better political management could have done anything more than delay radical change.[100] Likewise, an emphasis on the importance of Enlightenment ideas suggests that the specific actions of the Enlightenment philosophes earlier in the century were more important than the decisions of specific actors chronologically closer to the outbreak of revolution itself.
In aggregate, the development of radical social and political change in France in the late 18th to early 19th centuries seems to have been shaped more by long-term, indirect, and difficult-to-alter factors than the outbreak of European war in 1914. Historians seem to accept that a multiplicity of causes were important, even if they continue to disagree about which was the most important, and many of the factors identified imply that France's trajectory was set towards radical social and political change quite early in the 18th century. Nevertheless, some of the influential factors were more recent, and it is at least plausible that a consistent program of determined and gradual reform by the monarchs of France and their governments, from an earlier starting point in the 18th century, could have averted any sudden crisis or revolution.[101] This actually was attempted by ministers such as Turgot and Necker but failed due to the resistance of many within the royal court and wider nobility, which suggests significant delays to reform were unlikely.
The Revolution could have taken many different paths. Louis XVI alternated between complete refusal of revolutionary demands and concessions; he seemed to be inconsistent in his willingness to yield to pressure. Had Louis XVI and his government been more consistently conciliatory, or more determined in using military repression, it seems plausible that the revolution would have taken a dramatically different course at a large number of critical points.[102] There were also times when contingency played a (more or less significant) role in shaping the course of the Revolution such as the decision to swear the Tennis Court Oath, which was based partly on the National Assembly finding their usual meeting room locked,[103] or the minor events that shaped the royal escape.[104]
The development of American environmentalism in the 1960s
A national poll in 1990 found 63% of Americans supported the annual environmental protection event Earth Day, and only 3% opposed.[105] An Environmental Opinion Study in 1991 found that 90% of Americans identified at least weakly as environmentalists.[106] Although support rose, fell, and rose again between 1970 and 2000, many scholars see the emergence of a broadened, popular environmentalism movement in the 1960s in the US and internationally.[107] Adam Rome notes two indicators that a US emergence occurred in the 1960s: first, that the Sierra Club's membership "doubled in the 1950s, doubled again from 1960 to 1965, and then tripled from 1965 to 1970"; second, that the number of magazine articles covering environmental issues rose 300% from the late 1950s to the late 1960s.[108] Such widespread support is unusual for social movements.[109]
Riley E. Dunlap and Angela G. Mertig note that "the emergence of the environmental movement in the 1960s and early 1970s was accompanied by creation of new federal agencies, such as the Environmental Protection Agency and the Council on Environmental Quality, and by legislation aimed at combating air and water pollution and requiring 'environmental impact statements.'"[110]
Scholars have suggested several causes of the development of this movement in the 1960s. Dunlap and Mertig summarize the various factors identified:
The 1960s had given rise to an activist culture that encouraged people, especially youths, to take direct action to solve society's ills.

Scientific knowledge about environmental problems such as smog began to grow, as did media coverage of such problems and major accidents such as the 1969 Santa Barbara oil spill.

A rapid increase in outdoor recreation brought many people into direct contact with environmental degradation and heightened their commitment to preservation.

Perhaps most fundamentally, tremendous post-World War II economic growth created widespread affluence, eventually lowering concern with materialism and generating concern over the quality of life.

Many of the existing conservation organizations broadened their focus to encompass a wide range of environmental issues and attracted substantial support from foundations, enabling them to mobilize increased support for environmental causes. In the process they transformed themselves into environmental organizations (Mitchell, 1989).

[111]
Adam Rome also summarizes previous efforts to explain "why a powerful environmental movement nonetheless did not emerge until the decades after World War II"; two of the three factors mentioned overlap with Dunlap and Mertig's characterization, but Rome adds the explanation that "the development of atomic energy, the chemical revolution in agriculture, the proliferation of synthetic materials, and the increased scale of power generation and resource extraction technology created new environmental hazards."[112] In the rest of the article he argues that "the revitalization of liberalism, the growing discontent of middle-class women, and the explosion of student radicalism and countercultural protest" help explain the rise.[113]
Historians disagree about the importance of these factors. After noting that many historians assume a link between environmentalism and economic affluence,[114] Ramachandra Guha highlights five examples of "poor people's environmentalism" from outside the US to challenge the importance of this factor.[115]
Apart from the fifth cause listed by Dunlap and Mertig, these causes all suggest a variety of medium-term trends which only indirectly encouraged the development of the new environmentalism. This reduces the importance and scope for influence of thoughtful actors who might have sought to steer the nascent environmental movement.
On the other hand, many scholars emphasize the intellectual developments that broadened the scope of environmentalism and attracted public attention in this period. Although some historians draw attention to writers such as Murray Bookchin, Paul Goodman, and Herbert Marcuse,[116] there is unusual agreement between historians about the great significance of Rachel Carson's book, Silent Spring.[117] These claims are supported by both the popularity of the book and by evidence of changed public attitudes and new legislation relatively shortly after the book's publication.[118] Such interpretations imply that Carson's book either caused or significantly sped up the growth of environmentalism in the USA. Animal Charity Evaluators' environmentalism case study hypothesizes various impacts of Silent Spring, including that it helped to "launch environmentalism into mainstream discourse" and that it led to "major national legislation implemented years earlier than it would have been otherwise." It raises counterfactual questions of historical inevitability of "whether, if Carson had not raised the alarm, another author might have had the same effect — or whether the same policy changes would have been made without any single person calling for them." The author recognizes that other developments were raising support for environmentalism, but concludes that "the evidence suggests Carson was plausibly responsible for advancing pesticide regulation and the birth of the modern American environmental movement by about one to ten years."
Given the close chronological relationship between Silent Spring's publication, public interest in the issue (and in the book specifically), and related environmental legislation, it is intuitively likely that the book had a substantial counterfactual impact, assuming it didn't merely displace other similar books. Even if there were potential competitors, there are many factors which may help to explain why Carson was so successful as a writer, such as her ability to systematically summarize and synthesize existing scientific research,[119] her engaging writing style,[120] the alliances that she forged with influential public figures,[121] her convincing defences against criticism of the book,[122] and perhaps even her intentionally adversarial writing.[123] Rhetorician Craig Waddell identifies two key hypotheses to "explain the immense impact" of Silent Spring: its apocalyptic message and appeal to contemporary concerns.[124] All such hypotheses about the causes of Carson's widespread success and influence are difficult to test and do not disprove the possibilities that her book became popular primarily because other factors predisposed America to accept its message[125] or that Carson was replaceable as an author in the sense that other authors would have had similar success had Carson not published her book.[126]
Carson's book, though influential in various fields, is often cited by scholars as only one example of several factors influencing the rise of environmentalism.[127] In aggregate, scholars' explanations are consistent with Animal Charity Evaluators' view that Silent Spring catalyzed the development of the environmentalism movement, but the upper bound estimate given that Silent Spring advanced the movement by ten years seem unlikely to me.[128]
The tractability of social change through
intellectual developments
Some intellectual contributions become widely influential.[129] William MacAskill has claimed that:
If you look at the long-run history of thought in ethics and political philosophy, the influence is absolutely huge. Even just take Aristotle, Locke, Hobbes, Mill, and Marx. The influence of political philosophy and moral philosophy there, it shaped thousands of years of human history. Certainly not always for the better, sometimes for the worse, as well. So, ensuring that we get some of these ideas correct is just absolutely crucial.
While we have treated long-term, indirect factors as historically intractable, this isn't entirely obvious. Plausibly, the spread of certain intellectual ideas matters as much as or more than particular legislative, military, or other concrete outcomes. For example, it was probably the spread of Enlightenment ideas, rather than, for instance, the outbreak of the French Revolution or other specific political developments with apparent roots in those Enlightenment ideas, which mattered most for the development of modern Western values, including an expanded moral circle.
It also seems plausible that some of history's trajectory changes were dependent upon the existence and precise ideas of individual thinkers. We should, however, reduce our confidence in this based on the important role of other factors in the influence of important ideas.
That is, intellectual contributions only influence the public if they spread to decision-makers, which depends on a variety of social and institutional factors. For example, academic ideas might be more immediately impactful now compared to 18th century France when they were less accessible because literacy was lower. And they might be less immediately impactful now than they will be in the future, if more academic research becomes open access. If the context is favourable, the thinker themselves may be relatively replaceable, in that an alternative thinker could have had a similar impact with only a short time delay, whether their quality was lower or higher. This was considered for Rachel Carson above. As another example, Peter Singer's book Animal Liberation was more immediately impactful than earlier works that promoted similar ideas;[130] this was presumably due partially to the public's greater receptivity to the message at that time than before.
Other influencers and decision-makers must also play a role, deciding to support or incorporate the ideas of thinkers. The Enlightenment ideas of Rousseau and others were spread through "salon culture" and in this sense, influential salonnières like Suzan Curchod played a role in determining the extent to which such ideas were spread. It was the revolutionaries, especially from 1789 onwards, who put these ideas into practice in the French state. Comparably, the development of local effective altruism groups affects the extent to which the ideas of philosophers like Peter Singer and William MacAskill are adopted.[131]
Of course, most thinkers do not receive the recognition of the names listed here, and most ideas do not become mainstream. For those that do, it's not usually clear why, even after careful analysis.

S
ocial scientific studies
Comparative historical sociology
Works of comparative historical sociology note the importance of broad contextual factors in shaping historical outcomes. The importance of such factors would limit the tractability of changing the course of history for thoughtful actors, though these sociologists only make the case against extreme tractability, so accepting their arguments probably won't change one's views much.
Norbert Elias' The Civilizing Process looked at evidence from the Middle Ages to the early twentieth century; he argued for human agency within the context of complex "figurations"[132] and that humans have increasingly developed self-control.[133] He uses a wide array of evidence to support his conclusions, although much of the evidence in the "The History of Manners" section of the book describes idealized views and rules for behavior, rather than information on actual behavior,[134] and his work has been criticized for ignoring other factors.[135] The evidence he presents is also used more to directly support the hypothesis of increasing self-control than to support an argument about the accuracy of concepts like "figurations" in explaining the extent of historical tractability or individual agency,[136] so this work doesn't seem to substantially contribute to the question at hand.
Barrington Moore's The Social Origins of Dictatorship and Democracy (1966), argues for the agency and historical significance of many groups, including peasants in both pre-industrial and modern contexts.[137] Nevertheless, in arguing that modern political systems were shaped by the actions of pre-industrial peasants and aristocrats, he implies that societal trajectories were heavily influenced by pre-industrial actors and that more recent actors did not have full control over the developments in their own period.[138] He steers away from all-encompassing theory to explain change, instead privileging comparisons of detailed case studies,[139] although many of his conclusions have been subsequently discredited.[140]
Theda Skocpol also places the decisions of modern actors within a wider context, emphasising socio-economic conditions, international interactions, and the structure of the state.[141] She intentionally opts for a "nonvoluntarist, structural perspective,"[142] which she justifies with reference to her understanding of the causes of revolutions.[143] She develops her theory through analysis of revolutions in France, China, and Russia, though, of course, her arguments and explanations have been challenged in individual cases, as noted in the discussion of the French Revolution above.
Each of these three books has been highly influential and the implications of all have been more widely and thoroughly debated than can be summarized here.[144] Among these three comparative historical sociologists, there seems to be broad agreement that individual decisions can be impactful, although these fit into wider structural contexts and historical processes, which may be more influential, and which are often shaped over long timescales. This emphasizes the difficulty for thoughtful actors of changing the course of history.
Empirical data on the success rates of social movements
Sociologists and political scientists focusing on social movements have provided both theoretical guidance and empirical studies on questions of the tractability of organizations causing wider social change. Although scholars vary in their assessments of how difficult this is, there seems to be widespread agreement that social movement organizations (SMOs), interest groups, and smaller political parties can cause change.[145] Some writers have appealed to intuition and case studies to suggest that groups challenging the status quo can be impactful,[146] but comparative and quantitative analyses provide stronger evidence.
William Gamson's Strategy of Social Protest studied a "representative collection of [53] American voluntary groups that, between 1800 and 1945, have challenged some aspect of the status quo."[147] In his methodology, Gamson defines success for such organizations in terms of either "acceptance" by their antagonists[148] or "new advantages" accrued for their intended beneficiaries.[149] By his own criteria, Gamson found that 20 challenging groups (CGs), 38% of those studied, resulted in a "full response" of both new advantages and acceptance, 6 CGs (11%) resulted in "pre-emption" (new advantages but no acceptance), 5 CGs (9%) resulted in "co-optation" (acceptance but no new advantages) and 22 CGs (42%) suffered "collapse" (neither new advantages, nor acceptance).[150] This suggests that challenging groups can generate social change with 49% of the CGs studied winning "new advantages."
Other social movement impact analyses are consistent with the broad implication of Gamson's work that successful legislative and social change can be caused by groups and organizations, but that this only happens in a fraction of cases. For example, by qualitatively examining several case studies, Frances Fox Piven and Richard A. Cloward argue that while some change can be achieved by activists, building well-resourced and disciplined organizations prevents wider, more radical successes, at least for the "lower classes."[151]
Some studies provide less optimistic results.[152] In their examination and meta-analysis of 53 articles on policy change in sociology and political science journals, Paul Burstein and April Linton do not find much support for their "core hypothesis" that "political parties, interest groups, and social movement organizations… have substantial impacts on policy;"[153] of those examined, 15% of political parties achieved "statistically significant, substantial policy importance," compared to 31% of non-party interest groups and SMOs.[154] A further 32% of party groups and 13% of non-party groups made some sort of "statistically significant" impact, but in these cases, the authors did not discuss the significance of the policy change itself.[155] A subsequent meta-analysis, partially replicating Burstein and Linton's meta-analysis,[156] challenges their low figures for the proportion of SMOs which are able to impact policy. The author, Katrin Uba, concluded that 51.6% of the 244 SMOs or political parties considered in the articles she examined achieved some sort of direct effect and a further 20.9% had a "joint effect" where "the impact of SMOs or interest groups is dependent on the value of some other variable." If those with a joint effect are excluded, then 63.6% had a direct effect.[157] Similarly, Edwin Amenta, Neal Caren, Elizabeth Chiarello, and Yang Su found that in the 45 articles published 2001-2009 on social movement impacts that they analyzed, "all but 4 of the 54 [movements or organizations studied within the 45 articles] found at least one positive relationship between these outcomes and a movement measure;"[158] note that there is significant (but not complete) overlap between the articles studied by Uba and Amenta et al.
There are a variety of caveats to these quantitative conclusions, which should reduce the weight we place on their findings for understanding the tractability of changing the course of history for thoughtful actors. Much research has focused on a narrow part of the legislative process,[159] and Gamson's metrics for success are not fully representative of the forms of success that such groups can achieve, which would suggest that he and others who follow his example underplay the tractability of positive social change,[160] although some scholars have considered non-legislative impacts.[161] On the other hand, Gamson's study only included organizations that reached a level that made studying them appropriate, so the study could make it seem as though the chances of any organization winning acceptance or new advantages is higher than it is in practice given an abundance of organizations of minimal notability.[162] The decision to include or exclude certain social movements or CGs will have a large effect on the percentage of the total number that are seen to have had an impact by any individual study; if a larger number of small CGs are included, it seems likely that the study will return lower percentages of CGs having had substantial impacts.[163] More generally, the methodologies used often involve many judgement calls,[164] and most of this research has focused exclusively or predominantly on the US.[165] Of course, not all legislative outcomes will have significant impacts on humanity's trajectory.
Some social science research has implications for the ability of social movements to cause social change through less direct mechanisms than securing specific legislative outcomes. For example, an exogenous variable (rainfall) study of tea party protests suggested that "a 0.1 percentage-point increase in the share of the population protesting corresponds to a 1.9 percentage-point increase in the share of Republican votes." Higher participation in the protests was also a significant predictor of the conservativeness of elected Congressmen.[166] Another study used similar methods to suggest that "violent protests caused a significant negative shift in the county-level vote share of about -12.4 percentage points (p <0.001)" away from Democratic candidates.[167]
External constraints on the impact of social movements
Scholars of social movements have analyzed the effects of internal and external factors on the success rates of social movements, SMOs, and other CGs. Insights into the comparative importance of these factors has implications for historical tractability; while groups are mostly able to control factors internal to their organizations, it is much harder to control (though certainly not impossible to influence) external factors like public opinion and the number of political allies in legislative bodies.
Sociologists have proposed theories to explain how particular external factors affect the success rates of social movements and CGs. Many of these theories have been tested across a variety of contexts with empirical case studies or quantitative models, though others have not been tested empirically.[168] The theories used are so broad that they are mostly unfalsifiable, however,[169] and mostly just serve to identify potential causes of change, rather than evidence of which factors are more influential across movement contexts.
One such theory is political mediation theory (PMT), which holds that political contexts, such as the sympathy (or lack thereof) of particular elites, play an important role in accounting for the impact of SMOs and pressure groups.[170] There are many elements of the political environment which have been considered as predictors of legislative impacts in PMT and related theories.[171] Thoughtful actors could plausibly influence political contexts if they prioritized it strongly enough, such as by seeking careers and advancement within the political system themselves. Such methods are, however, less direct and immediate than seeking to directly and immediately influence present political actors, so if political mediation and the "political opportunity structure" were important in determining the outcomes of social movements, then thoughtful actors would find it harder to implement social change.
Edwin Amenta, Neal Caren, and Sheera Joy Olasky, in their article, "Impact of the Pension Movement on U.S. Old-Age Policy," try to expand and test PMT by examining the "generosity" and extent of "coverage" of the state-level Old Age Assistance (OAA) programs.[172] Their model uses three independent variables to "capture different facets of the political institutional aspects of the mediation theory,"[173] two independent variables to "address medium-term political and administrative conditions"[174] and several "control" conditions to account for factors outside of PMT, such as public opinion.[175] This enables the authors to claim that some hypothesized factors had a significant effect on the generosity of OAA programs, such as "Townsend club activity and propositions"[176] and administrative conditions,[177] but it is notable that "All the control measures, except for the war period, are significant"[178] and that although their results confirmed their hypotheses about the role of "structural and short-term political contextual factors… each measure was not significant in all models."[179] This leads to some conclusions that may be useful for the particular movement and historical and national context being studied; they argue that "in the first half of the twentieth century, only about half of the state-level U.S. polities were structurally open to influence."[180]
But as a result of studies like this, Felix Kolb notes in his literature review that "we only know for sure that some political opportunities matter sometimes."[181] Although she doesn't consider PMT or political opportunity structure as it has been developed by scholars like Amenta, Katrin Uba's meta-analysis tentatively suggests that social movement impact is possible in "democracies," "semi-democracies," "non-democracies," and "mixed regimes" alike.[182] This is potentially at odds with the suggestions of many of the authors of the individual studies included in the meta-analysis, however, who believed that the regime type was an important predictor of social movement success.[183]
Another factor that has been tested in a variety of individual contexts is public opinion. Again, building favourable public opinion can be prioritized by thoughtful actors, but this is a less direct route to social movement success than simply demanding change from legislators. If favourable public opinion was more important for social movement success, then thoughtful actors would find it harder to implement social change. Sarah A. Soule and Susan Olsak created six models to test the effect of several predictors on the rate of ratification of the Equal Rights Amendment (ERA) by different US states, 1972-82. They found evidence of a substantial association with public opinion. Public support for equal rights for women had a positive and significant relationship with ERA ratification across all their models: "the coefficient of 7.69 indicates that as public opinion favoring the ERA rises by one standard deviation over its mean, ratification chances nearly triple."[184] However, they also emphasize the importance of interaction effects between different contextual factors: "at high levels of favorable public opinion on the ERA, this positive effect is dampened considerably by increases in levels of electoral competitiveness in the state… the rate of ratification is seventeen times higher when public opinion is most favorable and electoral competition is low, compared to the case when both electoral competition and public opinion are both at average levels."[185]
Burstein and Linton's meta-analysis found that public opinion was not well-considered in the articles they analyzed, but that "in those equations that include a measure of public opinion, it has a significant impact on policy in everyone."[186] Unfortunately they did not create a quantitative estimate of the importance of this variable compared to other variables. Updating on this, Katrin Uba's meta-analysis found evidence against her hypothesis that taking public opinion into account "'washes out' the direct impact of [SMOs] on policy."[187] Nevertheless, public opinion can be either positive or negative, and so this variable may still be important in determining the success or failure of SMOs; when SMOs were analyzed in models or case studies which considered the role of public opinion, this variable was found to be significant by the authors in 48.2% of cases.[188]
Several studies have compared the importance of various internal and external factors across different countries and movements. The following distinction is useful in conceptualizing this:
Giugni (2004; see also Giugni 2001, 2007) distinguishes between three main explanations of the policy impact of social movements: the direct-effect, indirect-effect, and joint-effect models. The direct-effect model maintains that movements can have a positive impact on policy with their own forces and in the absence of external support. The indirect-effect model sees movements as having an impact following a two-stage process, first by influencing certain aspects of their external environment—specifically, political alliances and public opinion—and then by allowing the latter to influence policy. The joint-effect model states that movement impact is forthcoming when political allies or a favorable public opinion (or both) combine with movement mobilization. Furthermore, he distinguishes between three variants of the joint-effect model, depending on the specific combination of these factors.[189]
Giugni's time series analysis comparison of the ecology, anti-nuclear, and peace movements in the US, Italy, and Switzerland found that "the indirect-effect model, in particular, was found not to be very powerful. In contrast, some limited direct impact can be observed." Unsurprisingly, "All three types of joint effect [protest combined with political alliances, favourable public opinion, or both] are stronger than either the direct or indirect effect."[190] A later reanalysis, using different comparative methods, concluded that "based on the results of the QCA, social movements seem to impact policy only when assisted by other factors. In none of the three policy domains and in none of the three countries does mobilization alone trigger policy change," and "that environmental policy is the only policy domain for which social movement mobilization is part of the necessary conditions for explaining change."[191]
This conclusion is supported by Felix Kolb, who suggests in his literature review that some of the conflicting implications of empirical studies focusing on the size of organizations might stem from insufficiently complex research designs and notes that those that are sufficiently complex suggest that "as long as political opportunities are not available, movements are doomed to fail no matter how strong they are."[192] This suggests that external factors are more influential than internal factors, and Kolb's own comparative analysis of the European anti-nuclear movement supports this.[193]
Similarly, Amenta et al. found that from the 45 articles published 2001-2009 on social movement impacts that they analyzed, in "47 of the 50 instances in which there was a significantly positive movement effect, the influence was mediated."[194]
Kolb and Giugni present the most rigorous analyses of the interaction between social movement mobilization and external constraints across different movements and contexts that I have seen, and alongside Amenta et al.'s meta-analysis, both authors suggest that social movement impact is very rare or impossible without at least either public support or favourable political opportunities. This therefore suggests that social change is dependent upon the successful manipulation of indirect factors, and therefore less tractable than we might otherwise assume. Kolb argues that "not all types of political opportunity can be created by social movements for their own benefit. However, even the political institutional structure of a country, which by definition pretends to be stable and durable, can be altered by protest."[195] This allows for influence from thoughtful actors, even if change is slow.
The importance of leaders
Social scientists — notably economists — have used data to understand the importance of various types of leaders in influencing social change. If leaders are highly influential, this could be taken as evidence that changing the course of history is tractable, since thoughtful actors can aim to become leaders themselves or focus their advocacy efforts on those leaders. However, if the leaders are hard to influence, then this may also reduce tractability.
Benjamin F. Jones and Benjamina A. Olken found substantial effects on growth from the deaths of leaders, "the variance of the coefficients… is 31 percent higher around leader transitions than it would be normally." However, they found that growth "does not appear to systematically increase or decrease; in fact, the average value of the coefficients… is -0.10 percentage points – i.e., almost exactly 0."[196] In a subsequent paper, Jones and Olken compared 239 failed assassination attempts to 59 successful ones and found evidence that the success of political assassinations can have substantial effects. This suggests that contingency reduces the tractability of changing the course of history since, as they note, "although attempts on leaders' lives may be driven by historical circumstances, conditional on trying to kill a leader, the success or failure of the attempt can be treated as plausibly exogenous."[197]
Sarah J. Hummel argues that, "The death of a dictator is not systematically related to political liberalization." Comparing a measure of liberalization one year before a leader's death to the same measure one year after their death, she finds little effect of leader death.[198] Her findings also suggest that "leader death only correlates positively with political liberalization in economically developed countries with older dictators."[199] She also summarizes a previous analysis as finding "remarkably few differences" to "GDP growth, unemployment, inflation, inequality, frequency of strikes and deaths from interstate war following the death of a leader."[200] Another paper found that changes in leadership only affect government spending priorities in limited circumstances.[201]
A review of research on "Leadership and individual differences" summarizes that some theorists suggest "that leaders, particularly transformational leaders have some sort of alchemic ability to transform individuals' values; however, we are short on empirical studies showing that transformational leaders are actually able of performing such feats, whether on individuals or organizations."[202] The review does, however, include numerous studies on how other aspects of a leader's personality or attributes might affect important outcomes.[203]
One paper finds very tentative evidence that "individual leaders can have an impact on institutional change" and the political direction of changes to constitutions.[204] Unsurprisingly, some research also suggests that the leadership of companies strongly affects their success.[205] A range of social scientific analyses on other the causes of changes at either the national and local level may have implications for the tractability of changing the course of history.[206]
How tractable are trajectory changes towards m
oral circle expansion
?
So far this post has considered how tractable it is for thoughtful actors to alter the overall trajectory of history. This section highlights factors which affect the tractability of MCE more specifically, including several that reduce the overall tractability of MCE, such as long-term, indirect factors that seem important as predictors of MCE.
Note that the lists in the following sections are by no means comprehensive and this is overall a particularly speculation- and intuition-driven topic.
To what extent is MCE determined by long-term, indirect factors?
Much of the evidence examined so far has suggested that long-term, indirect factors are important in determining historical outcomes, which makes it harder for thoughtful actors to achieve change. Such factors also seem likely to play an important role in determining the extent of MCE.
Arguments that MCE is determined mostly by long-term, indirect factors:
Arguments that MCE is not mostly determined by long-term, indirect factors:
WWI, the French Revolution, and

even environmentalism all had significant potential benefits and costs to politically powerful actors

.

T

here are probably strong economic forces and self-interested factors pushing on these events, such as people who would make money from war, or French revolutionaries who wanted price controls on bread to feed their families. There are fewer of these powerful causal forces driving MCE, with individuals with vested interests in industries exploiting those outside the moral circle being notable exceptions.

There are a variety of methodological and data-based criticisms of Pinker's

The Better Angels of Our Nature

,

[230]

which, insofar as they are valid, should reduce our credence in his conclusion that violence has tended to decline, and the

related

implication that moral circles might continue to expand for similar reasons.

An analysis of the "Determinants of Animal Protection Policy" found that

"

A country's odds of having stricter animal protection policies are not significantly affected by its per capita income

"

or by its

"

broad public political engagement.

"

[231]

The same analysis found a strong correlation between a measure of animal protection organizations and animal protection legislation (odds ratio of 1.91, p < 0.01), which might suggest that such organizations can influence policy.

[232]

More certainly, the farmed animal movement and vegan movements have already begun regularly win

ning

small victories, from welfare campaign successes

[233]

to increasing public interest.

[234]

These victories suggest that thoughtful actors are already shifting humanity's development trajectory towards MCE

to a degree

.

Our research director, Jacy, has

written

that accepting the eliminativist approach to consciousness

[235]

"reduces the likelihood of moral convergence." This reduces the likelihood that

a

trajectory towards MCE

can be counted on due to

advances in

our scientific understanding of minds

.

Once humans stop eating animal

-based foods

, interventions to encourage MCE to include other populations like wild animals might be more tractable because animal-free food would reduce people's vested interest in diminishing the moral status of animals

generally

.
Arguments with unclear direction or mixed implications:
To what extent is continued MCE inevitable?
The prospect of inevitability is of unclear importance to tractability. If we think MCE is more inevitable, e.g. 90% likely instead of 50% likely, then thoughtful actors can still increase its likelihood, e.g. 90% to 95% instead of 50% to 55%. Increases in the upper percentiles could be more difficult, however. My current impression is that MCE is likely to continue but that it won't necessarily succeed in fully including all sentient beings, and I suspect that this continued MCE is not so overdetermined that increasing its likelihood is intractable for thoughtful actors.
Arguments that continued MCE is inevitable:
Many of the arguments given in the discussion above of

"To what extent is MCE determined by long-term, indirect factors?"

also provide evidence that MCE is likely to continue, such as the arguments contained in Steven Pinker's

The Better Angels of Our Nature

and the importance of education levels (which are, generally speaking, increasing over time) in predicting values.

Intuitively, there have been many social trends where groups who were previously oppressed or treated with indifference have gained legal rights and increased social and moral consideration in many countries across the world.

Among humans, t

his includes

, for instance,

increasing moral concern for the poor and those of non-aristocratic lineage, slaves, people of

all

races, children, women,

and

LGBTQ

+

people.

Some nonhumans also have limited moral inclusion in some regions, as demonstrated by animal cruelty laws; the common practice of providing medical care, household access, and other features of family membership to companion animals; and public outrage over some brutalities to wild, companion, and laboring animals that used to go without controversy.

Although

few if any

of

even the human

groups ha

ve

been entirely liberated or ha

ve

their needs universally considered on an equal basis to

those in groups historically privileged over them

, there has been great progress over the last few centuries, especially after the world wars. Even if, at specific times or in specific countries, there are occasional

retrograde steps

(see discussion of Gwern Branwen's blog post below)

, the general trend seems clear. It therefore seems possible that it will be harder for thoughtful actors to increase the likelihood of MCE than if MCE were not already very likely to continue.

There are higher rates of vegetarianism among younger people than among older people in

the US

,

[241]

which might suggest that newer generations are tending towards vegetarianism

.
Arguments that continued MCE is not inevitable:
Some of the arguments given in the discussion above of

"To what extent is MCE determined by long-term, indirect factors?"

also provide evidence that continued MCE is not inevitable, such as the empirical criticisms of Pinker's arguments.

Jacy Reese notes that "while we usually think of the moral circle as our attitudes, if we instead define it as our behavior, then the advent of factory farming suggests significant

backward

moral progress."

[242]

The historical evidence of an increasing trend towards MCE comes from the past few centuries; viewed over the course of human history, this does not seem like good evidence that MCE will inevitably continue to increase. We could be at the peak of a spike in moral circle breadth, rather than somewhere along an indefinitely increasing trend. Gwern Branwen notes that our intuitive sense of a historical trend towards MCE

is

based o

n

historical examples

that

are easily brought to mind

and that

may be exaggerated due to random chance,

[243]

partial knowledge of the relevant data,

[244]

and observer bias.

[245]

Moral circles vary across human societies, and over a longer period of human history, humanity's average moral circle has depended on which societies have dominance. For instance, Native American societies had differently shaped moral circles from European colonizers. Today the biological and cultural descendants of those colonizers dominate the region and as such have more influence on its moral circle.

Jesse Clifton's brief look at "

the history of animal rights

" suggested that "concern for animals is a fragile meme,

"

with concern and legislation in Asian countries waxing and waning.

[246]

The percentage of vegetarians and vegans in the

US

seems to be increasing slowly

,

[247]

but m

eat consumption continues to rise internationally and in some

high-income

countries,

including

the

US

.

[248]

From this perspective, a trend towards

the moral inclusion of farmed animals

seems less inevitable.

Increased education levels may not be sufficient to cause expanded moral circles on their own.

[249]

Most e

xamples of MCE so far have offered benefits to human elites, like the economic progress seen with women's empowerment and the decreased violent conflict seen with increased cooperation between ethnic groups.

The widespread partial inclusion of companion animals is somewhat a counterexample to this, but only weakly as they do not have basic legal rights, only limited protection. That some humans have significant (even full or at least aspirationally-full) inclusion of farmed animals, insects, or all sentient beings is also evidence that MCE is not fundamentally limited by the usefulness of the included.

[250]

But these are currently small parts of the human population, and most minority views do not become majority views.

Expanding humanity's moral circle beyond humanity may be more challenging

than intra-species expansions

because further expansion to beings like chickens, fish, and insects doesn't offer any of same kinds of benefits to powerful humans

.

[251]

MCE to include artificially sentient minds might have high costs, if running simulations or otherwise exploiting them seemed very valuable

.

There are lower rates of vegetarianism among younger people than among older people in large Asian countries like India and China,

[252]

which might suggest that newer generations are tending away from vegetarianism. Alternatively, both this trend and the trend towards younger people being vegetarian in developed countries might not reflect change over time, but might simply reflect changes in

diets

at different stages

of economic development

.

A study with 114 participants found no correlation between age and a "moral expansiveness scale," however.

[253]
Arguments with unclear direction or mixed implications:
Many of the arguments given in the discussion above of

"To what extent is MCE determined by long-term, indirect factors?"

have mixed implications for the likelihood that MCE will continue, such as the unpredictable effects of a global catastrophe on MCE.

Whereas some important historical decisions (such as whether to declare war or not) have been made by a small number of decision makers, MCE might be spread across a larger number of decision makers and involve shifts in daily lifestyle, such as ceasing to eat animal products, or sharing resources with otherwise excluded groups. This might make further MCE less likely, but also makes backsliding harder.

G

iven that humanity has, in many ways, escaped the forces of natural selection,

[254]

then MCE caused by natural selection (e.g. in the interest of cooperation for the purposes of maximizing reproduction) might not continue. However, it's possible that genetic and memetic "fitness" are now more determined by characteristics that facilitate MCE relative to characteristics that facilitate survival in the wild, and that the lesser influence of such selection factors presents an opportunity for greater MCE than would have occurred for reproductive purposes in the wild.

Plausibly, some forms of MCE will become easier in the future due to technological change. For example, the development of cost-competitive clean meat would make ceasing the breeding, farming, and slaughter of farmed animals technically much easier. Some MCE-motivated change converges with efficiency-motivated change, such as plant-based foods or clean meat being more efficient than conventional meat. This makes movements towards them seem more inevitable, as human technologies and economies seem generally strongly driven towards efficiency. However, there could be situations where technological change would come at the cost of MCE, such as the development of sentient AIs who are used as slaves.
Other arguments
Other arguments that trajectory changes towards MCE are tractable for thoughtful actors:
An AI

that becomes dominant over humans

could fix the values of the society that created it in place.

This increases the impact of trajectory changes towards MCE before this point because successful MCE would subsequently be locked in for very long periods of time. Depending on how the values of the AI are determined, this might make the values of a

small number of

individuals with influence over the nature of superintelligence (such as AI researchers, policy makers, company executives, or thought leaders)

especially important, and it may (or may not) be more tractable to influence this group directly than indirectly via influencing society as a whole. After lock-in, further MCE would be intractable.

There is some evidence that allies are more compelling than victims in social movement messaging

,

[255]

and the political involvement of the oppressed is not a necessary condition for success.

[256]

Given that future forms of MCE

may

rely primarily on allies, this suggests that further advocacy to advance MCE is tractable.

MCE does not have to be reliably or consistently improving for further improvement to be tractable. If the value of society at any given time (e.g. the net happiness) is a sin

e

wave with amplitude of 10 billion, and thoughtful actors are able to

bump that sin

e

wave up in value

(i.e. translate it upward on the y-axis)

by 1 billion happiness units

, then it doesn't matter that it's still fluctuating a lot

; t

hose thoughtful actors have still increased the expected value by 1 billion.
Other arguments that trajectory changes towards MCE are not tractable for thoughtful actors:
Previous MCE has been won partially by the

political action

of those oppressed or excluded from the moral circle, such as ethnic minorities and women.

F

urther MCE

to biological sentiences

will predominantly need to rely on allies

, and the same is true of many possible futures involving digital sentiences, though in others they or at least some of them will have more power to resist, politically agitate, or revolt on their own group's behalf

.
Arguments with unclear direction or mixed implications:
MCE

could

end up being significantly determined by the values and decisions of a small number of individuals with influence over the nature of superintelligence

. In this case

, the breadth of moral circles seems to be quite dependent on contingency

, though it could be similarly dependent on small numbers of people as government decisions in war time

. Even if these individuals successfully work out a way to ensure that AI be given the final goal of carrying out a population's "coherent extrapolated volition,"

[257]

the population whose volitions are included might be determined by those individuals, and this might have important consequences for the breadth of moral circles.

[258]

This might also mean, however, that trajectory changes towards MCE are more tractable, if these individuals are identifiable and amenable to targeted advocacy.

As Jacy Reese has

written

, the effectiveness-focused farmed animal movement has achieved substantial gains, and while "EA work explicitly focused on MCE… basically only started in 2017 with the founding of Sentience Institute," this seems largely explained by a lack of resources having been spent on this work.
Ideas for further research
Social change advocates analy

z

ing further case studies of the development of social movements or intellectual movements should explicitly consider the influence that thoughtful actors had and the difficulties that they faced in achieving their intended outcomes. This will make the strategic knowledge that these studies provide more robust, and will contribute to our wider understanding of historical

tractability

.

Interviewing or surveying experts in some of the fields considered here could yield more direct insight from them

, especially to ascertain the extent of consensus or support for certain ideas and debates within specific topics of interest. However, as noted in the

upcoming

post on

"How is SI research different from existing 'social movement' literature and relevant historical works?"

the approach of historians and sociologists is different from the approach favored by EAs, including SI (e.g. we almost exclusively focus on causation and counterfactuals)

.

Further research could create comparisons of the relative historical

tractability

of different types of historical change. How do changes aiming at redistribution of power or wealth within a society compare to changes aiming at support for external or international beneficiaries such as the environment or animals? How do broad military or political developments compare to technological or social developments? Is there a difference across countries (e.g. comparing

US

contexts to non-

US

contexts)? What about across time periods? A research program to consider comparisons along these lines could be extremely time consuming, and an approach favouring breadth over depth, using

time capping

, would likely be most appropriate. Some starting points for

topics

that

might facilitate useful comparisons across these variables include:
Military: WWI, Cold War (US, postwar), Sri Lankan Civil War (non-US, postwar)

Technological: Industrial Revolution, invention of the computer (

non

-

US

, post-war), invention of the internet (US, postwar)

Social (primarily non-ally-based): French Revolution, African American civil rights (US, postwar), Solidarity and the Polish trade union movement (non-US, postwar)

Social (primarily ally-based): British antislavery, new environmentalism (US, postwar), children's rights in Sweden (non-US, postwar)
(Not specific to historical

tractability

): a generalized literature review on

Social Movement Impact theory

could be useful, but time consuming. Alternatively, literature reviews could focus more narrowly on systematic reviews of specific debates within the social movement literature, or of particular intervention types, across movements. Examples of topics that have been covered in the social movement literature which could be useful to review more fully include:
"Organizational vs. external influence."

"Channels of protest" debate on radical and disruptive tactics vs. mainstream tactics

Violent or

non-violent

protest behavior more specifically

Lobbying strategies

The correlations between characteristics of challenging groups / social movement organizations and success, following the academic debates started by

Gamson's Strategy of Social Protest
---